The Daley Note: August 29, 2023
ONEOK (OKE) is joining a push by industry to expand NGL pipelines out of the Permian Basin. On its 2Q23 earnings call, OKE announced plans to loop its West Texas NGL (WTX NGL) pipeline and add 190 Mb/d of Permian NGL egress capacity, plus an expansion of the company's Elk Creek NGL pipeline out of the Bakken.
Unfortunately, management did not provide associated capex costs on the call or in the 10-Q for the two projects, but Tulsa, OK-based ONEOK did increase capex guidance to $1,575 million from $1,375 million previously. The updated guidance also reflects a delayed FID for the Saguaro pipeline, so East Daley Analytics estimates the total cost of the NGL pipeline project could be $300-400MM this year.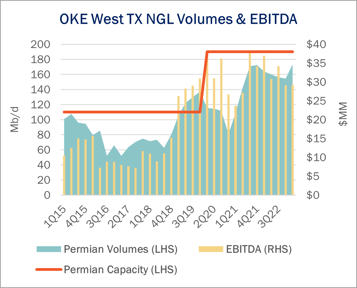 EDA expects most of the capex will be dedicated to the WTX NGL pipeline, since that project requires new pipe in the ground while the Elk Creek expansion will be done via pumps. OKE expects the WTX NGL expansion will be completed in 1Q25, so there will likely be more spending next year.
ONEOK spent $1.4B building the 900-mile Elk Creek pipeline in 2020. Thus, the total cost of the WTX NGL loop may be closer to ~$800-1,000MM after factoring in the shorter distance (~550 miles), inflation, and lower regulatory hurdles. Management noted the Elk Creek expansion can be built at limited cost and expects it to be a "very high-return, low-multiple" project, consistent with a pump station expansion.
For the WTX NGL system, management said capacity out of the Permian would be 700 Mb/d after the expansion. However, we believe this number is overstated. According to a 2017 application for market-based rates filed with the Federal Energy Regulatory Commission (FERC), the pipeline listed capacity out of the Permian at only 110 Mb/d. OKE later expanded the pipeline in June 2020, adding 80 Mb/d of Permian egress. We believe the pipe also gathers NGLs in the basin and delivers volumes into other egress options, which could be how management arrives at the 700 Mb/d of future capacity.
Based on East Daley's NGL Network Model, the WTX NGL pipeline averaged 174 Mb/d out of the Permian Basin in 1Q23, or 92% utilization (see chart). FERC data indicates total deliveries were 270 Mb/d, but we estimate these volumes include ~50 Mb/d of NGLs picked up from the Barnett shale in North Texas and ~45 Mb/d of gathered volumes, rather than true egress.
ONEOK said it has contracts in place for the expansion to provide a sufficient return, but there would be a lot of capacity left over. Using our Financial Blueprint for OKE, EDA estimates the expansion at 50% utilization could add ~$94MM in annual EBITDA, representing an 8.6-10.7x multiple. We previously did not expect significant volume growth for the pipeline given ~200 Mb/d of latent capacity on Energy Transfer's (ET) Lone Star, plus Enterprise's (EPD) 275 Mb/d Shin Oak expansion and Targa's (TRGP) new 400 Mb/d Daytona pipeline.
Overall NGL pipeline utilization out of the Permian Basin is at ~83% and climbing, according to the NGL Network Model. ET, EPD and TRGP are leveraging their strong Permian G&P systems to continue growing volumes on their pipes. OKE does not have a G&P presence in the basin, but that could be an attractive feature to other G&P systems. Midstream operators may appreciate an NGL takeaway partner that doesn't pose competition in the field. Many processing plants were built in the mid-2010s and have plant dedications that will roll off in the mid-2020s. OKE's WTX NGL pipeline may be positioned now to compete for newly uncommitted barrels.
For more information on the pipeline and the competing pipes and expansions in the Permian Basin, reach out to sales@eastdaley.com. East Daley's NGL Network Model provides everything you need to know to understand competitive dynamics and forecast potential constraints at the asset-level in the Permian and other basins in the US. Next week, we will leverage the model to take a deeper dive into OKE's Elk Creek expansion and what it means for Rockies NGLs. — Ajay Bakshani, CFA Tickers: EPD, ET, OKE, TRGP.
Sign Up for the Crude Oil Edge
East Daley's
Crude Oil Edge
provides bi-monthly updates on the US Crude Oil Market including supply and demand fundamentals, basin-level views, and analysis of market constraints and infrastructure proposals. We explore sub-basin dynamics and provide market insights on crude oil flows, production growth, and import and export characteristics.
Sign up now for the Crude Oil Edge
.
New Webinar:

Crude Oil Market Update: 5 Reasons to be Bullish and 1 Not to Be
August 31, 2023 | 10:30 AM MT | Online Webinar
Join East Daley for a webinar exploring US Crude Oil market fundamentals. We provide reasons why expect a strong and healthy outlook for US crude. We will dissect global and domestic economic headwinds and what these mean for US midstream companies, as well as the effects of production growth in the US and infrastructure projects to support it.

RSVP HERE
Energy Data Studio
East Daley Analytics has launched Energy Data Studio, a platform for our industry-leading midstream data and commodity production forecasts. All clients have access to the new client portal. If you have not yet logged in, please fill out the form to request a registration email be resent.
Energy Data Studio leverages our G&P data set for insights into midstream assets across every major oil and gas basin in North America. Users can navigate detailed visual dashboards by region, pipeline, or individual asset to understand crude oil, natural gas and NGL supply at the most granular level.
Energy Data Studio is available through data downloads from the visual interface, in Excel files, or as a direct feed delivered into subscribers' workflow via secure file transfer. To learn more about Energy Data Studio, please contact insight@eastdaley.com.
Review the Year Ahead in Dirty Little Secrets
The 2023 Dirty Little Secrets is Now Available! Is Midstream on the cusp of another infrastructure wave? Find out in our new annual report.
Dirty Little Secrets reviews the outlook for Midstream and commodity markets in 2023 and the years ahead. East Daley discusses the outlook for crude oil, natural gas and NGLs and the impacts to midstream assets in our 2023 Dirty Little Secrets annual market report. Click here for a copy of the 2023 Dirty Little Secrets report.
The Daley Note
Subscribe to The Daley Note (TDN) for midstream insights delivered daily to your inbox. The Daley Note covers news, commodity prices, security prices and EDA research likely to affect markets in the short term.