The Daley Note: April 11, 2023
A new court ruling has snuffed out hope for a 2023 start of the Mountain Valley Pipeline (MVP) from the Appalachian Basin. The development leads East Daley Analytics to push back the expected in-service date for MVP in the Northeast Supply and Demand Forecast.
The US Fourth Circuit Court of Appeals last Monday (April 3) denied MVP a key permit to complete water crossings in West Virginia. In the ruling, the appellate court faults state regulators for issuing water-crossing permits to MVP without additional environmental safeguards.
The ruling focuses on revisions to MVP's FERC application to cross streams and waterways. MVP at one time had considered trenchless construction to cross waterbodies along the first 77 miles of the route in West Virginia, but now plans to primarily use the more environmentally disruptive open-cut crossing method.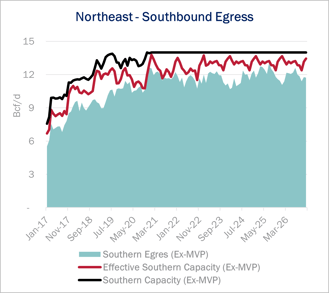 Lead developer Equitrans Resources (ETRN) had already constructed most of MVP before courts vacated its blanket Nationwide 12 permit. MVP then sought and received an individual Section 401 permit from the West Virginia Department of Environmental Protection (DEP) to cross waterways along the pipeline route. The state-level approval is required for a final permit from the Army Corps of Engineers and was challenged by protesters.
The Fourth Circuit found that DEP failed to explain how it would assure MVP adheres to water-quality standards, given the project's history and plan to rely on open-cut crossing. The court cited MVP's 139 violations of West Virginia's oil and gas state permit program and 46 water quality standard violations over the previous two years, finding the agency didn't show how the pipeline would prevent future offenses.
The adverse ruling comes only weeks after MVP secured a Biological Opinion from the US Fish and Wildlife Service, which had opened a path for MVP to receive outstanding permits and potentially complete construction this year. MVP also needs permits to cross the Jefferson National Forest. In its latest earnings call, ETRN noted MVP has less than six months of construction work remaining.
The new opinion from the Fourth Circuit extinguishes any hope of a 2023 in-service date for MVP, and likely pushes completion to mid-2024 at the earliest. In our Northeast Supply and Demand Forecast, East Daley now models MVP start-up in 4Q24, a one-year delay from our prior model.
The latest legal development is potentially bullish for natural gas prices. However, after years of legal delay, we no longer see the 2 Bcf/d pipeline as critical to the near-term supply outlook in the Northeast (see figure). With lower natural gas prices, producers in the Marcellus and Utica shales are guiding to flat production this year. But the uncertainty around new infrastructure may prevent the Northeast from participating in the next wave of LNG export demand in 2025 and beyond. – Alex Gafford Tickers: ETRN.
Request Access to Energy Data Studio
East Daley Analytics has launched Energy Data Studio, a platform for our industry-leading midstream data and commodity production forecasts. All clients have been given access to the new client portal. If you have not yet logged in, please fill out the form to request a registration email be resent.
Energy Data Studio leverages our G&P data set for insights into midstream assets across every major oil and gas basin in North America. Users can navigate detailed visual dashboards by region, pipeline, or individual asset to understand crude oil, natural gas and NGL supply at the most granular level.
Energy Data Studio is available through data downloads from the visual interface, in Excel files, or as a direct feed delivered into subscribers' workflow via secure file transfer. To learn more about Energy Data Studio, please contact insight@eastdaley.com.
Join East Daley at the Southeast LDC Forum
East Daley Analytics will be participating at the LDC Gas Forums Southeast in Savannah, GA on April 12-14. Rob Wilson, VP of Product, will be speaking on April 12 to cover East Daley's outlook on the natural gas market and fundamentals. Learn more about the LDC Forum.
Review the Year Ahead in Dirty Little Secrets
The 2023 Dirty Little Secrets is Now Available! Is Midstream on the cusp of another infrastructure wave? Find out in our new annual report.
Dirty Little Secrets reviews the outlook for Midstream and commodity markets in 2023 and the years ahead. East Daley discusses the outlook for crude oil, natural gas and NGLs and the impacts to midstream assets in our 2023 Dirty Little Secrets annual market report. Click here for a copy of the 2023 Dirty Little Secrets report.
The Daley Note
Subscribe to The Daley Note (TDN) for midstream insights delivered daily to your inbox. The Daley Note covers news, commodity prices, security prices and EDA research likely to affect markets in the short term.