Natural Gas Weekly: April 28, 2023
Infrastructure
Permian Highway Pipeline recently announced a round of scheduled maintenance beginning May 9 and is set to last until May 13. This round of maintenance is set to reduce capacity to 1.1 Bcf/d May 9-10, and to 1.65 Bcf/d May 11-12 with the pipeline returning to its full 2.1 Bcf/d capacity on May 13. This will no doubt put some added short-term pressure on Waha price given the egress constraints in the basin.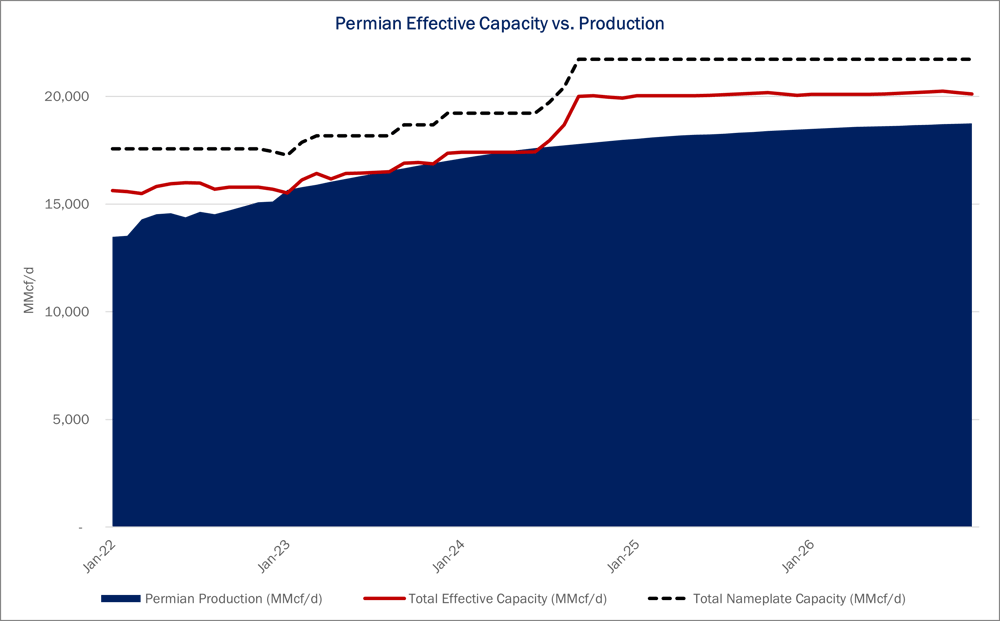 The Department of Energy (DOE) has denied a second request by Energy Transfer (ET) to extend the export license deadline for Lake Charles LNG, dealing a blow to the project. The denial comes as DOE's Department of Fossil Energy announces a new policy intended to tighten export licensing to countries without US free trade agreements (non-FTA). The decision leaves the Louisiana LNG project in limbo. Under the new DOE policy, ET still has two years to begin construction and then file for an extension to its non-FTA authorization. However, ET would likely need to make a final investment decision (FID) on Lake Charles LNG before construction can start, and lenders and counterparties may balk on a final package now that the DOE export license is no longer certain. Indeed, ET cited in its request to DOE "complex FID financing arrangements" and commitments in offtake agreements as the need to extend the deadline a second time.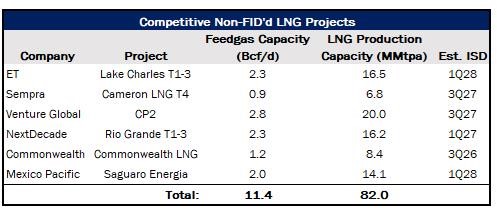 Storage
EIA reported a 79 Bcf storage Injection for April. 21 week, putting working inventories at 2,009 Bcf. In our monthly Macro, we forecast storage to exit April at 2,103 Bcf. Storage is 365 Bcf above the 5-year average after the latest EIA report.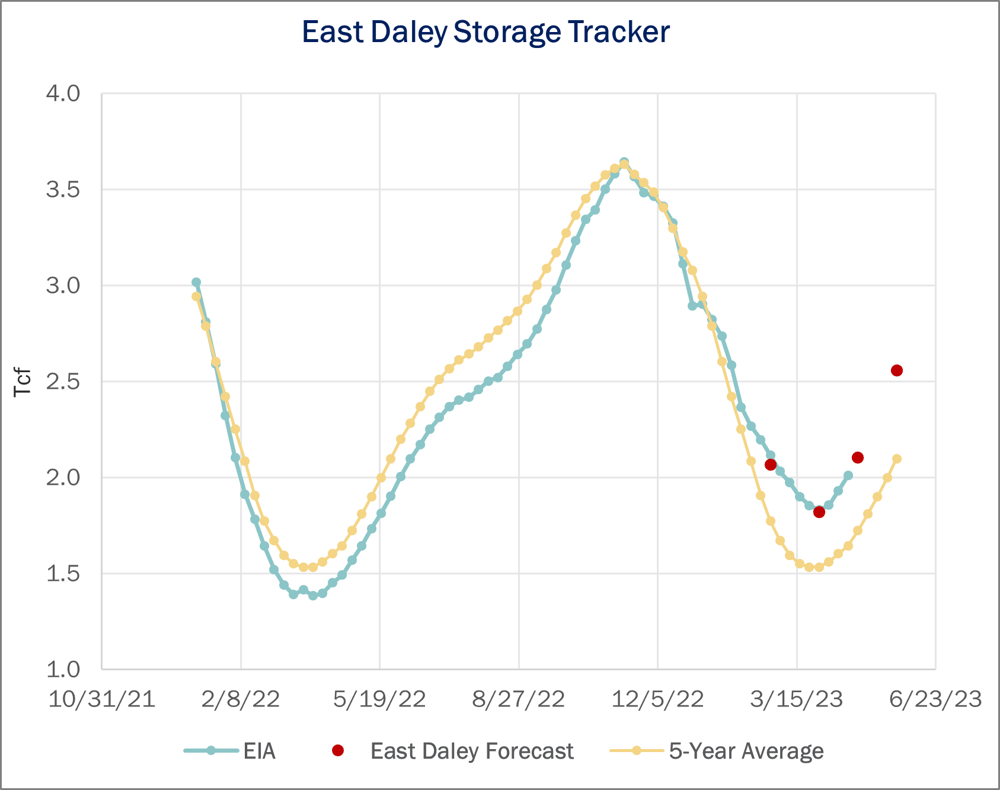 Flows
East Daley's gas processing plant inlet data from the Permian Basin is contrasting the EIA's gas projection for early 2023. From January to February 2023 the EIA reported slight growth in Permian Basin gas production of 0.5% M-o-M, while East Daley's gas plant data shows a decline of 2.7% over the same period. This is primarily due to a 600 Mmcf/d decrease in volumes at Kinder Morgan's (KMI) Snyder Plant due to an explosion that occurred at the location in late January 2023. This was partially offset from volumes at Energy Transfer's (ET) new Grey Wolf Plant, which we show averaging over 176 Mmcf/d in February. East Daley's plant inlet data covers approximately 75% of gross production in the basin.
Natural Gas Weekly
East Daley Analytics' Natural Gas Weekly provides a weekly update to our monthly Macro Supply and Demand Forecast. The update covers rigs, flows, production, prices and capacity constraints that materially change our view on supply and demand. This update highlights what investors and traders need to monitor in natural gas to ensure they are on the right side of the market. Subscribe to the Natural Gas Weekly.