The Daley Note: January 11, 2023.
EOG Resources (EOG) is building a large pipeline in South Texas to move natural gas from its Dorado resource play to market. The development is part of a larger upswing we see leading to growth in regional oil and gas supply.
In its 3Q22 earnings, EOG said it began construction on a new 36-inch gas pipeline from its Dorado development in Webb County, TX to the Agua Dulce hub near Corpus Christi. The update follows approval in July 2022 of a pipeline permit filed by Pecan Pipeline Co., a subsidiary of EOG, for a 41-mile line in Webb and Duval counties. A 36-inch pipeline could potentially move up to 1 Bcf/d of natural gas.
EOG announced the Dorado play in mid-2020 as the producer's latest "premium" resource. Dorado, a dry gas target, has an estimated 21 Tcf net resource potential in the Eagle Ford and Austin Chalk formations and a breakeven cost of less than $1.25/MMBtu, according to EOG executives. In 2022, EOG planned to run 2 rigs and drill 25 wells in the Dorado play, according to its November 2022 supplemental presentation.
L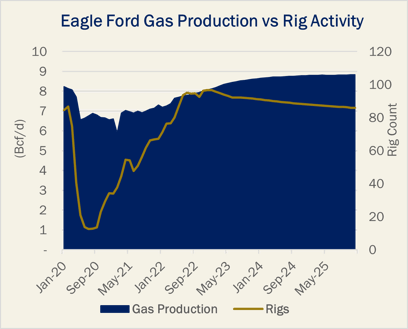 ong active in the Eagle Ford, EOG currently has ~650,000 acres stretching from Gonzales County to La Salle and Webb counties in South Texas. Other major operators include Lewis, ConocoPhillips (COP), Chesapeake (CHK), and Mesquite. These five operators account for ~3 Bcf/d of gas production, or ~44% of total production of ~8 Bcf/d from the Texas Gulf Coast, according to basin data in East Daley's Energy Data Studio.
The Dorado development is one of several positive trends in the Eagle Ford, which is bouncing back with higher oil and gas prices. Rig counts in South Texas reached 100 rigs in December as part of an upswing in drilling in 2022.
For 2023, East Daley forecasts a 6% increase in rig activity in our Energy Data Studio. We expect Texas Gulf Coast natural gas production to grow by 9% (∼1 Bcf/d) and oil production to increase by 10% (∼120 Mb/d) in 2023. Based on EDA December Production Scenario Tools, we expect the growth trend in the basin to extend until mid-2025. – Maria La Paz Urdaneta Tickers: CHK, COP, EOG.
The Daley Note
Subscribe to The Daley Note (TDN) for midstream insights delivered daily to your inbox. The Daley Note covers news, commodity prices, security prices, and EDA research likely to affect markets in the short term.