The Daley Note: October 6, 2023
Targa Resources (TRGP) is in the midst of a huge expansion of natural gas processing that will keep the Permian Basin's leading G&P system operator in the pole position.
From YE22 through 2025, Targa plans to build over 2 Bcf/d of gas processing capacity. The expansions account for 38% of new capacity planned in the Permian over this period, according to East Daley estimates. Combined with the Daytona NGL Pipeline, the projects will help TRGP gain market for the company's downstream NGL business.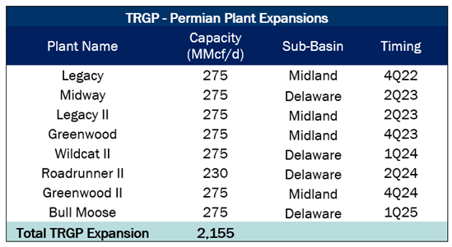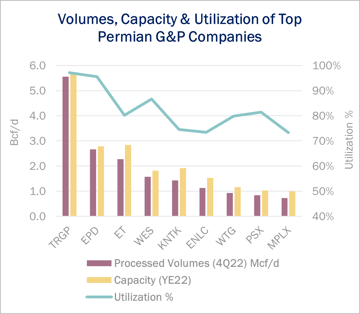 Targa's project queue grew once it acquired the Lucid system in the Delaware sub-basin. TRGP in recent quarters has started the 275 MMcf/d Legacy I and II plants in the Midland and the 275 MMcf/d Midway plant in the Delaware. The Greenwood (4Q23 in-service date) and Wildcat II (1Q24 in-service date) plants are under construction. Targa is also relocating a 230 MMcf/d plant from the Eagle Ford to the Delaware, to be installed as Roadrunner II. The Greenwood II and Bull Moose II projects are also in the works (see table).
Supply growth has filled Targa's plants in operation, making the construction binge necessary. East Daley estimates TRGP's total Permian gas processing facilities were running at 97% utilization at YE22, the highest of any midstream operator (see figure). Enterprise Products (EPD), at 96% utilization, was the only company facing similar constraints in the basin, according to EDA's Permian Supply and Demand Forecast.
By leveraging its expanded G&P footprint, East Daley expects TRGP to feed all of its NGL volumes directly to its Grand Prix NGL pipeline and divert flows from other pipelines. Though Grand Prix is also running near full capacity of 550 Mb/d, we model volumes to grow once the 400 Mb/d Daytona project is online, expected in 1Q25. Slowing growth post-2025 keeps volume flat through our forecast in the TRGP Financial Blueprint.
As plant dedications roll off in 2025-30, the competition for NGL barrels grows fiercer in the Permian. Thew new processing and NGL infrastructure create a risk to legacy players as Targa can funnel NGLs into Grand Prix and Daytona. EPD, Energy Transfer (ET), ONEOK (OKE), and Phillips 66 (PSX; via DCP Midstream ownership) are most at risk if Targa can execute. – Christina Adjiman Tickers: EPD, ET, OKE, PSX, TRGP.
Sign Up for the Crude Oil Edge
East Daley's
Crude Oil Edge
provides bi-monthly updates on the US Crude Oil Market including supply and demand fundamentals, basin-level views, and analysis of market constraints and infrastructure proposals. We explore sub-basin dynamics and provide market insights on crude oil flows, production growth, and import and export characteristics.
Sign up now for the Crude Oil Edge
.
Energy Data Studio
East Daley Analytics has launched Energy Data Studio, a platform for our industry-leading midstream data and commodity production forecasts. All clients have access to the new client portal. If you have not yet logged in, please fill out the form to request a registration email be resent.
Energy Data Studio leverages our G&P data set for insights into midstream assets across every major oil and gas basin in North America. Users can navigate detailed visual dashboards by region, pipeline, or individual asset to understand crude oil, natural gas and NGL supply at the most granular level.
Energy Data Studio is available through data downloads from the visual interface, in Excel files, or as a direct feed delivered into subscribers' workflow via secure file transfer. To learn more about Energy Data Studio, please contact insight@eastdaley.com.
The Daley Note
Subscribe to The Daley Note (TDN) for midstream insights delivered daily to your inbox. The Daley Note covers news, commodity prices, security prices and EDA research likely to affect markets in the short term.