Natural Gas Weekly: March 2, 2023
Infrastructure - Executives with Kinetik Holdings (KNTK) talked down a possible expansion of the Gulf Coast Express Pipeline (GCX). During the company's 4Q22 earnings call this week, KNTK management demurred on a future GCX expansion, stating that a new greenfield project out of the Permian Basin would be more appealing to upstream operators.
Kinetik owns a 16% stake in GCX. The pipeline is operated by Kinder Morgan (KMI) subsidiary Kinder Morgan Texas Pipeline, which held an open season in May 2022 to gauge shipper interest in adding compression to the pipeline.
KNTK CEO Jamie Welch said other projects out of the Permian, such as Energy Transfer's (ET) proposed Warrior Pipeline, are more likely to be executed before a GCX expansion. "We really think there is an overwhelming emphasis by producers on new steel in the ground ... I just don't know where GCX fits," he told analysts.
Currently, East Daley does not include the GCX expansion in our Permian Basin Supply and Demand Forecast. Other compression expansions on Whistler Pipeline and Permian Highway Pipeline are due to start in late 2023, allowing for additional growth in Permian natural gas production. Even with these expansions, we expect gas pipeline egress to be a lingering concern for Permian shippers until the Matterhorn pipeline starts service in 2024.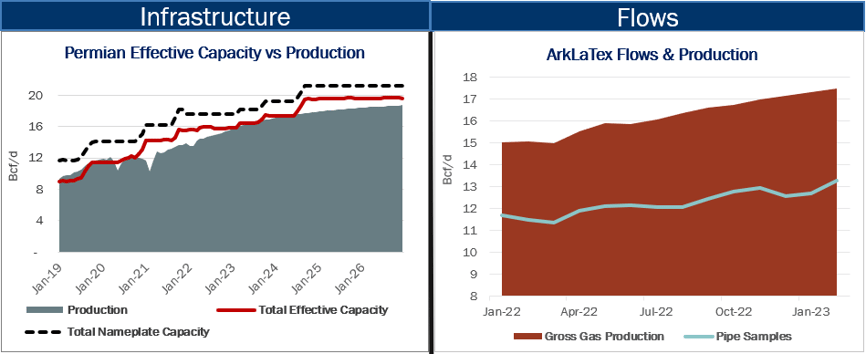 Flows - Pipelines samples from the ArkLaTex Basin hit an all-time high in February, averaging 13.3 Bcf/d. In our latest ArkLaTex Basin Supply and Demand Forecast, we estimate gross natural gas production of 17.5 Bcf/d in February, for a Y-o-Y gain of 2.4 Bcf/d. Energy Transfer (ET) and Kinder Morgan (KMI) both saw record-high flows on gathering systems in East Texas and northern Louisiana in February.
Rapid growth from the Haynesville shale is a primary contributor to natural gas oversupply that East Daley models in 2023. According to our Macro Supply and Demand Forecast, active rigs in the ArkLaTex will need to fall to 60 by mid-2023, from an average of 71 rigs in January, in order to balance season-ending storage inventories in 2023. While some producers have outlined plans to cut rigs, we anticipate more actions will be needed to bring the market back into balance.
Rigs - Guidance continues to roll in from Permian Basin producers for 2023. Occidental (OXY), a top Permian operator, estimates 12% growth in its oil and gas production this year. OXY provided Permian midpoint guidance of 575 Mboe/d in 2023 vs production of 513 Mboe/d in 2022. OXY joins basin heavyweights ExxonMobil (XOM) and Chevron (CVX) in predicting double-digit growth from the basin this year.

Mid-sized Permian operators Coterra Energy (CTRA) and Matador Resources (MTDR) are guiding to low-single-digit growth this year, with both companies anticipating higher output in 2024. Diamondback (FANG) is guiding to flat production in 2023. Permian Resources (PR) predicts 10% oil and gas growth. On the midstream side, Kinetik (KNTK) said it expects residue gas volumes to increase by 1.5-2.0 Bcf/d from the Permian in 2023, in line with our outlook. In the latest Permian Basin Supply and Demand Forecast, East Daley models Permian residue gas production to grow 1.5 Bcf/d in 2023 (exit to exit).

Storage - EIA reported an 81 Bcf storage withdrawal for the Feb. 24 week, putting working gas inventories at 2,114 Bcf. In our Macro model, we estimate storage inventories end February at 2,064 Bcf. Storage is 342 Bcf above the 5-year average after the latest EIA report.
Methodology Note: As of Jan. 30, 2023, East Daley Analytics is switching to WellDatabase for wellhead production data and rig information. East Daley uses a data aggregator, BlackBird BI, to collect and organize raw data published by WellDatabase. As part of the change in data providers, East Daley's active rig estimates will now reconcile with the weekly Baker Hughes rig publication. The biggest change in rig counts is a reduction in vertical rigs in areas like the Anadarko, ArkLaTex and Barnett, which is not expected to impact the production outlook. Please direct any methodology questions to Ryan Smith (rsmith@eastdaley.com). Additionally, we are happy to introduce you to our new data vendors if there is any interest.
Natural Gas Weekly
East Daley Analytics' Natural Gas Weekly provides a weekly update to our monthly Macro Supply and Demand Forecast. The update covers rigs, flows, production, prices and capacity constraints that materially change our view on supply and demand. This update highlights what investors and traders need to monitor in natural gas to ensure they are on the right side of the market. Subscribe to the Natural Gas Weekly.