Natural Gas Weekly: February 10, 2023
Infrastructure - El Paso Natural Gas (EPNG) plans to restart Line 2000 following approval from regulators, bringing the extended pipeline outage to an imminent close. In a Monday (Feb. 6) posting to shippers, EPNG said the US Pipeline and Hazardous Materials Safety Administration (PHMSA) gave approval to fully lift a pressure restriction on the pipeline. EPNG anticipates lifting the force majeure on Wednesday, Feb. 15, the pipeline said.
Line 2000 has been offline since August 2021 following an explosion near Coolidge, AZ. The 18-month outage has been one factor contributing to downward pressure on Permian gas prices as basin production outgrows takeaway capacity. East Daley forecasts the restart of Line 2000 will increase Permian egress on EPNG by ~620 MMcf/d, based on previous flow data.
The return of Line 2000 should ease some near-term pressure on Waha and other price points in the basin. However, our Permian Supply & Demand Forecast shows takeaway remains tight through 2023 due to continued production growth. Line 2000 also will return to service several months earlier than we had anticipated; entering the year, we had penciled in an April 2023 restart for the pipeline. This development strengthens East Daley's call, laid out in Dirty Little Secrets, for robust Permian supply growth in 2023.

Flows – Freeport LNG has been receiving modest gas volumes since late January after regulators approved its request to restart. On Jan. 26, FERC approved Freeport's request to begin preliminary operations at the liquefaction plant, specifically to cool down its Loop 1 LNG transfer piping and to reinstate service of the boil-off gas management system. FERC approved an additional request on Feb. 1 to begin commissioning and cooldown of the LNG piping system and Train 3.
East Daley has been monitoring an uptick in pipeline samples of feedgas to the Freeport plant. Deliveries began on Jan. 26 and reached a high of 48 MMcf/d on Jan. 31. East Daley forecasts Freeport LNG to restart in February with limited capacity, ending the 8-month outage at the Texas export facility. We model Freeport ramping to the full 2.1 Bcf/d export capacity by the end of April.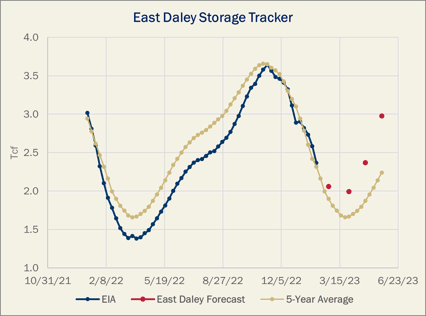 Storage - EIA reported a 217 Bcf storage withdrawal for the Feb. 3 week, putting working gas inventories at 2,366 Bcf. In our Macro model, we estimate storage inventories end February at 2,058 Bcf. Storage is 117 Bcf above the 5-year average after the latest EIA report.
Methodology Note: As of Jan. 30, 2023, East Daley Analytics is switching to WellDatabase for wellhead production data and rig information. East Daley uses a data aggregator, BlackBird BI, to collect and organize raw data published by WellDatabase. As part of the change in data providers, East Daley's active rig estimates will now reconcile with the weekly Baker Hughes rig publication. The biggest change in rig counts is a reduction in vertical rigs in areas like the Anadarko, ArkLaTex and Barnett, which is not expected to impact the production outlook. Please direct any methodology questions to Ryan Smith (rsmith@eastdaley.com). Additionally, we are happy to introduce you to our new data vendors if there is any interest.
Natural Gas Weekly
East Daley Analytics' Natural Gas Weekly provides a weekly update to our monthly Macro Supply and Demand Forecast. The update covers rigs, flows, production, prices and capacity constraints that materially change our view on supply and demand. This update highlights what investors and traders need to monitor in natural gas to ensure they are on the right side of the market. Subscribe to the Natural Gas Weekly.