The Daley Note: June 2, 2023
Many pipelines will see a record tariff increase of up to 13.3% starting as early as July 1, setting the stage for higher sustained asset cash flows in East Daley Analytics' Financial Blueprints.
On May 16, the Federal Energy Regulatory Commission (FERC) released its updated tariff adjustment for liquids pipelines (Oil, NGLs, Refined Products) that use indexed rates. The tariff structure allows pipelines to adjust their shipping rates once a year, based on price changes as measured by the Producer Price Index for Finished Goods (PPI-FG).
Sustained inflationary pressures in 2022 resulted in a tariff ceiling value of 1.133194, FERC determined, the highest increase ever for the tariff structure. Pipeline owners can raise rates up to the tariff ceiling beginning July 1, 2023.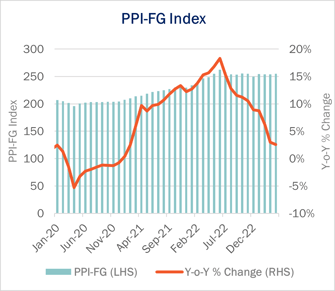 The record ceiling index will eclipse the prior high of 1.087107 posted last year, setting the stage for another year of strong gains for select pipeline systems. East Daley tracks asset ownership, rates and performance for pipelines in our company Financial Blueprints. DCP Midstream (DCP), Enterprise Products (EPD), Energy Transfer (ET), Magellan Midstream (MMP), NuStar (NU) and Plains All American (PAA) are some of the owners of pipelines that use indexed tariffs.
Inflation began to pick up after Covid lockdowns ended in 2021, the result of pent-up consumer demand, snarled supply chains and government stimulus. Commodity prices then jumped in 2022 following Russia's attack on Ukraine, kicking inflationary pressures up to 40-year highs. The Y-o-Y growth rate in PPI-FG reached a peak of 18.3% in June 2022. Over the past year, the PPI-FG index has continued to increase, but at a more modest rate (see figure).
Most pipeline owners were able to pass along the full 8.7% rate increase last year in uncommitted (recourse) rates, a good sign of the potential gains ahead. In some cases, committed rates also received the full rate increase, but there is significant variance in the contracts behind committed rates between pipelines and shippers. Pipeline owners that pass along the full rate increase should see gains in cash flow starting in 3Q23. – Zach Krause Tickers: DCP, EPD, ET, MMP, NU, PAA.
Request Access to Energy Data Studio
East Daley Analytics has launched Energy Data Studio, a platform for our industry-leading midstream data and commodity production forecasts. All clients have access to the new client portal. If you have not yet logged in, please fill out the form to request a registration email be resent.
Energy Data Studio leverages our G&P data set for insights into midstream assets across every major oil and gas basin in North America. Users can navigate detailed visual dashboards by region, pipeline, or individual asset to understand crude oil, natural gas and NGL supply at the most granular level.
Energy Data Studio is available through data downloads from the visual interface, in Excel files, or as a direct feed delivered into subscribers' workflow via secure file transfer. To learn more about Energy Data Studio, please contact insight@eastdaley.com.
Review the Year Ahead in Dirty Little Secrets
The 2023 Dirty Little Secrets is Now Available! Is Midstream on the cusp of another infrastructure wave? Find out in our new annual report.
Dirty Little Secrets reviews the outlook for Midstream and commodity markets in 2023 and the years ahead. East Daley discusses the outlook for crude oil, natural gas and NGLs and the impacts to midstream assets in our 2023 Dirty Little Secrets annual market report. Click here for a copy of the 2023 Dirty Little Secrets report.
The Daley Note
Subscribe to The Daley Note (TDN) for midstream insights delivered daily to your inbox. The Daley Note covers news, commodity prices, security prices and EDA research likely to affect markets in the short term