The Daley Note: December 6, 2022
Led by Sempra Energy (SRE), developers have made rapid progress commercializing new LNG export projects in the second half of 2022, supporting East Daley's bullish view on long-term natural gas demand.
Since June, developers have signed sales and purchase agreements (SPAs) totaling ~2.9 Bcf/d of potential LNG exports. Sempra has stolen the show of late. The San Diego-based energy company has signed three SPAs in the last month in support of its Port Arthur LNG project near Houston. On Tuesday (Dec. 6) SRE announced its latest SPA with France's Engie for up to 0.85 MMtpa (~110 MMcf/d). The LNG will be delivered from the Port Arthur terminal under free-on-board terms for 15 years.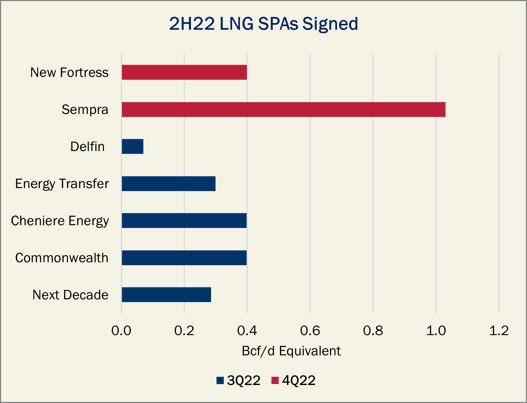 The contract with Engie follows two 20-year SPAs signed with ConocoPhillips (COP) and UK-based INEOS in the last month for the Port Arthur project. The three SRE contracts combine for ~1.1 Bcf/d, or ~35% of the US total in 3Q-4Q22 (see figure).
Sempra's SPA with Conoco for 5 MMtpa (0.71 Bcf/d) is part of a strategic relationship that will see COP take a 30% equity stake in Port Arthur, as well as manage feedgas to the facility. The 20-year SPA with INEOS was announced last Thursday (Dec. 1) for 1.4 MMtpa (~0.2 Bcf/d). SRE said it is targeting a final investment decision (FID) on Phase 1 of Port Arthur in 1Q23. Phase 1 would add 13.5 MMtpa (~1.8 Bcf/d) of LNG export capacity.
Sempra also has several outstanding heads of agreements (HoA) totaling 2.16 Bcf/d that could eventually lead to firm SPAs. Of particular note is an HoA with Williams (WMB) considering two 20-year SPAs for Port Arthur Phase I and Train 4 at the Cameron LNG facility near Lake Charles, LA. The two SPAs would total ~3 MMtpa (~0.4 Bcf/d). WMB and SRE also have agreed to negotiate a gas sales agreement for 0.5 Bcf/d of feedgas for these projects.
The HoA with WMB is the first instance of a midstream company poised to enter the LNG sector as a project counterparty. Furthermore, SRE and WMB anticipate forming a strategic joint venture to expand and operate the 2.35 Bcf/d Cameron Interstate pipeline and Port Arthur Pipeline Louisiana connector, two pipes that are expected to supply the LNG projects with gas from Louisiana.

The latest signing activity supports East Daley's favorable forecast for LNG exports. We will reveal more on the natural gas and LNG outlook in the upcoming 2023 Dirty Little Secrets report and webinar next week. Dirty Little Secrets is our annual market report summarizing trends we expect to shape the US midstream energy sector in the year ahead. To learn more, please register for the Dirty Little Secrets annual report, to be released Dec. 12, 2022 and the corresponding webinar on Dec. 14, 2022 at 10:30 AM MST. – Oren Pilant Tickers: COP, SRE, WMB.
Dirty Little Secrets 2023 – Is Another Infrastructure Wave Ahead?
Is Midstream on the cusp of another infrastructure wave? East Daley will explore the potential in our annual Dirty Little Secrets market report on December 14 at 12:30 EST.
Sign up to view the 2023 Dirty Little Secrets Webinar
The Russia-Ukraine conflict has pushed commodity prices higher and spurred greater global demand for US energy products. Meanwhile, more disciplined growth from the upstream has infrastructure finally filling up across commodities. Will exports power the next infrastructure boom?
Dirty Little Secrets is East Daley's annual report on energy markets and the road ahead for Midstream. We share our macroeconomic outlooks for US oil, natural gas and NGLs, highlight key infrastructure opportunities, update on the state of the Energy Transition, and share our view on Midstream's future role in energy.
For updates on the 2023 Dirty Little Secrets report, please click here.

3Q22 Earnings Previews and Earnings Reviews Now Available
East Daley has published a complete group of 3Q22 Earnings Previews and Blueprint Financial Models for midstream companies within our coverage. We also are publishing 3Q22 Earnings Reviews as companies report comparing our forecasts vs results. Quarterly Earnings Previews and Blueprints are now available for Antero Midstream (AM), Crestwood Equity (CEQP), Enbridge (ENB), EnLink Midstream (ENLC), Enterprise Products (EPD), Energy Transfer (ET), Equitrans Midstream (ETRN), Kinder Morgan (KMI), Kinetik Holdings (KNTK), Magellan Midstream (MMP), MPLX (MPLX), ONEOK (OKE), Plains All American (PAA), Summit Midstream (SMLP), Targa Resources (TRGP), TC Pipelines (TRP), Western Midstream (WES) and Williams (WMB).
Our Earnings Previews include quarterly earnings forecasts compared to Street consensus, a detailed list of the top assets that will impact the quarter, analysis of near- and long-term risks to future earnings, along with forecasts for Adj. EBITDA by segments. Please log in to access these reports.
The Daley Note
Subscribe to The Daley Note (TDN) for midstream insights delivered daily to your inbox. The Daley Note covers news, commodity prices, security prices and EDA research likely to affect markets in the short term.