The Daley Note: April 5, 2023
Targa Resources (TRGP) is planning a new pipeline to move natural gas from the Permian Basin to the Texas Gulf Coast.
On March 24, TRGP received approval from the Railroad Commission of Texas (TRRC) for the Apex Pipeline. Targa has not formally announced this project, but the filing indicates it is a 563-mile Permian gas egress pipeline (see map below from filing).
The pipeline diameter would be 42 inches, according to a separate TRRC construction report. Based on existing 42" pipelines like Whistler and Permian Highway Pipeline, East Daley estimates the capacity could be ~2.0 Bcf/d and would cost ~$2.0-2.5B.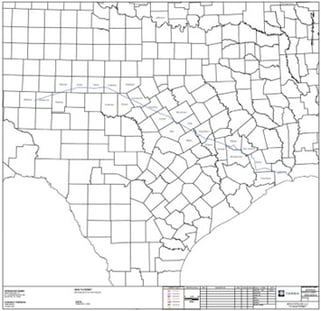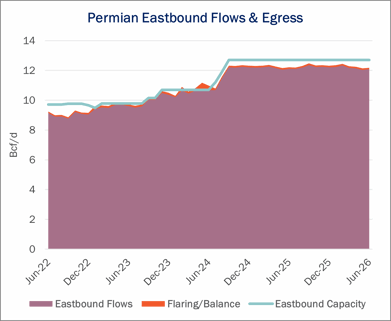 TRGP would be re-entering the Permian gas pipeline business following the sale of its 25% stake in the Gulf Coast Express Pipeline (GCX) in May 2022. The difference now is that Targa has the free cash flow to fund the entire project with internally generated cash flow, as reflected in East Daley's Targa Financial Blueprint model.
East Daley recently highlighted TRGP's 4Q22 beat in the Logistics & Marketing segment. FERC filings show Targa had taken out some capacity on Permian pipes like Atmos Pipeline and Enterprise Texas to market the wide Waha spread. With its own pipeline in Apex, TRGP would be able to boost its gas marketing business even more.
While far from a done deal, the filing could add another horse in the race for the next Permian egress pipeline once Matterhorn Express Pipeline is built. The current contestants include Energy Transfer's (ET) Warrior and Kinder Morgan's (KMI) Permian Pass projects.
We monitor these projects closely in our Permian Basin Supply & Demand Forecast. Matterhorn is due in 2024 to add ~2 Bcf/d of throughput to the Gulf Coast market, but we model long-term production growth from the Permian will need more midstream solutions. Eastbound projects like Matterhorn and Warrior are most advantaged to connect Permian shippers to new LNG growth markets (see figure).
ET's Warrior seems to have a head start so far. Management stated it has contracted 25-30% of what is needed to reach a final investment decision (FID). Warrior would also provide 1.5-2.0 Bcf/d of Permian gas egress capacity, and would take ~24 months to build post-FID. – Rob Wilson & Yamah Nabiyar Tickers: ET, KMI, TRGP.
Request Access to Energy Data Studio
East Daley Analytics has launched Energy Data Studio, a platform for our industry-leading midstream data and commodity production forecasts. All clients have been given access to the new client portal. If you have not yet logged in, please fill out the form to request a registration email be resent.
Energy Data Studio leverages our G&P data set for insights into midstream assets across every major oil and gas basin in North America. Users can navigate detailed visual dashboards by region, pipeline, or individual asset to understand crude oil, natural gas and NGL supply at the most granular level.
Energy Data Studio is available through data downloads from the visual interface, in Excel files, or as a direct feed delivered into subscribers' workflow via secure file transfer. To learn more about Energy Data Studio, please contact insight@eastdaley.com.
Review the Year Ahead in Dirty Little Secrets
The 2023 Dirty Little Secrets is Now Available! Is Midstream on the cusp of another infrastructure wave? Find out in our new annual report.
Dirty Little Secrets reviews the outlook for Midstream and commodity markets in 2023 and the years ahead. East Daley discusses the outlook for crude oil, natural gas and NGLs and the impacts to midstream assets in our 2023 Dirty Little Secrets annual market report. Click here for a copy of the 2023 Dirty Little Secrets report.
The Daley Note
Subscribe to The Daley Note (TDN) for midstream insights delivered daily to your inbox. The Daley Note covers news, commodity prices, security prices and EDA research likely to affect markets in the short term.