The Daley Note: September 6, 2023
Canada's Trans Mountain Pipeline expansion (TMX) will have consequences for markets across North America, according to East Daley's Crude Hub Model, affecting crude oil flows to refiners and terminal operators from Louisiana to the Midwest.
After years of delay and cost overruns, TMX is nearing the final stages of construction. The project will be the most transformative for North American crude oil markets since the 2019-21 period, when the industry built 4 MMb/d of new pipelines out of the Permian Basin.
TMX loops the existing Trans Mountain line for 715 miles through Alberta and British Columbia, taking capacity from 300 Mb/d to 890 Mb/d. Owned by the federal government, Trans Mountain is targeting 4Q23 to start packing linefill. Management aims to have the expansion in service by 1Q24, although pushback on a 1-km section of pipe could delay that timeline.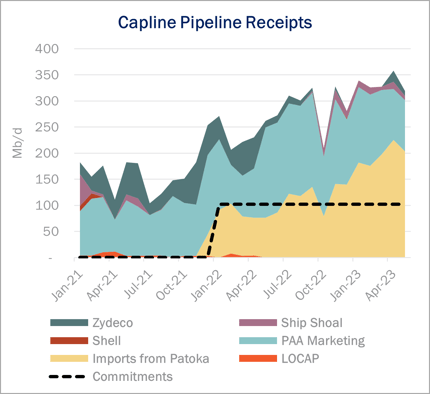 Once TMX starts flowing from Edmonton, AB to Canada's Pacific Coast, East Daley anticipates ~470 Mb/d of heavy Canadian sour production will be immediately displaced on competing pipelines like Enbridge's (ENB) Mainline and Express pipelines and TC Energy's (TRP) Keystone pipeline. Rail terminals, which predominantly export heavy sour production into the Midwest (PADD 2), also will see volumes decline, according to East Daley's Crude Hub Model.
EDA has reviewed displacement on Canadian egress pipelines caused by TMX, but the project's impacts will ripple across the continent. One group that will feel the effects is Gulf Coast refiners, and specifically the market in St. James, LA. Western Canada oil production currently moves south via ENB's Mainline and Southern Access Extension pipelines, then to the Capline Pipeline (Plains All American (PAA) 54%; Marathon Petroleum (MPC) 33%, BP 13%) and terminating at St. James.
Since its reversal in December 2021, Capline has become a key supplier of cheap barrels for Louisiana refiners priced at Western Canadian Select (WCS). Barrels from Canada compete with higher-priced heavy sour barrels produced from the Gulf of Mexico.
Recent data from Louisiana regulators show Capline's imports from Patoka, IL have averaged over 200 Mb/d in April and May, more than double the pipeline's firm commitments of ~102 Mb/d (see figure). The data supports comments from PAA that Capline has become a preferred shipping route since the reversal. However, East Daley thinks there is near-term risk to half these volumes, particularly to flows over the commitment level.
According to financials filed with the Federal Energy Regulatory Commission (FERC) and EDA's asset-level Capline model, Capline will generate ~$170MM in EBITDA for 2023. Assuming long-haul shipments of Canadian crude fall back to commitment levels (102 Mb/d) in 2024, this would pose downside risk to earnings of ~$64MM for the pipeline. As the majority 54% owner in Capline, PAA would be subject to the biggest earnings impact of ~$35MM, net to its 54% share. – AJ O'Donnell Tickers: ENB, MPC, PAA, TRP.
Sign Up for the Crude Oil Edge
East Daley's
Crude Oil Edge
provides bi-monthly updates on the US Crude Oil Market including supply and demand fundamentals, basin-level views, and analysis of market constraints and infrastructure proposals. We explore sub-basin dynamics and provide market insights on crude oil flows, production growth, and import and export characteristics.
Sign up now for the Crude Oil Edge
.
Energy Data Studio
East Daley Analytics has launched Energy Data Studio, a platform for our industry-leading midstream data and commodity production forecasts. All clients have access to the new client portal. If you have not yet logged in, please fill out the form to request a registration email be resent.
Energy Data Studio leverages our G&P data set for insights into midstream assets across every major oil and gas basin in North America. Users can navigate detailed visual dashboards by region, pipeline, or individual asset to understand crude oil, natural gas and NGL supply at the most granular level.
Energy Data Studio is available through data downloads from the visual interface, in Excel files, or as a direct feed delivered into subscribers' workflow via secure file transfer. To learn more about Energy Data Studio, please contact insight@eastdaley.com.
Review the Year Ahead in Dirty Little Secrets
The 2023 Dirty Little Secrets is Now Available! Is Midstream on the cusp of another infrastructure wave? Find out in our new annual report.
Dirty Little Secrets reviews the outlook for Midstream and commodity markets in 2023 and the years ahead. East Daley discusses the outlook for crude oil, natural gas and NGLs and the impacts to midstream assets in our 2023 Dirty Little Secrets annual market report. Click here for a copy of the 2023 Dirty Little Secrets report.
The Daley Note
Subscribe to The Daley Note (TDN) for midstream insights delivered daily to your inbox. The Daley Note covers news, commodity prices, security prices and EDA research likely to affect markets in the short term.