The Daley Note: November 14, 2022
During the last major crude infrastructure buildout from 2019-2021, four new pipelines added just under 4 MMb/d of capacity to US Gulf Coast destinations (Houston and Corpus Christi). East Daley expects these pipes to finally start filling up, effectively putting an end to rock-bottom rates.

Competition during the last buildout was fierce. Rates on these new oil pipelines were offered at a significant haircut to legacy system rates, and the average Permian transport rate fell as a result. The pandemic only made things worse: rig counts plummeted and utilization rates on Permian crude pipes dropped as low as mid-40%. Some operators started to offer deeply discounted incentive rates to attract the marginal barrel, putting further pressure on rates across the basin.
Sign up to view the 2023 Dirty Little Secrets Webinar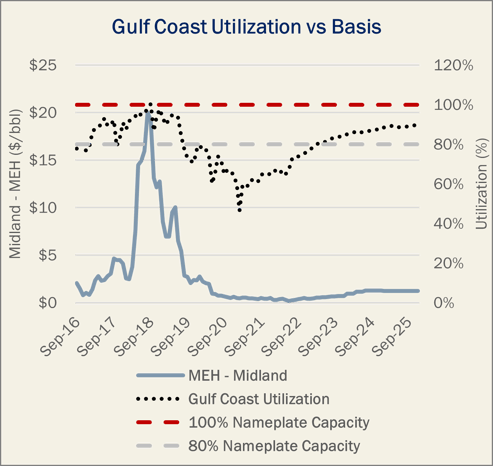 Fast-forward to today, and Midstream is in a vastly different environment. Permian crude production now outpaces pre-pandemic levels, driven by more productive operators supplying more with fewer rigs. Thanks to this recovery, pipeline operators can breathe a sigh of relief. Utilization rates have almost doubled from their lows and currently sit at 75%, according to East Daley's Crude Hub Model (see chart).

The outlook for these pipeline assets has never been better. Whether you believe East Daley's supply forecast or midstream operators like Plains All American (PAA) or Enterprise Products Partners (EPD), pipeline utilization to the US Gulf Coast will inch toward 90% by 2025.
We've started to see the market rationalize this excess pipeline capacity. Forward curves on the Midland-to-Houston differential have nearly doubled from where they were priced a year ago, with 2025 spreads now hovering around ~$1.40/bbl.
For a deeper dive into East Daley's outlook on crude infrastructure and who can best take advantage of this turnaround in crude infrastructure, sign up for Dirty Little Secrets 2023. Dirty Little Secrets is East Daley's annual market report summarizing trends we expect to shape the US midstream energy sector during the year ahead. We publish the report each December, highlighting our analysis of macro themes that give subscribers an edge in the energy market. We also hold a webinar with our analysts that cover the details of the annual report. Click here to view last year's Dirty Little Secrets 2022 report and webinar and learn about our upcoming Dirty Little Secrets 2023. — AJ O' Donnell Tickers: PAA, EPD.
East Daley to Present at Nov. 17 Bank of America Securities Conference
Dirty Little Secrets 2023 – Is Another Infrastructure Wave Ahead?
Is Midstream on the cusp of another infrastructure wave? East Daley will explore the potential in our annual Dirty Little Secrets market report in early December. Click here to learn about our 2023 Dirty Little Secrets report.

The Russia-Ukraine conflict has pushed commodity prices higher and spurred greater global demand for US energy products. Meanwhile, more disciplined growth from the upstream has infrastructure finally filling up across commodities. Will exports power the next infrastructure boom?
Dirty Little Secrets is East Daley's annual report on energy markets and the road ahead for Midstream. We share our macroeconomic outlooks for US oil, natural gas and NGLs, highlight key infrastructure opportunities, update on the state of the Energy Transition, and share our view on Midstream's future role in energy.
For updates on the 2023 Dirty Little Secrets report, please click here.

3Q22 Earnings Previews Now Available
East Daley has published a complete group of 3Q22 Earnings Previews and Blueprint Financial Models for midstream companies within our coverage. Quarterly Earnings Previews and Blueprints are now available for Antero Midstream (AM), Crestwood Equity (CEQP), Enbridge (ENB), EnLink Midstream (ENLC), Enterprise Products (EPD), Energy Transfer (ET), Equitrans Midstream (ETRN), Kinder Morgan (KMI), Kinetik Holdings (KNTK), Magellan Midstream (MMP), MPLX (MPLX), ONEOK (OKE), Plains All American (PAA), Summit Midstream (SMLP), Targa Resources (TRGP), TC Pipelines (TRP), Western Midstream (WES) and Williams (WMB).
Our Earnings Previews include quarterly earnings forecasts compared to Street consensus, a detailed list of the top assets that will impact the quarter, analysis of near- and long-term risks to future earnings, along with forecasts for Adj. EBITDA by segments. Please log in to access these reports.
The Daley Note
Subscribe to The Daley Note (TDN) for midstream insights delivered daily to your inbox. The Daley Note covers news, commodity prices, security prices and EDA research likely to affect markets in the short term.