The Daley Note: November 20, 2023
How far can the Haynesville grow? Comstock Resources (CRK) is giving a reason to be bullish on future gas supply from the shale play to meet market growth.
CRK has laid out plans for major growth from its Western Haynesville exploratory play in East Texas, including a significant expansion of gathering and treating capacity on its Pinnacle system. But the producer plans to dial back some of its other drilling in the ArkLaTex, which could impact several midstream names.
In 2022 Comstock acquired the Pinnacle gathering system from Legacy Reserves. The assets in Freestone, Robertson and Leon counties in East Texas include the Bethel gas processing plant. On CRK's 3Q23 earnings, management reported system handling capacity of 500 MMcf/d, and said it expects to fill that capacity by 2025.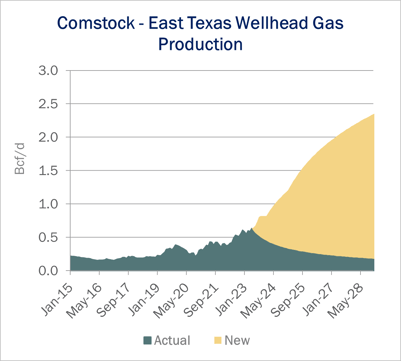 CRK is partnering with Quantum Capital Solutions to expand Pinnacle's treating capacity up to 2 Bcf/d. Quantum will contribute 100% of the capital required, up to $300MM, to build the system. Comstock will operate the venture as Pinnacle Gas Services.
Thus far, CRK has turned 7 wells to sales in the exploratory play since April 2022. Wells have been drilled in the Bossier shale with initial production (IP) rates averaging 30 MMcf/d, well above the average of 12.5 MMcf/d for other East Texas wells. In comparison, core Haynesville wells post an average IP rate of 25 MMcf/d.
East Daley Analytics can create custom producer profiles as part of Advisory Services so clients can evaluate the impacts of rig changes by operator or midstream system. The figure forecasts CRK's production in East Texas based on company guidance.
Comstock is currently running 2 rigs in East Texas and 5 in its core Haynesville acreage in northern Louisiana. In 2024, CRK plans to move 1 rig onto the Western Haynesville play in East Texas while maintaining 7 total rigs on its core acreage in the ArkLaTex. With an additional rig add in 2025 (4 total on the play), Comstock models production on the Pinnacle system nearing gathering capacity of 2 Bcf/d by 2028.
As Comstock moves rigs out of the core Haynesville acreage onto its own system, other gatherers will lose out on production. Most of CRK's rig activity in 2023 has been on Energy Transfer's (ET) Louisiana gathering system, according to East Daley's rig allocations. Since early September, CRK has also been running 2 rigs on Aethon's Ibex Haynesville system. For these legacy gatherers, management said it will be difficult for CRK to hold production flat with just 4 rigs in 2024. – Oren Pilant Tickers: CRK, ET.
East Daley, Hart Bring NEW Gas & Midstream Weekly
East Daley is teaming up with Hart Energy on the NEW
Gas & Midstream Weekly newsletter
. This
new report
combines the strengths of Hart Energy's journalistic reporting and analysis on natural gas, LNG, midstream energy and deal-making with EDA's deep research and intelligence of hydrocarbons, storage and transportation.

Published every Thursday morning, this new
powerhouse newsletter
is an interactive and enlightening read highlighting breaking news, exclusive interviews, videos, charts, maps and more. The newsletter utilizes East Daley's Energy Data Studio tools for natural gas predictive analytics with Hart Energy's Rextag mapping tools to present a holistic view of pricing triggers, infrastructure growth, pipeline and processing bottlenecks, regulatory and legal hurdles, and the inevitable solutions.
Energy Data Studio
East Daley Analytics has launched Energy Data Studio, a platform for our industry-leading midstream data and commodity production forecasts. All clients have access to the new client portal. If you have not yet logged in, please fill out the form to request a registration email be resent.
Energy Data Studio leverages our G&P data set for insights into midstream assets across every major oil and gas basin in North America. Users can navigate detailed visual dashboards by region, pipeline, or individual asset to understand crude oil, natural gas and NGL supply at the most granular level.
Energy Data Studio is available through data downloads from the visual interface, in Excel files, or as a direct feed delivered into subscribers' workflow via secure file transfer. To learn more about Energy Data Studio, please contact insight@eastdaley.com.
The Daley Note
Subscribe to The Daley Note (TDN) for midstream insights delivered daily to your inbox. The Daley Note covers news, commodity prices, security prices and EDA research likely to affect markets in the short term.