The Daley Note: November 10, 2022
East Daley expects natural gas supply growth from the Permian Basin to slow significantly in 2025-26, based on the assumption that E&Ps will slow drilling in later years along the backwardated WTI forward price curve. However, we have steadily revised upward our Permian rig forecast this year, and guidance provided by Permian producers so far in 3Q22 points to more rigs in 2023.
Permian associated gas production is a significant factor in our US Macro Supply and Demand Forecast for the natural gas market, and we're weighing some conflicting signals in the basin. Our Permian Supply and Demand forecast expects strong near-term supply gains in 2023 and 2024. But we also assume rig counts decline in later years, consistent with lower prices seen over time for WTI oil futures. Gas supply growth slows after 2024 in our basin model. Our latest Permian rig forecast falls 8% by year-end 2023 to 315 rigs, down from ~340 rigs in early November.
View East Daley's FREE Natural Gas Watch Report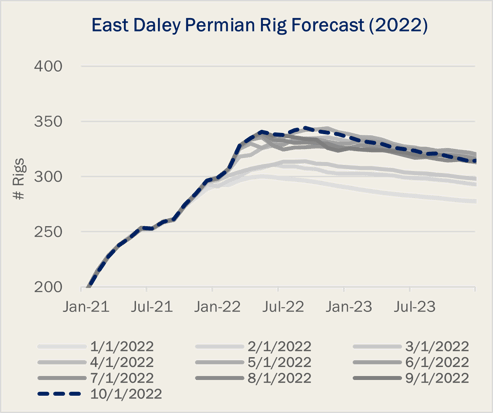 Commodity price curves can tell us a lot, but we consider other factors in our forecasts as well. For one, we have continuously revised higher our Permian rig forecast through 2022, a bullish indicator (see chart). Moreover, some E&Ps active in the Permian are rolling out initial 2023 guidance in 3Q22 earnings, and the results so far show that public operators intend to add rigs next year. For example, Pioneer Resources (PXD) gave preliminary guidance to add 2 rigs to its Permian program in 2023, with a Y-O-Y growth expectation of 0%-5%. Chevron (CVX) also guided to adding 4 Permian rigs in 2023.
In the case of PXD, the producer has contracts for takeaway capacity on MPLX's (MPLX) Whistler Pipeline and Kinder Morgan's (KMI) Gulf Coast Express. With MPLX adding 0.5 Bcf/d of compression to Whistler, PXD may have more capacity to grow in the future. Given the state of midstream in the Permian, we see other large E&Ps with contracted takeaway as better positioned to ramp up drilling activity next year compared to private companies. These smaller operators are less likely to have contracted pipe capacity, which leaves them more exposed to gas price discounting within the Permian.
On balance, we are likely to raise our Permian rig forecast in future updates to be relatively flat with 2022 activity, despite expectations for lower oil prices ahead. Please reach out for more information on our US Macro Supply and Demand and Permian Supply and Demand forecasts. – Ryan Smith Tickers: CVX, KMI, MPLX, PXD.
Dirty Little Secrets 2023 – Is Another Infrastructure Wave Ahead?
Is Midstream on the cusp of another infrastructure wave? East Daley will explore the potential in our annual Dirty Little Secrets market report in early December. Click here to receive updates on the 2023 Dirty Little Secrets report.

The Russia-Ukraine conflict has pushed commodity prices higher and spurred greater global demand for US energy products. Meanwhile, more disciplined growth from the upstream has infrastructure finally filling up across commodities. Will exports power the next infrastructure boom?
Dirty Little Secrets is East Daley's annual report on energy markets and the road ahead for Midstream. We share our macroeconomic outlooks for US oil, natural gas and NGLs, highlight key infrastructure opportunities, update on the state of the Energy Transition, and share our view on Midstream's future role in energy.
For updates on the 2023 Dirty Little Secrets report, please click here.

East Daley, RBN Spotlight Targa in New Webinar
3Q22 Earnings Previews Now Available
East Daley has published a complete group of 3Q22 Earnings Previews and Blueprint Financial Models for midstream companies within our coverage. Quarterly Earnings Previews and Blueprints are now available for Antero Midstream (AM), Crestwood Equity (CEQP), Enbridge (ENB), EnLink Midstream (ENLC), Enterprise Products (EPD), Energy Transfer (ET), Equitrans Midstream (ETRN), Kinder Morgan (KMI), Kinetik Holdings (KNTK), Magellan Midstream (MMP), MPLX (MPLX), ONEOK (OKE), Plains All American (PAA), Summit Midstream (SMLP), Targa Resources (TRGP), TC Pipelines (TRP), Western Midstream (WES) and Williams (WMB).
Our Earnings Previews include quarterly earnings forecasts compared to Street consensus, a detailed list of the top assets that will impact the quarter, analysis of near- and long-term risks to future earnings, along with forecasts for Adj. EBITDA by segments. Please log in to access these reports.
The Daley Note
Subscribe to The Daley Note (TDN) for midstream insights delivered daily to your inbox. The Daley Note covers news, commodity prices, security prices and EDA research likely to affect markets in the short term.