The Daley Note: July 13, 2023
Enterprise Products (EPD) has permitted a new NGL pipeline out of the Permian Basin that appears to follow the same right-of-way as the company's Shin Oak NGL pipeline.
At the end of June, EPD received approval from the Texas Railroad Commission for a new 630-mile NGL pipeline. It is unclear if this project would loop Shin Oak or be an independent greenfield proposal (see map).
If constructed, the new pipeline would connect EPD's Delaware and Midland natural gas processing complexes to its US Gulf Coast assets, where EPD holds a dominant share of NGL fractionation and export capacity in the Houston/Mont Belvieu area.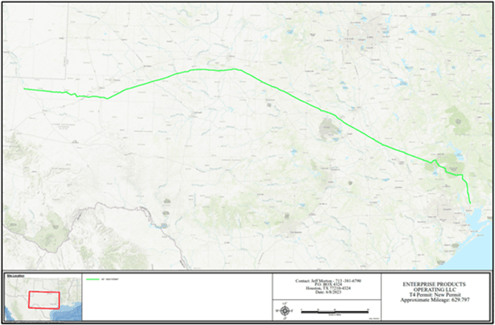 East Daley's NGL Network Model, fed by our Permian Basin supply modeling, forecasts Y-grade supply will hit 3.4 MMb/d by YE27, representing 21% (600 Mb/d) growth over five years. EPD is actively expanding Shin Oak by 275 Mb/d to a capacity of 825 Mb/d. Yet Permian supply growth suggests that even with the expanded pipe, basin takeaway will be tight. We model egress hits over 90% utilization by 2027 in the NGL Network Model, making the case for a new pipe to be constructed.
Like other midstream companies, Permian infrastructure is at the core of Enterprise's strategy. EPD has sanctioned a $3.8B capital program in 2023-24, nearly all tied to the basin. EPD will phase in some of these projects over the next nine months, starting with four new processing plants (two at each of its Permian processing complexes) for a combined capacity of 1.2 Bcf/d. These expansions will serve as a backbone for future supply.
Enterprise is set to report 2Q23 earnings at the beginning of August, when we hope for an update on this proposed pipeline project. Be on the lookout for our updated financial outlook on EPD, which can be accessed via the Enterprise landing page through our client portal on Energy Data Studio. – AJ O'Donnell
East Daley, Rextag to Host Webinar on Natural Gas Infrastructure
East Daley Analytics will be cohosting a webinar this Thursday with our friends at Rextag. In "The Big Squeeze: The Players Driving Natural Gas Growth," we will profile several leading G&P systems in the Permian Basin. The webinar will take place Thursday, July 13 at 10:00 PM CDT. Register here to join the discussion.
Request Access to Energy Data Studio
East Daley Analytics has launched Energy Data Studio, a platform for our industry-leading midstream data and commodity production forecasts. All clients have access to the new client portal. If you have not yet logged in, please fill out the form to request a registration email be resent.
Energy Data Studio leverages our G&P data set for insights into midstream assets across every major oil and gas basin in North America. Users can navigate detailed visual dashboards by region, pipeline, or individual asset to understand crude oil, natural gas and NGL supply at the most granular level.
Energy Data Studio is available through data downloads from the visual interface, in Excel files, or as a direct feed delivered into subscribers' workflow via secure file transfer. To learn more about Energy Data Studio, please contact insight@eastdaley.com.
Review the Year Ahead in Dirty Little Secrets
The 2023 Dirty Little Secrets is Now Available! Is Midstream on the cusp of another infrastructure wave? Find out in our new annual report.
Dirty Little Secrets reviews the outlook for Midstream and commodity markets in 2023 and the years ahead. East Daley discusses the outlook for crude oil, natural gas and NGLs and the impacts to midstream assets in our 2023 Dirty Little Secrets annual market report. Click here for a copy of the 2023 Dirty Little Secrets report.
The Daley Note
Subscribe to The Daley Note (TDN) for midstream insights delivered daily to your inbox. The Daley Note covers news, commodity prices, security prices and EDA research likely to affect markets in the short term.