The Daley Note: May 19, 2023
Kinetik (KNTK) will likely begin marketing its 16% share in Gulf Coast Express Pipeline (GCX) this quarter, CEO Jamie Welch said on the company's 1Q23 earnings call. We estimate KNTK could fetch around $550MM for the stake.
Operated by Kinder Morgan (KMI), GCX is one of the premier natural gas egress pipelines out of the Permian Basin. The pipeline can move up to 2.0 Bcf/d of natural gas to South Texas markets.
KNTK management noted it is ready to formally start exploring a sale and expects the process to take around three months. This means we could see the announcement of a sale by the end of 2Q23. KNTK in 2022 earned ~$50MM in Adj. EBITDA for its GCX interest.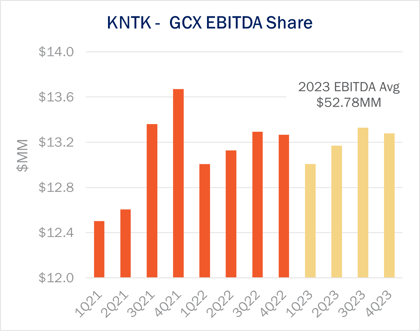 The recent sale by Targa Resources (TRGP) of its GCX stake is a good benchmark for what KNTK is likely to receive. In May 2022, TRGP sold its 25% interest in GCX to ArcLight Capital Partners for $857MM. According to East Daley's KNTK and TRGP Financial Blueprints, the sale represented a ~10.5x multiple based on 2021 GCX Adj. EBITDA of $325MM.
We forecast GCX to earn Adj. EBITDA of $329MM in 2023 (see figure). Assuming the same EBITDA multiplier of 10-11x, KNTK could fetch a price of around $550MM for its GCX stake. KNTK said sales proceeds from a sale would be used to pay down debt and move toward its 3.5x leverage goal.
KNTK would be less diversified after a sale of the GCX interest, and more reliant on the G&P segment for growth. This brings associated volume risk. KNTK does expect some uplift on the G&P side from new minimum volume commitments (MVCs) and gathering expansions in New Mexico, in addition to the upcoming expansion of Permian Highway Pipeline (PHP), which should help offset lost earnings from GCX. – James Taylor & Maria Paz Urdaneta Tickers: KMI, KNTK, TRGP.
East Daley Analytics is Heading to EIC
East Daley Analytics is excited to attend and host a fireside chat at the 20th Annual Energy Infrastructure Conference. Justin Carlson, East Daley Analytics CCO, will be hosting a Fireside Chat on Tuesday, May 23 from 3:40 - 4:15 pm discussing the Probability, the Pain, and the Potential for Energy Infrastructure in the U.S. Learn more.
Request Access to Energy Data Studio
East Daley Analytics has launched Energy Data Studio, a platform for our industry-leading midstream data and commodity production forecasts. All clients have access to the new client portal. If you have not yet logged in, please fill out the form to request a registration email be resent.
Energy Data Studio leverages our G&P data set for insights into midstream assets across every major oil and gas basin in North America. Users can navigate detailed visual dashboards by region, pipeline, or individual asset to understand crude oil, natural gas and NGL supply at the most granular level.
Energy Data Studio is available through data downloads from the visual interface, in Excel files, or as a direct feed delivered into subscribers' workflow via secure file transfer. To learn more about Energy Data Studio, please contact insight@eastdaley.com.
Review the Year Ahead in Dirty Little Secrets
The 2023 Dirty Little Secrets is Now Available! Is Midstream on the cusp of another infrastructure wave? Find out in our new annual report.
Dirty Little Secrets reviews the outlook for Midstream and commodity markets in 2023 and the years ahead. East Daley discusses the outlook for crude oil, natural gas and NGLs and the impacts to midstream assets in our 2023 Dirty Little Secrets annual market report. Click here for a copy of the 2023 Dirty Little Secrets report.
The Daley Note
Subscribe to The Daley Note (TDN) for midstream insights delivered daily to your inbox. The Daley Note covers news, commodity prices, security prices and EDA research likely to affect markets in the short term.