The Daley Note: October 11, 2023
Kinder Morgan (KMI) is partnering with WBI Energy to boost southbound pipeline takeaway from the Williston Basin. East Daley expects the coordinated projects to help producers in the Bakken play, as well as Western Canada this winter.
KMI provided an update on the new project, Bakken (WBI) to Cheyenne, at its annual customer meeting in May 2023. The project creates a path out of the Williston to the Cheyenne hub in Wyoming using existing and leased capacity on the Fort Union Gas Gathering, Bighorn Gas Gathering (BGG), and WIC Medicine Bow systems (see map from KMI). The company at the time estimated a 3Q23 in-service date.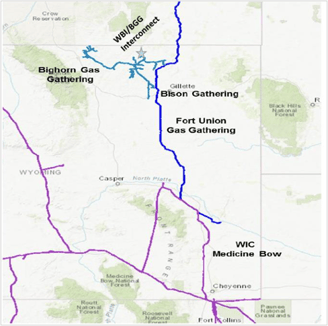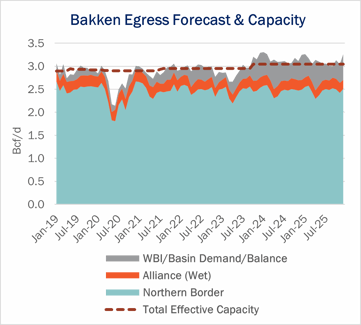 WBI is building its own project, Grassland South Expansion, in coordination with KMI. Grassland South includes 15.3 miles of pipeline connecting ONEOK's (OKE) Bear Creek natural gas processing plant to the Manning compressor station on the WBI Energy Transmission system. KMI and WBI will interconnect the WBI and BGG systems to create the seamless route to the Cheyenne hub.
The KMI/WBI projects will add 92 MMcf/d of takeaway from the Williston through the Powder River Basin. According to project status updates filed with the Federal Energy Regulatory Commission, WBI has finished construction of the new lateral and only needs to build a compressor. WBI estimates a November 1, 2023 in-service date for Grassland South.
East Daley includes impacts of the KMI/WBI projects in the Bakken Supply and Demand Forecast. We expect the expansions to help producers based in North Dakota, while companies in Western Canada will indirectly gain as well.
According to the Bakken Forecast, the egress options out of the Williston include Northern Border Pipeline, Alliance Pipeline, and WBI Energy Transmission. Around 85% of Bakken supply moves on Northern Border, which runs at full utilization out of the basin. Alliance Pipeline transports another 250 MMcf/d of Bakken gas. The strong flows compete with Canadian producers moving gas further upstream on these pipelines (see figure).
EDA assumes Northern Border continues to run full at flows of around 2.5–2.6 Bcf/d. However, the Grassland South expansion could free up some space on the other two pipelines. Currently, Alliance transports around 1.6 Bcf/d of Canadian supply. Displacement via the KMI/WBI projects could allow inbound supply from Western Canada to increase by 5%. – Maria Paz Urdaneta Tickers: KMI, OKE.
Sign Up for the Crude Oil Edge
East Daley's
Crude Oil Edge
provides weekly updates on the US Crude Oil Market including supply and demand fundamentals, basin-level views, and analysis of market constraints and infrastructure proposals. We explore sub-basin dynamics and provide market insights on crude oil flows, production growth, and import and export characteristics.
Sign up now for the Crude Oil Edge
.
Energy Data Studio
East Daley Analytics has launched Energy Data Studio, a platform for our industry-leading midstream data and commodity production forecasts. All clients have access to the new client portal. If you have not yet logged in, please fill out the form to request a registration email be resent.
Energy Data Studio leverages our G&P data set for insights into midstream assets across every major oil and gas basin in North America. Users can navigate detailed visual dashboards by region, pipeline, or individual asset to understand crude oil, natural gas and NGL supply at the most granular level.
Energy Data Studio is available through data downloads from the visual interface, in Excel files, or as a direct feed delivered into subscribers' workflow via secure file transfer. To learn more about Energy Data Studio, please contact insight@eastdaley.com.
The Daley Note
Subscribe to The Daley Note (TDN) for midstream insights delivered daily to your inbox. The Daley Note covers news, commodity prices, security prices and EDA research likely to affect markets in the short term