The Daley Note: May 17, 2023
NextEra Energy Partners (NEP) plans to divest its natural pipeline assets and transform into a pure-play renewables investment.
The process will begin later this year when NEP plans to sell its portfolio of South Texas pipeline assets, the company announced last Monday (May 8). NEP will finish the process in 2025 with the sale of Meade Pipeline Co., a holding company that represents a 39% interest in the Central Penn Line, a segment of Williams' (WMB) Transcontinental pipeline system in Pennsylvania.
East Daley maintains asset-level models for NEP's natural gas pipelines and renewable projects as part of our Financial Blueprints. NEP currently has ~4.3 Bcf/d of net capacity across its pipeline investments. These assets contribute ~20% to NEP's total CAFD (cash available for distribution).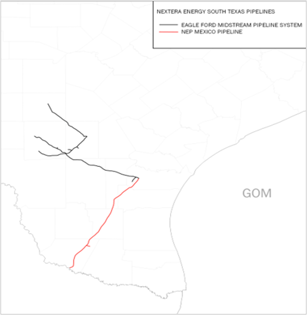 The largest asset in the South Texas portfolio, the NET Mexico pipeline, moves Eagle Ford shale gas from the Auga Dulce hub to a border crossing near Rio Grande City, TX (see map). The NET Mexico pipeline is contracted for 1.9 Bcf/d of capacity; flows over the last 30 days have averaged closer to 1.5 Bcf/d.
NEP acquired the interest in the Central Penn Line in late 2019 for $1.37B. This segment of the Transco line has been flowing at or near nameplate capacity.
In an investor call, NEP executives said the South Texas pipelines generated EBITDA of $185MM in 2022 while Meade Pipeline had EBITDA of $106MM.
NEP plans to use proceeds from the asset sales to simplify its capital structure (by repurchasing most of its convertible equity portfolio financings) and to self-fund growth capital needs, thereby eliminating the need for further equity issuances through 2024. Please reach out to AJ O'Donnell for more information about the NextEra asset model. –AJ O'Donnell Tickers: NEP, WMB.
1Q23 Earnings Previews Now Available in Energy Data Studio
East Daley Analytics has published 1Q23 Earnings Previews and Financial Blueprint Models for all midstream companies in our coverage. Our industry-leading Blueprints provide historical and forecasted volumes and financial information for 1,300+ midstream infrastructure assets by individual company.
1Q23 Earnings Previews and updated Financial Blueprints models are available for the following companies: AM, CEQP, DTM, ENB, ENLC, EPD, ET, ETRN, GEL, KMI, KNTK, MMP, MPLX, OKE, NS, PAA, PBA, SMLP, TRGP, TRP, WES and WMB.
Subscribers can access these reports on the Energy Data Studio platform. For more information about East Daley's Financial Blueprints, please reach out.
East Daley Analytics is Heading to EIC
East Daley Analytics is excited to attend and host a fireside chat at the 20th Annual Energy Infrastructure Conference. Justin Carlson, East Daley Analytics CCO, will be hosting a Fireside Chat on Tuesday, May 23 from 3:40 - 4:15 pm discussing the Probability, the Pain, and the Potential for Energy Infrastructure in the U.S. Learn more.
Request Access to Energy Data Studio
East Daley Analytics has launched Energy Data Studio, a platform for our industry-leading midstream data and commodity production forecasts. All clients have access to the new client portal. If you have not yet logged in, please fill out the form to request a registration email be resent.
Energy Data Studio leverages our G&P data set for insights into midstream assets across every major oil and gas basin in North America. Users can navigate detailed visual dashboards by region, pipeline, or individual asset to understand crude oil, natural gas and NGL supply at the most granular level.
Energy Data Studio is available through data downloads from the visual interface, in Excel files, or as a direct feed delivered into subscribers' workflow via secure file transfer. To learn more about Energy Data Studio, please contact insight@eastdaley.com.
Review the Year Ahead in Dirty Little Secrets
The 2023 Dirty Little Secrets is Now Available! Is Midstream on the cusp of another infrastructure wave? Find out in our new annual report.
Dirty Little Secrets reviews the outlook for Midstream and commodity markets in 2023 and the years ahead. East Daley discusses the outlook for crude oil, natural gas and NGLs and the impacts to midstream assets in our 2023 Dirty Little Secrets annual market report. Click here for a copy of the 2023 Dirty Little Secrets report.
The Daley Note
Subscribe to The Daley Note (TDN) for midstream insights delivered daily to your inbox. The Daley Note covers news, commodity prices, security prices and EDA research likely to affect markets in the short term.