Natural Gas Weekly: August 2, 2023
Flows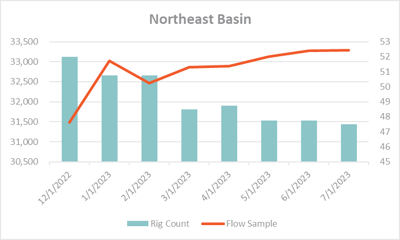 The Northeast gross gas production averaged 35,053 MMcf/d in 1H23. After recovering from the strong winter weather at the beginning of the year, basin production has remained relatively flat with a small increase. The rig count in the region has been on average 49 for the past 5 months and the pipeline sample, as expected, shows the same trend as gross production. For July pipeline gas sample average 33,277 MMcf/d, as the sample coverage in the basin is close to 100%, we could potentially see that the trend might continue during August.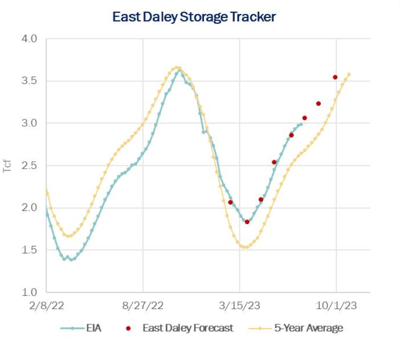 Storage
EIA reported a 16 Bcf storage injection for the July 21 week, putting working inventories at 2,987 Bcf. The recent light build has storage trending closer to the 5-year average but still remains 345 Bcf above after the latest EIA report. We had forecasted storage will end July at 3,056 Bcf/d which will likely need to be revised downward given the latest data.
Infrastructure
Last Friday (7/28) Permian Highway Pipeline (PHP) was taken out of service due to an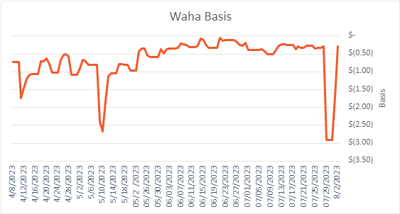 operational incident that resulted in 2.1 Bcf/d of egress being taken offline. As a result, Waha's spot price crashed into negative territory, dropping to -$2.92 behind Henry Hub. Partial service was restored Monday 7/31 with PHP accepting 1.2 Bcf of nominations and the price recovering somewhat to -$1.71 back from Henry Hub. This is the largest disruption the Permian Basin has seen this year with other significant egress reductions on PHP as well as Gulf Coast Express (GCX) previously impacting prices. East Daly monitors available daily egress flows out of the Permian Basin and only observed marginal differences on interstate egress lines during the PHP shutdown suggesting that the excess gas was stranded in-basin.
U.S. rigs decreased by 4 W-o-W with the total count sitting at 643. The Eagle Ford is down 2 rigs, the Marcellus+Utica is down 2 rigs, and the Barnett and ArkLaTex are down 1 rig each. The Anadarko added 2 rigs and the Permian added 1 rig W-o-W. On the midstream side, Targa Resources (TRGP) is down 3 rigs on its Permian systems. Kinetik (KNTK) is down 3 rigs as well in the Permian. Crestwood Equity Partners (CEQP) is down 2 rigs. Private-Vaquero is up 3 rigs in the Permian.