The Daley Note: February 9, 2023
NuStar (NS) reported positive 4Q22 earnings, beating consensus and East Daley EBITDA expectations by $15 million (8%) and $17 million (10%), respectively. However, what caught our eye was a miss on the company's Permian crude gathering volumes and relatively weak 2023 guidance for the asset.
In 2022, NuStar's Permian system averaged 584 Mb/d, below management's 600 Mb/d exit-2022 guidance. Management now guides to volumes exiting 2023 at 600 Mb/d, or just 3% growth Y-o-Y. East Daley forecasts crude volumes and performance for the NS – Permian asset in our NuStar Financial Blueprint. We forecast exit-2023 volumes to be 615 Mb/d, or 5.3% growth Y-o-Y on the system.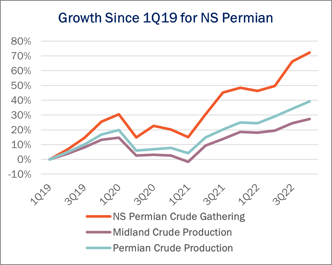 For context, East Daley's overall Permian Basin crude production growth forecast (exit to exit) is 9%, and we forecast the Midland sub-basin to grow by 3%. While management's guidance matches our Midland growth expectations, NuStar Permian has historically outpaced overall growth in the Midland (see figure).
Furthermore, Texas state data indicates top producers on the NS - Permian system are CrownQuest, Birch Resources, and ExxonMobil (XOM). The former two are private operators that we believe will continue to grow production at current oil prices. Exxon said its goal is to reach 1 MMb/d by 2027, requiring a compounded annual growth rate of ~13%.
In October 2022, the most recent month for which receipt data is available, the three top producers flowed 259 Mb/d on the NS crude gathering system (~44% of total NS Permian volumes). Additionally, NuStar's December investor presentation stated that producers on the Permian system increased rigs from ~20 to ~30 rigs.
Winter Storm Elliot could have impacted volumes in December, causing the miss on 4Q22 guidance. However, the reported increase in rig counts and the strength of the producers on this system lead us to believe that management's new 2023 guidance is conservative.
The conservative outlook for NS Permian is one of the reasons why, in our NuStar Financial Blueprint, we expect 2023 EBITDA to be $760 million, on the high end of management's guidance of $700-760 million. – Oren Pilant Tickers: NS.
Dirty Little Secrets: After Hours – The Natural Gas Undoing Project
East Daley will host a webinar on Thursday, Feb. 23 at 1 PM EST to look deeper into the natural gas story. In "Dirty Little Secrets: After Hours – The Natural Gas Undoing Project," East Daley explores the short- and long-term supply and demand factors driving natural gas prices. Are market risks being accurately priced in the forward curve? East Daley explores the short- and long-term dynamics driving the natural gas market. Sign up to attend our latest webinar.
Stay Ahead of the Market with Natural Gas Weekly
East Daley Analytics' Natural Gas Weekly provides a weekly update to our monthly Macro Supply and Demand Forecast. The update covers rigs, flows, production, prices and capacity constraints that materially change our view on supply and demand. This update highlights what investors and traders need to monitor in natural gas to ensure they are on the right side of the market. Contact us for more information on Natural Gas Weekly.
The Daley Note
Subscribe to The Daley Note (TDN) for midstream insights delivered daily to your inbox. The Daley Note covers news, commodity prices, security prices and EDA research likely to affect markets in the short term.