The Daley Note: June 22, 2023
A recent merger by a leading Rocky Mountain producer highlights the long-term potential of the Green River Basin, according to East Daley Analytics' natural gas market outlook.
On May 31, PureWest Energy, LLC was acquired by PW Consortium for $1.84 billion in cash. PW Consortium is a newly formed private group of family offices and financial institutions. The entity will retain the name PureWest Energy, and the existing management and employees will be retained under a reformed board of directors.
Denver-based PureWest is the second-largest producer of natural gas in the Green River Basin, following ExxonMobil (XOM). As of May 1, 2023, PureWest accounted for ~650 MMcf/d of the basin's 2.4 Bcf/d of gas production.
The upstream deal comes amid a period of relatively low natural gas prices near $2.00/MMBtu. The Green River Basin currently has only 2 active rigs; however, rig counts could be on the rise in the coming years, based on EDA's Macro Supply and Demand Forecast.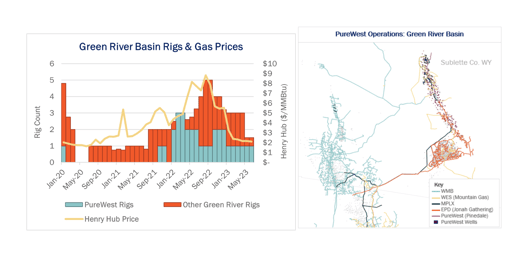 East Daley projects demand for LNG exports will grow by as much as 15 Bcf/d over the next five years, with the increase in LNG demand to push natural gas prices higher. The Henry Hub forward curve currently averages $4.27/MMBtu for 2027, but the Macro Supply and Demand Forecast is bullish relative to the market and anticipates higher prices ahead.
Our outlook would be good news for upstream and midstream operators in the Green River and other gas-focused basins. Historically, PureWest and other producers have increased rig activity in southwestern Wyoming when gas prices have been high (see Figure 1). Given our bullish view on prices and demand, EDA anticipates more rig activity and nearly 0.5 Bcf/d of additional natural gas production in the basin by YE27.
Companies operating G&P systems in the Green River could see upside as demand grows. The largest midstream companies that gather and process PureWest gas are Williams (WMB), Enterprise Products (EPD) and MPLX (MPLX). In 2022, EPD's Pioneer system generated $113MM in operating margin, according to our Blueprint Financials, while WMB's Opal system and MPLX's Black Forks system generated $43MM and $34MM of adjusted EBITDA, respectively.
Currently, EDA's G&P Allocation Tool allocates 1 PureWest rig to EPD's Pioneer system. We estimate the EPD and MPLX systems will still be below minimum volume commitment (MVC) levels, limiting upside from increased production by PureWest and other Green River producers. However, WMB is more exposed, and even one rig can return its system to growth. – Zach Krause Tickers: EPD, MPLX, WMB.
Request Access to Energy Data Studio
East Daley Analytics has launched Energy Data Studio, a platform for our industry-leading midstream data and commodity production forecasts. All clients have access to the new client portal. If you have not yet logged in, please fill out the form to request a registration email be resent.
Energy Data Studio leverages our G&P data set for insights into midstream assets across every major oil and gas basin in North America. Users can navigate detailed visual dashboards by region, pipeline, or individual asset to understand crude oil, natural gas and NGL supply at the most granular level.
Energy Data Studio is available through data downloads from the visual interface, in Excel files, or as a direct feed delivered into subscribers' workflow via secure file transfer. To learn more about Energy Data Studio, please contact insight@eastdaley.com.
Review the Year Ahead in Dirty Little Secrets
The 2023 Dirty Little Secrets is Now Available! Is Midstream on the cusp of another infrastructure wave? Find out in our new annual report.
Dirty Little Secrets reviews the outlook for Midstream and commodity markets in 2023 and the years ahead. East Daley discusses the outlook for crude oil, natural gas and NGLs and the impacts to midstream assets in our 2023 Dirty Little Secrets annual market report. Click here for a copy of the 2023 Dirty Little Secrets report.
The Daley Note
Subscribe to The Daley Note (TDN) for midstream insights delivered daily to your inbox. The Daley Note covers news, commodity prices, security prices and EDA research likely to affect markets in the short term.