Natural Gas Watch: September 29, 2022
Diving Permian gas prices put pipeline takeaway in focus as Waha traded nearly $4 behind the Henry Hub this week. East Daley forecasts Permian egress to tighten by late 2022, yet the steep discounting at Waha suggests takeaway is already tight.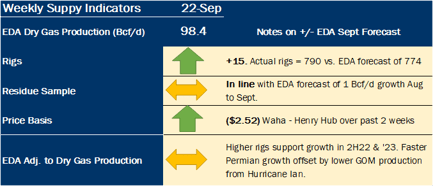 One factor pressuring Permian prices is reduced southbound exports to Mexico. After hitting a record near 1.5 Bcf/d this summer, total exports on West Texas pipelines (ONEOK's Road Runner and ET's Comanche Trail and Trans-Pecos) have eased by ~0.3 Bcf/d recently (see chart). These flows help balance Mexico's pipeline network and increase when downstream demand increases. Peak electric demand in Mexico (plus the Southwest and California) took pressure off Waha summer prices, but the underlying tight basin egress has been exposed with cooling temperatures.

Dry production for the 9/22 – 9/28 week averaged 99.1 Bcf/d. We estimate September production to average 98.4 Bcf/d in our Macro Supply and Demand Forecast.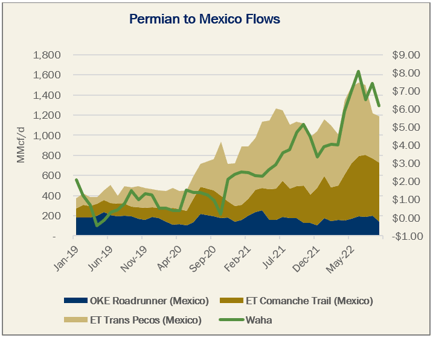 Gulf of Mexico samples fell 8% (~0.2 Bcf/d) W-o-W as producers evacuated offshore platforms in preparation for Hurricane Ian. The system made landfall Wednesday afternoon near Fort Meyers, FL as a Category 4 storm. Downtime should be limited as tracking maps show Ian poses limited threat to drilling operations in the Central Gulf.

While price basis suggests Permian supply is growing quicker than expected, lower GOM gas production will offset most of the Permian bump, leaving our September production outlook unchanged.

We forecast storage to end September at 3,021 Bcf, implying 147 Bcf of additional injections during the month of September. By October 2022, East Daley forecasts storage fills to 3,447, just 189 Bcf short of the 5-year average.
Webinar: Dissecting U.S. Natural Gas Production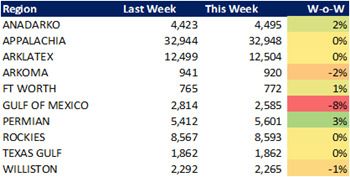 Join us at 12 p.m. ET on Wednesday, October 12 for a webinar discussion of U.S. natural gas supply and demand. In this 30-minute webinar, East Daley analysts will go behind the curtain and share our unique production methodology. Click here to register and for more information. For those interested in a deeper dive into natural gas market dynamics, we published an updated monthly Macro U.S. Supply & Demand Forecast Report and Dataset this week (Sept. 26). Please contact Zack Van Everen to request a copy.
Natural Gas Watch
Subscribe to Natural Gas Watch, "cut through the noise, take action," which highlights East Daley's high-level perspective on weekly natural gas market changes.