The Daley Note: July 11, 2023
At a high level, data gives us facts that can be leveraged to make decisions. In reality, the wisdom of a decision can often be lost in the data. Energy Transfer's (ET) Delaware Basin system in the Permian provides such an example.
According to G&P system projections in Energy Data Studio, we forecast 11% growth on the ET - Delaware asset in 2023, with gas supply expected to increase to over 2 Bcf/d by 2025. Growth is supported by producers EOG Resources (EOG), Mewborne, Chevron (CVX), ExxonMobil (XOM), Occidental (OXY) and ConocoPhillips (COP), which together supply more than 60% of system throughput.
ET has been expanding natural gas processing on the Delaware system, recently bringing online the Grey Wolf and Bear plants. At first glance, these additions appear to be an overbuild when comparing system capacity to total inlet volumes. We estimate June 2023 flows at 1.54 Bcf/d on ET – Delaware, while the Wolf and Bear expansions bring total gas processing capacity to 2.25 Bcf/d (see figure).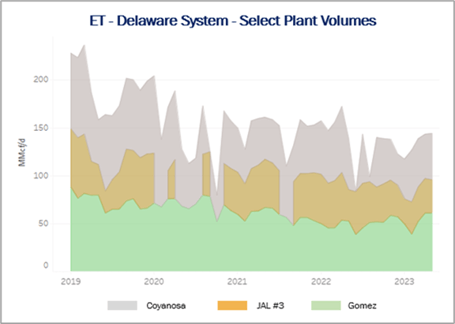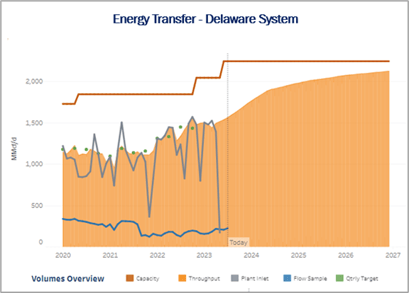 However, a deeper dive into the Energy Data Studio data shows that several of the 12 plants that make up the Delaware super-system, including the Coyanosa, Gomez and Jal #3 plants, have seen declining throughput in recent years. Volumes processed by these three plants have declined by nearly 100 MMcf/d since 2019 (see figure). These plants have spare capacity but do not appear to be factoring into ET's plans for new volumes, whether due to their age or location in the Permian.
So while it may appear the Wolf and Bear expansions aren't necessary, in reality the Delaware system was nearly full, and the new plants are needed to support growth. The ET - Delaware system feeds the company's vertically integrated gas pipelines (Oasis, ET Fuel, Transwestern) as well as the three pipelines bucketed under the Lonestar NGL Pipeline.
Given EDA's system-level projections, Energy Transfer could require yet another plant in the next year or so to support growth. The company may have some flexibility to handle growth, given that it can move over as much as 200 MMcf/d of rich gas from its Midland gathering system via its recently completed Permian Bridge Pipeline.
East Daley will be covering ET – Delaware, along with four other major G&P systems driving growth in the Permian Basin, on a cohosted webinar with our friends at Rextag this Thursday, July 13. Register here to come and join the discussion. – Justin Carlson, East Daley Chief Commercial Officer Tickers: COP, CVX, EOG, ET, OXY, XOM.
East Daley, Rextag to Host Webinar on Natural Gas Infrastructure
East Daley Analytics will be cohosting a webinar this Thursday with our friends at Rextag. In "The Big Squeeze: The Players Driving Natural Gas Growth," we will profile several leading G&P systems in the Permian Basin. The webinar will take place Thursday, July 13 at 10:00 PM CDT. Register here to join the discussion.
Request Access to Energy Data Studio
East Daley Analytics has launched Energy Data Studio, a platform for our industry-leading midstream data and commodity production forecasts. All clients have access to the new client portal. If you have not yet logged in, please fill out the form to request a registration email be resent.
Energy Data Studio leverages our G&P data set for insights into midstream assets across every major oil and gas basin in North America. Users can navigate detailed visual dashboards by region, pipeline, or individual asset to understand crude oil, natural gas and NGL supply at the most granular level.
Energy Data Studio is available through data downloads from the visual interface, in Excel files, or as a direct feed delivered into subscribers' workflow via secure file transfer. To learn more about Energy Data Studio, please contact insight@eastdaley.com.
Review the Year Ahead in Dirty Little Secrets
The 2023 Dirty Little Secrets is Now Available! Is Midstream on the cusp of another infrastructure wave? Find out in our new annual report.
Dirty Little Secrets reviews the outlook for Midstream and commodity markets in 2023 and the years ahead. East Daley discusses the outlook for crude oil, natural gas and NGLs and the impacts to midstream assets in our 2023 Dirty Little Secrets annual market report. Click here for a copy of the 2023 Dirty Little Secrets report.
The Daley Note
Subscribe to The Daley Note (TDN) for midstream insights delivered daily to your inbox. The Daley Note covers news, commodity prices, security prices and EDA research likely to affect markets in the short term.