The Daley Note: January 13, 2023
Where can investors still find double-digit production growth in the Permian Basin? Aside from the majors ExxonMobil (XOM) and Chevron (CVX), look no further than one of the newest public companies in the upstream space.
Fort Worth-based HighPeak Energy (HPK) operates under the radar of most analysts. Yet the company has stood out in a crowded space by bucking the no-growth trend among other Permian operators. HighPeak anticipates production growth of 63% from 2Q22 to 4Q22 and has a string of 5-6 rigs operating in the Midland sub-basin in Howard County, TX.
HPK went public in August 2020 and has grown rig activity from an average of 2 rigs in 2021. Most of HighPeak's natural gas is gathered by the West Texas Gas (WTG) G&P system, which blankets the north and south of the Midland. WTG is private and jointly owned by Stonepeak Infrastructure.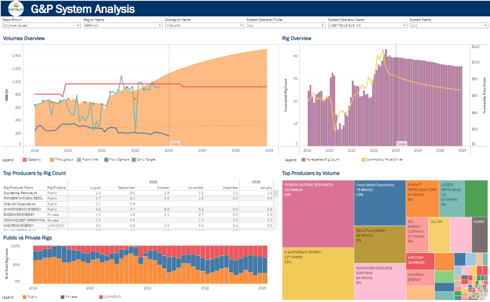 East Daley's asset models in Energy Data Studio forecasts volumes on WTG - Midland to grow by ~0.3 Bcf/d in 2023, with much of that growth fueled by HPK (see G&P System Analysis figure). According to our rig allocations, HPK ran an average of 5.6 rigs on the WTG system in December, just behind its more prominent E&P peer, Diamondback Energy (FANG), with 6 rigs.
There is no documentation of WTG's intent to expand its G&P system, but it seems a necessary investment. WTG has ~1 Bcf/d of gas processing capacity across its entire Midland system. In our asset models, East Daley estimates volumes on WTG - Midland hit almost 1 Bcf/d in July 2022. HighPeak noted it replaced its contract with WTG in May 2021 with one that requires WTG to expand its low-pressure gathering system to accommodate growth, particularly for its Flat Top acreage. - Rob Wilson Tickers: CVX, FANG, HPK, XOM.
Crude Network Model Reimagines Crude Market Data
East Daley's Crude Network Model reimagines the North American crude delivery system, balancing and forecasting crude flows by pipeline in and out of the major hubs and export docks. We monitor monthly crude production by basin and forecast future supply to determine the ripple effect of supply growth on different pipe corridors. The Crude Network Model also analyzes basis forward curves and compares them to East Daley's price forecasts. Contact us for more information on the Crude Network Model.
The Daley Note
Subscribe to The Daley Note (TDN) for midstream insights delivered daily to your inbox. The Daley Note covers news, commodity prices, security prices and EDA research likely to affect markets in the short term.