The Daley Note: July 18, 2023
Kinder Morgan (KMI) has been on a roll of late, beating market expectations for 1Q23 earnings. Will momentum continue in the second quarter? One asset we're watching for clues is KMI's KinderHawk G&P system in the Haynesville.
KMI in 1Q23 reported Adj. EBITDA of $1,996MM, 4% above East Daley's estimate and 2% above the Street. One factor cited by KMI for the strong performance was higher volumes on the KinderHawk system. We expect new investments to continue the growth trajectory.
KMI recently spent $121MM on a project to expand its Greenholly gathering pipeline in northern Louisiana. The Greenholly – North Holly expansion adds 38 miles of 36-inch pipeline to connect wells from a JV partner to the North Holly gathering system owned by KinderHawk. The project adds gas treating capacity and includes interconnects to KMI assets further downstream, including the Southern Natural Gas and Tennessee Gas Pipeline systems.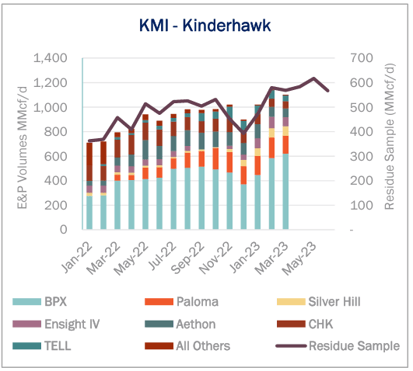 Based on gas samples for KinderHawk, we estimate system volumes grew 9% from 1Q23 to 2Q23 (see chart). Producers driving significant growth from 4Q22 to 1Q23 include BP (+107 MMcf/d), Ensight IV (+59 MMcf/d) and Silver Hill (+44 MMcf/d).
As discussed in our Macro Supply and Demand Forecast, there is near-term risk to Hayneville growth. We forecast gas supply flattening and even declining in 2024 because of our near-term bearish view of gas prices Our bearish macro call on gas price explains why uplift to KMI's KinderHawk EBDA to $160MM is deferred until 2026, as reflected in the KMI Blueprint. – Rob Wilson, CFA Tickers: KMI
Request Access to Energy Data Studio
East Daley Analytics has launched Energy Data Studio, a platform for our industry-leading midstream data and commodity production forecasts. All clients have access to the new client portal. If you have not yet logged in, please fill out the form to request a registration email be resent.
Energy Data Studio leverages our G&P data set for insights into midstream assets across every major oil and gas basin in North America. Users can navigate detailed visual dashboards by region, pipeline, or individual asset to understand crude oil, natural gas and NGL supply at the most granular level.
Energy Data Studio is available through data downloads from the visual interface, in Excel files, or as a direct feed delivered into subscribers' workflow via secure file transfer. To learn more about Energy Data Studio, please contact insight@eastdaley.com.
Review the Year Ahead in Dirty Little Secrets
The 2023 Dirty Little Secrets is Now Available! Is Midstream on the cusp of another infrastructure wave? Find out in our new annual report.
Dirty Little Secrets reviews the outlook for Midstream and commodity markets in 2023 and the years ahead. East Daley discusses the outlook for crude oil, natural gas and NGLs and the impacts to midstream assets in our 2023 Dirty Little Secrets annual market report. Click here for a copy of the 2023 Dirty Little Secrets report.
The Daley Note
Subscribe to The Daley Note (TDN) for midstream insights delivered daily to your inbox. The Daley Note covers news, commodity prices, security prices and EDA research likely to affect markets in the short term.