The Daley Note: July 14, 2023
Data for 2Q23 is trickling in as earnings season fast approaches for the energy sector. Targa Resources (TRGP) is one company where East Daley Analytics is weighing conflicting signals for the quarter.
We are currently publishing updated Financial Blueprints ahead of earnings calls. So far, we've release updated outlooks for Crestwood Equity (CEQP), EnLink Midstream (ENLC), Kinetik (KNTK), Magellan Midstream (MMP), Plains All American (PAA) and Summit Midstream (SMLP).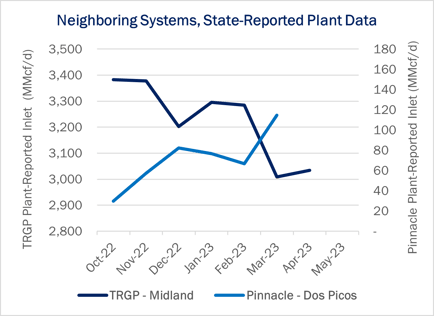 TRGP's updated Blueprint will be available next week. Overall, we've seen relatively flat gathering and processing volumes reported in Texas plant data through April for the Midland sub-basin. On the low end, volumes for Targa's Midland G&P system are down 5% in April vs the 1Q23 average. Nevertheless, with two months of incomplete data and the Legacy II plant coming online in late 1Q23/early 2Q23, we expect volumes increased for TRGP through the quarter.
The bears might argue the Dos Picos plant, new to the neighborhood, is taking some Midland volumes from Targa. Pioneer Natural Resources (PXD), the anchor shipper on TRGP – Midland, recently bought DoublePoint, which had volume commitments with the Dos Picos plant on the Pinnacle Midstream system. Data in in Energy Data Studio shows volumes to Dos Picos are on the rise, and some of Pinnacle's gain may come at Targa's expense (see graph). Pinnacle just announced another 220 MMcf/d processing plant scheduled to come online in 4Q24.
However, EDA still believes Midland growth ramped up for Targa in May and June. Backing our view, Vital Energy (VTLE) reported this week its 2Q23 production was 89.5 Mboe/d, up ~4% from 85.8 Mboe/d reported in 1Q23 (adjusted for the Driftwood acquisition). Most of Vital's production is in the Midland and, according to G&P system allocations in Energy Data Studio, the lion's share of its rich gas is processed by Targa.
Vital Energy is the second-largest producer on TRGP's Midland system. The positive data point suggests Targa's growth Q-o-Q will end up closer to the 1-2% growth we are seeing in the Midland sub-basin, despite muted volumes so far in state-reported plant data. – Rob Wilson, CFA
East Daley, Bloomberg to Host Fireside Chat on Natural Gas & LNG
Bloomberg Intelligence and East Daley Analytics are proud to host a fireside chat discussing the outlook for US LNG export expansion and the massive infrastructure challenges that developers face in uniting global markets. The US LNG export boom and global demand growth will require significant investment and buyer commitments in a market shrouded by uncertainty stemming from regulatory pressure, political instability, and an intensifying focus on renewables. Register here to join the discussion.
Request Access to Energy Data Studio
East Daley Analytics has launched Energy Data Studio, a platform for our industry-leading midstream data and commodity production forecasts. All clients have access to the new client portal. If you have not yet logged in, please fill out the form to request a registration email be resent.
Energy Data Studio leverages our G&P data set for insights into midstream assets across every major oil and gas basin in North America. Users can navigate detailed visual dashboards by region, pipeline, or individual asset to understand crude oil, natural gas and NGL supply at the most granular level.
Energy Data Studio is available through data downloads from the visual interface, in Excel files, or as a direct feed delivered into subscribers' workflow via secure file transfer. To learn more about Energy Data Studio, please contact insight@eastdaley.com.
Review the Year Ahead in Dirty Little Secrets
The 2023 Dirty Little Secrets is Now Available! Is Midstream on the cusp of another infrastructure wave? Find out in our new annual report.
Dirty Little Secrets reviews the outlook for Midstream and commodity markets in 2023 and the years ahead. East Daley discusses the outlook for crude oil, natural gas and NGLs and the impacts to midstream assets in our 2023 Dirty Little Secrets annual market report. Click here for a copy of the 2023 Dirty Little Secrets report.
The Daley Note
Subscribe to The Daley Note (TDN) for midstream insights delivered daily to your inbox. The Daley Note covers news, commodity prices, security prices and EDA research likely to affect markets in the short term.