The Daley Note: February 16, 2023
The latest G&P system in the Midland Basin saw volumes ramp in 4Q22 despite tightening pipeline takeaway.
In late 2020, Pinnacle Midstream II announced a 15-year gas gathering and processing agreement with DoublePoint Energy. The agreement is the anchor contract that helped underwrite development of the 200 MMcf/d Pinnacle Dos Picos plant, which recently began operations in the Midland.
The Pinnacle Dos Picos plant and gathering system are designed to service high-pressure deliveries from multi-pad drilling by big players like Pioneer Natural Resources (PXD), which purchased DoublePoint in April 2021. PXD also acquired the acreage dedication to Pinnacle, given the bolt-on nature of the deal.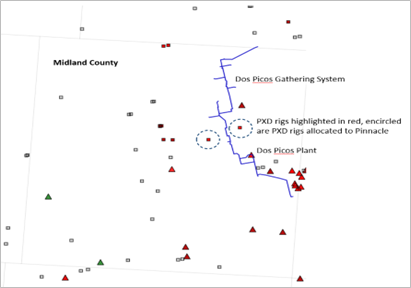 The Pinnacle Dos Picos plant began service in October 2022 with throughput of 30 MMcf/d. Volumes increased to 57 MMcf/d in November and 82 MMcf/d in December 2022, according to Texas state data.
Permian natural gas prices were under pressure in late 2022 given tight gas pipeline out of the basin, yet Pinnacle managed to grow throughput volume in 4Q22. Along with Pinnacle, Targa Resources (TRGP) recently reported strong activity on its Midland assets, suggesting gas production continues to expand in West Texas despite weak prices.
Unsurprisingly, the producer most active near Pinnacle's gathering system is Pioneer (see the two encircled rigs allocated to Pinnacle in the figure). PXD has guided to 0-5% annual growth, noting it will aim closer to 5% growth in 2023 with 2 rig adds from its 24 rigs active today.
PXD sends most of its gas to Targa's massive West Texas system, located adjacent to Pinnacle, which processes north of 3 Bcf/d of gas. With the start of the Dos Picos plant, Pioneer should have more options for processing its gas in the Midland. – Rob Wilson Tickers: PXD, TRGP.
Dirty Little Secrets: After Hours – The Natural Gas Undoing Project
East Daley will host a webinar on Thursday, Feb. 23 at 1 PM EST to look deeper into the natural gas story. In "Dirty Little Secrets: After Hours – The Natural Gas Undoing Project," East Daley explores the short- and long-term supply and demand factors driving natural gas prices. Are market risks being accurately priced in the forward curve? East Daley explores the short- and long-term dynamics driving the natural gas market. Sign up to attend our latest webinar.
Stay Ahead of the Market with Natural Gas Weekly
East Daley Analytics' Natural Gas Weekly provides a weekly update to our monthly Macro Supply and Demand Forecast. The update covers rigs, flows, production, prices and capacity constraints that materially change our view on supply and demand. This update highlights what investors and traders need to monitor in natural gas to ensure they are on the right side of the market. Contact us for more information on Natural Gas Weekly.
The Daley Note
Subscribe to The Daley Note (TDN) for midstream insights delivered daily to your inbox. The Daley Note covers news, commodity prices, security prices and EDA research likely to affect markets in the short term.