The Daley Note: February 13, 2023
East Daley has raised our 4Q22 earnings forecast for Targa Resources (TRGP) following new data showing strong results on several company assets in the Midland Basin.

We revised our 4Q22 Adj. EBITDA estimate higher by $34 million in our TRGP Financial Blueprint, from $795 million to $829 million. Following the updates, our full-year 2022 EBITDA estimate is $2.885 billion vs $2.850 billion previously. We also revised up our 2023 Adj. EBITDA forecast to $3.5 billion from $3.4 billion previously.

We shared our outlook for Targa on Feb. 3 in The Daley Note, based on asset-level Financial Blueprints available for TRGP and other midstream companies we cover. Since then, new Texas state data show a significant jump in plant volumes reported on TRGP's West Texas and North Texas G&P systems.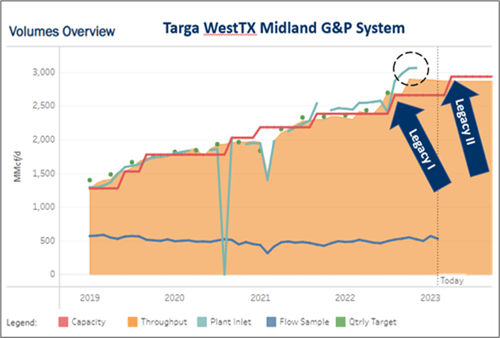 The figure shows historical and forecasted performance for the TRGP - West Texas G&P system, which services producers in the Midland sub-basin of the Permian. The processing plant data for the West Texas system increased by 309 MMcf/d from 3Q22 to 4Q22 (actual data is through November 2022). The asset data as depicted is available in East Daley's Energy Data Studio in the G&P System Analysis use case.
The latest data suggests TRGP's new Legacy processing plant filled up much quicker than we had expected (see light green line in figure).
While smaller in order of magnitude, Targa's North Texas system (not shown) also saw volumes increase by 46 MMcf/d. The system has benefited from increased rig activity recently.
Targa is one of several midstream companies to see an uptick in volumes on systems in the Midland Basin. Users of Energy Data Studio can screen for other Midland assets through the G&P System Analysis use case.
Targa plans to report earnings before the market opens on Wednesday, Feb. 22. The updated TRGP Financial Blueprint is available to clients on East Daley's portal. - Rob Wilson Tickers: TRGP.
Dirty Little Secrets: After Hours – The Natural Gas Undoing Project
East Daley will host a webinar on Thursday, Feb. 23 at 1 PM EST to look deeper into the natural gas story. In "Dirty Little Secrets: After Hours – The Natural Gas Undoing Project," East Daley explores the short- and long-term supply and demand factors driving natural gas prices. Are market risks being accurately priced in the forward curve? East Daley explores the short- and long-term dynamics driving the natural gas market. Sign up to attend our latest webinar.
Stay Ahead of the Market with Natural Gas Weekly
East Daley Analytics' Natural Gas Weekly provides a weekly update to our monthly Macro Supply and Demand Forecast. The update covers rigs, flows, production, prices and capacity constraints that materially change our view on supply and demand. This update highlights what investors and traders need to monitor in natural gas to ensure they are on the right side of the market. Contact us for more information on Natural Gas Weekly.
The Daley Note
Subscribe to The Daley Note (TDN) for midstream insights delivered daily to your inbox. The Daley Note covers news, commodity prices, security prices and EDA research likely to affect markets in the short term.