The Daley Note: February 14, 2023
New 4Q22 results from Plains All American (PAA) show why focusing on core basins is key. The Permian-focused midstream giant reported strong earnings, benefiting from its recent transaction with Oryx in the basin. Plains' Canadian NGL business also posted solid results, even in an environment of declining commodity prices.
East Daley hit the nail on the head in our PAA Financial Blueprint forecast. Plains on Feb. 8 reported 4Q22 Adj. EBITDA of $659 million, matching our estimate ahead of the call (see figure). At the time of our 4Q22 Earning Preview for Plains (published Jan. 17), East Daley was 5% higher than Street consensus.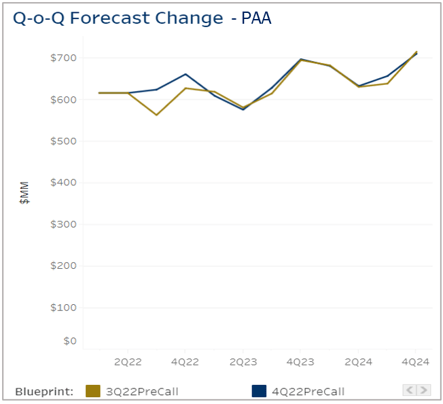 We were concerned about guidance heading into the call, but PAA matched the midpoint of our estimate with guidance of $2.45-$2.55 billion (EDA $2.51 billion). We had offsetting misses on PAA's segment financials, but our proprietary data modeling allows us to track fee-based volumes. Our estimates for total pipeline volumes came within 4% of reported results.
Management has pulled back on its conservative view of the road ahead, with the call mostly in line with how East Daley views crude oil supply and demand in our Crude Hub Model. We see incrementally higher rates on pipelines headed directly to the Gulf Coast, and a flattish Canadian business as PAA deals with lower NGL prices and tighter spreads between regional crude prices. The tightening differentials will result as Canadian volumes shift to new crude takeaway projects coming online later this year (e.g. TransMountain).
As for the Permian Basin, management expects ~500 Mb/d of growth in 2023 (exit to exit), in line with East Daley's most recent estimate of 525 Mb/d of growth. PAA's discussions with producers indicate a modest rebuild of inventory of drilled but uncompleted wells (DUCs), but we believe a call from international demand could provide upside depending on the timing of certain Permian natural gas pipeline projects. Currently, producers' hesitance to flare is a limiting factor, as well as lower commodity prices.
In total, PAA's improved balance sheet, asset portfolio, and position in the premier North America crude oil basins rationalize our above-consensus outlook for cash flow. There remains some uncertainty around the commodity-exposed portions of its business in Canada and crude-grade marketing in North America, but the fundamentals for its fee-based businesses remain sound. East Daley is +3-5% vs the Street from 2024-2027. - AJ O' Donnell Tickers: PAA.
Dirty Little Secrets: After Hours – The Natural Gas Undoing Project
East Daley will host a webinar on Thursday, Feb. 23 at 1 PM EST to look deeper into the natural gas story. In "Dirty Little Secrets: After Hours – The Natural Gas Undoing Project," East Daley explores the short- and long-term supply and demand factors driving natural gas prices. Are market risks being accurately priced in the forward curve? East Daley explores the short- and long-term dynamics driving the natural gas market. Sign up to attend our latest webinar.
Stay Ahead of the Market with Natural Gas Weekly
East Daley Analytics' Natural Gas Weekly provides a weekly update to our monthly Macro Supply and Demand Forecast. The update covers rigs, flows, production, prices and capacity constraints that materially change our view on supply and demand. This update highlights what investors and traders need to monitor in natural gas to ensure they are on the right side of the market. Contact us for more information on Natural Gas Weekly.
The Daley Note
Subscribe to The Daley Note (TDN) for midstream insights delivered daily to your inbox. The Daley Note covers news, commodity prices, security prices and EDA research likely to affect markets in the short term.