Natural Gas Weekly: June 8, 2023
Infrastructure - Enterprise Products (EPD) has completed a 400 MMcf/d expansion of its Acadian Haynesville Extension pipeline, the company said May 31, allowing more natural gas to flow southbound out of the ArkLaTex Basin. The pipeline provides takeaway from Haynesville development in northern Louisiana to the Acadian intrastate system in southern LA. The expansion lifts total capacity on the Acadian Haynesville Extension to 2.5 Bcf/d.
The pipeline expansion will support growing demand for industrial users and LNG export projects on the Louisiana coast, reducing potential constraints moving gas out of the Haynesville. East Daley models a significant ramp in Haynesville production during the 2025–27 period. We forecast 2027 gas production of 24.2 Bcf/d, which will require more pipeline expansions to avoid egress constraints.
Flows - East Daley has seen residue samples shift recently in the ArkLaTex, coinciding with the start of the expansion to the Acadian Haynesville Extension. Samples from Energy Transfer's (ET) Louisiana gathering system fell by ~350 MMcf/d over the past week. We use delivery points from Enable Gas Transmission, ETC Tiger Pipeline, and Gulf Run Transmission to estimate volumes for the ET system, and all of these systems posted lower samples at the start of June. We don't believe the declines indicate diminished production, but rather are a shift in flows to the Acadian intrastate system following the 400 MMcf/d expansion.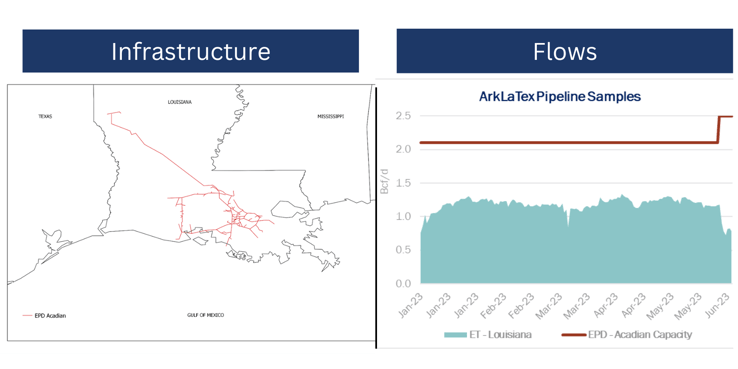 Rigs - Waha prices have been relatively resilient recently despite our Permian Basin forecast showing tight takeaway capacity. Rig counts in the Permian have remained consistent this year, hovering around 350 rigs.
We have seen sporadic maintenance events on Gulf Coast Express and Permian Highway Pipeline take ~1 Bcf/d of capacity offline and send prices crashing, indicating that egress remains tight. Given the stable rig count, operators could be building more drilled but uncompleted wells (DUCs) and brining less supply online. Warmer weather in Mexico and Texas also is contributing to higher seasonal demand for power generation, which is likely diverting more Permian gas to export pipelines and onto Texas intrastate systems and helping free up egress constraints.

Storage - EIA reported an implied weekly storage injection of 118 Bcf for the June 2 week. The report included a 14 Bcf reclassification of working gas to base gas for non-salt storage fields in the South-Central producing region, resulting in a net 104 Bcf change to storage. The latest EIA report leaves working gas inventory at 2,550 Bcf. In our updated Macro Supply and Demand Forecast, we estimate working gas ends June at 2,939 Bcf. US storage is 353 Bcf above the 5-year average after the latest EIA report.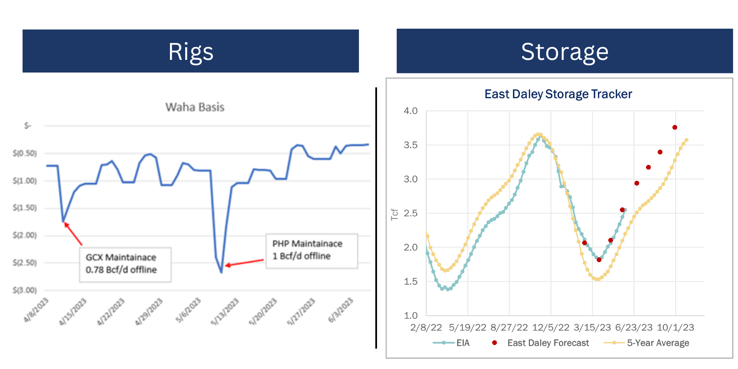 Natural Gas Weekly
East Daley Analytics' Natural Gas Weekly provides a weekly update to our monthly Macro Supply and Demand Forecast. The update covers rigs, flows, production, prices and capacity constraints that materially change our view on supply and demand. This update highlights what investors and traders need to monitor in natural gas to ensure they are on the right side of the market. Subscribe to the Natural Gas Weekly.