The Daley Note: January 26, 2023
Despite a strong operational performance, East Daley has lowered our outlook for the Alliance Pipeline due to several significant contract roll-offs. Owners Pembina Pipeline (PBA) and Enbridge (ENB) would see lower returns based on our updated asset forecast.
Alliance, a wet gas pipeline stretching from Alberta to Chicago, had legacy contracts with ARC Resources (550 MMcf/d) and PetroChina (~50 MMcf/d) roll off at the end of October 2022. According to Easy Daley's Alliance Pipeline asset model, the two contracts accounted for more than 33% of contracted capacity (~600 MMcf/d) and ~29% of the pipeline's reported revenues.
PBA is a 50% owner and operates Alliance. On its 3Q22 earnings call, PBA executives said contract re-negotiation efforts made some progress last quarter, "albeit for smaller volumes."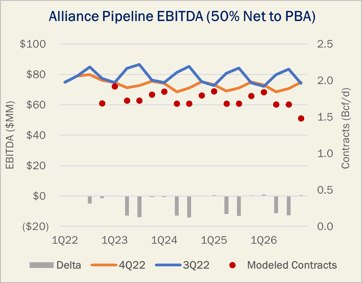 East Daley has been monitoring volumes and new contracts on Alliance through our FERC index of customers (IOC) data set and informational postings on the pipeline's electronic bulletin board (EBB). While we've seen contracted volumes tick higher since PBA's 3Q comments, rates on new volumes were lower than we had forecasted.
Alliance faced a Section 4 rate case last year that resulted in lower maximum tariff rates. The current maximum tariff rate is ~35% lower than rates on the expired contracts, according to data on the pipeline's EBB. This creates downward pressure on Alliance's earnings, even as the pipeline continues to run nearly full. Although the largest contracts expired in 4Q22, there are additional contracts with above-market rates that stretch into 2023-2025.
In our asset-level Financial Blueprint models, East Daley's outlook for PBA and its 50% Alliance share has fallen as a result of our latest updates. Annual earnings on the combined Canadian and US portions of Alliance are ~$40 million lower, net to PBA, in our model updates. ENB, the pipeline's 50% co-owner, faces the same decline in performance. - AJ O'Donnell Tickers: ENB, PBA.
Arbo + East Daley Webinar - January 31 at 1:30 PM EST
Join Arbo and East Daley for an in-depth discussion on gas pipeline rate cases and the impact of rate risk on transporters, shippers and investors.
We provide an overview of rate cases: their purpose, how and when rate cases are likely to be initiated, as well as the process, timing and potential outcomes. We then review recent case trends across the industry, using activity within the portfolio of Kinder Morgan (KMI) to illustrate rate risk and the impact at the entity level from an investor perspective. Register here.
Stay Ahead of the Market with Natural Gas Weekly
East Daley Analytics' Natural Gas Weekly provides a weekly update to our monthly Macro Supply and Demand Forecast. The update covers rigs, flows, production, prices and capacity constraints that materially change our view on supply and demand. This update highlights what investors and traders need to monitor in natural gas to ensure they are on the right side of the market. Contact us for more information on Natural Gas Weekly.
The Daley Note
Subscribe to The Daley Note (TDN) for midstream insights delivered daily to your inbox. The Daley Note covers news, commodity prices, security prices and EDA research likely to affect markets in the short term.