The Daley Note: January 27, 2023
Natural gas futures have fallen hard, breaking below $3/MMBtu for the balance of winter. While a freakish turn in the weather is contributing to bearish sentiment, the bigger problem in East Daley's view is overheated supply growth.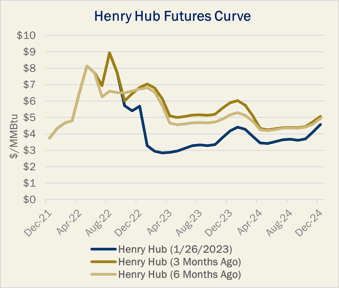 The decline has been swift for natural gas, down by 60% since late December. Henry Hub was trading near $7/MMBtu ahead of the holidays, when a bitter Arctic front swept over the US and sent demand surging to an all-time high, according to the Energy Information Administration. But temperatures in key Midwest and Northeast markets then rapidly warmed and have remained mild through January, leading to several weeks of below-normal storage withdrawals.
Now bulls are throwing in the towel. On Wednesday (Jan. 25), the March and April 2023 Henry Hub contracts settled below $3/MMBtu at $2.915 and $2.927, according to CME data. The declines continued Thursday (Jan. 26) as the front-month February 2023 contract traded as low as $2.76 before settling at $2.905. After the latest action, the Henry Hub strip is below the $3 price level through May 2023.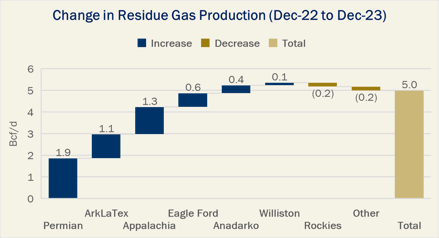 The drop in natural gas comes as no surprise to East Daley. We've been warning clients for nearly 12 months of imbalances through the 2023 calendar caused by rapid production growth. Here we quote from our inaugural Macro Supply and Demand Forecast, released in February 2022: "The pre-balance storage moves above the 5-year average starting in March 2023 due to growing production, surpassing 4 Tcf by 4Q23. If the market is not expecting this trend, prices could make a sharp reversal."
Overheated supply growth is also a central theme of East Daley's 2023 Dirty Little Secrets report released last month. In Dirty Little Secrets, we reveal our outlook for 5 Bcf/d of 'unconstrained' gas production growth in 2023 (exit to exit), with 60% of this growth coming from the Permian and ArkLaTex basins (see figure).
Too many rigs is the chief problem. The US rig count peaked at 860 rigs in early October 2022, according to East Daley's Energy Data Studio.
Notably, we expect robust production growth to occur despite rig attrition this year, meaning we have already baked in declining rig counts over the course of 2023 in our Macro model to help restore balance. We see supply growth as unavoidable due to the time lag before drilling and development activity leads to first production from new wells.
Strong supply growth will make balancing the market difficult in 2023, even with some heroic assumptions on demand. More likely, growing supply will flood the market and lead to above-average storage injections. "Gas prices must decline to incentivize gas-focused producers to reduce drilling activity and balance the market," we concluded in Dirty Little Secrets. A mild winter has accelerated the process, but the bears were bound to take control. – Andrew Ware
Arbo + East Daley Webinar - January 31 at 1:30 PM EST
Join Arbo and East Daley for an in-depth discussion on gas pipeline rate cases and the impact of rate risk on transporters, shippers and investors.
We provide an overview of rate cases: their purpose, how and when rate cases are likely to be initiated, as well as the process, timing and potential outcomes. We then review recent case trends across the industry, using activity within the portfolio of Kinder Morgan (KMI) to illustrate rate risk and the impact at the entity level from an investor perspective. Register here.
Stay Ahead of the Market with Natural Gas Weekly
East Daley Analytics' Natural Gas Weekly provides a weekly update to our monthly Macro Supply and Demand Forecast. The update covers rigs, flows, production, prices and capacity constraints that materially change our view on supply and demand. This update highlights what investors and traders need to monitor in natural gas to ensure they are on the right side of the market. Contact us for more information on Natural Gas Weekly.
The Daley Note
Subscribe to The Daley Note (TDN) for midstream insights delivered daily to your inbox. The Daley Note covers news, commodity prices, security prices and EDA research likely to affect markets in the short term.