Natural Gas Weekly: January 27, 2023
Flows - Bakken supply has not fully recovered from the Arctic blast that struck one month ago. Residue gas output fell by 0.9 Bcf/d in basin pipeline samples over the Dec. 23 – Dec. 29 week as wellheads froze over in the bitter cold. Since then, Bakken samples are up by 61% (~0.8 Bcf/d) but remain ~80 MMcf/d below samples of 2.2 Bcf/d seen earlier in December. The pace of recovery in the Williston Basin is consistent with declines of 0.3 - 0.5 Bcf/d seen from previous winter storms. We have ~100% sample coverage in the Bakken and believe these are reliable estimates of freeze-offs.

Infrastructure – Permian Highway Pipeline (PHP) on Monday (Jan. 23) said it completed repairs to the Coyanosa compressor station, returning available capacity to the maximum of 2.1 Bcf/d. Transport on PHP had been limited since early December 2022 for scheduled and unscheduled maintenance, a factor contributing to wild swings in Waha gas prices recently. From Dec. 6 - Jan. 23, PHP averaged 1.75 Bcf/d of effective capacity, limiting Permian egress by 350 MMcf/d over this period. The return of PHP helped Waha gas prices strengthen this week even as Henry Hub prices fell, trading in a range of $0.35-0.69 behind the Henry Hub benchmark, according to Bloomberg data.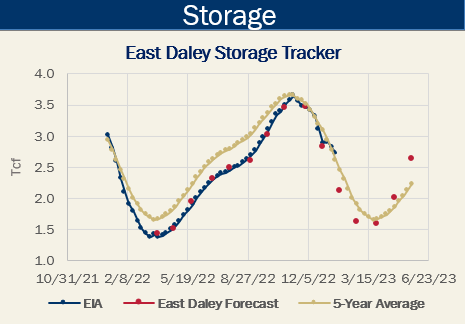 Storage - EIA reported a 91 Bcf storage withdrawal for the Jan. 20 week, putting working inventories at 2,729 Bcf. In our monthly Macro, we forecast storage to exit January at 2,117 Bcf; we plan to update our Macro Supply & Demand Forecast for clients next week. Storage is 128 Bcf above the 5-year average after the latest EIA report.
Methodology Note: As of Jan. 30, 2023, East Daley Analytics is switching to WellDatabase for wellhead production data and rig information. East Daley utilizes a data aggregator, BlackBird BI, to collect and organize raw data published by WellDatabase. As part of the change in data providers, East Daley's active rig estimates will now reconcile with the weekly Baker Hughes rig publication. The biggest change in rig counts is a reduction in vertical rigs in areas like the Anadarko, Arklatex, and Barnett, which is not expected to impact the production outlook. Please direct any methodology questions to Ryan Smith (rsmith@eastdaley.com). Additionally, we are happy to introduce you to our new data vendors if there is any interest.
Natural Gas Weekly
East Daley Analytics' Natural Gas Weekly provides a weekly update to our monthly Macro Supply and Demand Forecast. The update covers rigs, flows, production, prices and capacity constraints that materially change our view on supply and demand. This update highlights what investors and traders need to monitor in natural gas to ensure they are on the right side of the market. Subscribe to the Natural Gas Weekly.