The Daley Note: January 31, 2023
December's Arctic blast will likely dampen 4Q22 earnings for midstream company ONEOK (OKE), as gas volumes in pipeline samples for its Bakken system declined by 14% vs November.
The Bakken G&P system is one of OKE's largest assets by EBITDA. In East Daley's Financial Blueprint company model, we estimate the Bakken system will earn $687 million for 2022, comprising 19% of ONEOK's total EBITDA for the year.
The powerful front brought snow and bitter temperatures ahead of the holidays across most of the Lower 48, causing wellheads and equipment to freeze over in several basins. In the Williston Basin in Montana and North Dakota, residue gas output fell by 0.9 Bcf/d over the Dec. 23 – Dec. 29 week. OKE – Bakken was one of several G&P systems to see impacts late in the quarter.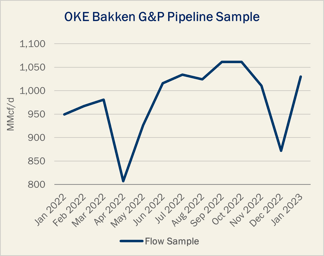 The weak December performance brought down the 4Q22 pipeline sample for the OKE system by 6% vs 3Q22, but we expect an even larger 13% Q-o-Q decline in EBITDA, to $177 million, when the company reports 4Q22 results.
The December blast is only one headwind for the Bakken asset, according to company updates in our 4Q22 OKE Earnings Preview. The bigger headwind is weaker commodity prices, with Mont Belvieu NGL and Henry Hub natural gas prices down 20% and 29% Q-o-Q, respectively.
Crestwood Equity (CEQP), another large G&P player in the basin, provided a 4Q22 operational update and stated its gathering volumes in the Bakken dropped 15% Q-o-Q due to the winter storms, similar to the 12% dip indicated by its pipeline sample.
ONEOK is scheduled to report earnings after the markets close on Feb. 27. Pipeline samples across the Bakken have generally recovered in January, but a long winter is ahead of us. Last year's late storm in late April/early May had an even larger impact than the December storm, and the weather for the last weekend in January was for a high of 0 Fahrenheit. —Ajay Bakshani, CFA Tickers: CEQP, OKE.
Arbo + East Daley Webinar - January 31 at 1:30 PM EST
Join Arbo and East Daley for an in-depth discussion on gas pipeline rate cases and the impact of rate risk on transporters, shippers and investors.
We provide an overview of rate cases: their purpose, how and when rate cases are likely to be initiated, as well as the process, timing and potential outcomes. We then review recent case trends across the industry, using activity within the portfolio of Kinder Morgan (KMI) to illustrate rate risk and the impact at the entity level from an investor perspective. Register here.
Stay Ahead of the Market with Natural Gas Weekly
East Daley Analytics' Natural Gas Weekly provides a weekly update to our monthly Macro Supply and Demand Forecast. The update covers rigs, flows, production, prices and capacity constraints that materially change our view on supply and demand. This update highlights what investors and traders need to monitor in natural gas to ensure they are on the right side of the market. Contact us for more information on Natural Gas Weekly.
The Daley Note
Subscribe to The Daley Note (TDN) for midstream insights delivered daily to your inbox. The Daley Note covers news, commodity prices, security prices and EDA research likely to affect markets in the short term.