Natural Gas Weekly: December 29, 2022
Flows – The Arctic blast that ripped through the country over the holidays brought blistering cold temperatures that have put a dent in December natural gas supply. Basin pipeline samples show total US gas production declined by 21% at the peak of the storms and remains 13% back midweek due to wellhead freeze-offs. Williston samples have declined the most since mid-December, down 42%, while Anadarko Basin samples are 27% lower. At a high level, total samples have declined by an average of 4% in December. Applying this decline to East Daley's December gas supply number would reduce flows by 3.7 Bcf/d. This will lower our December 2023 storage number by 117 Bcf, slightly helping offset the oversupply but not nearly enough to rebalance for the year.

Rigs – Rig activity in the Anadarko Basin has tapered off recently, with the basin shedding 12 rigs since the end of November. Rigs in Kansas account for most of the decline, down 9 since the end of November, which will have a minimal impact to the forecast. Rigs in Oklahoma are down by 2, led by a reduction from Devon Energy. DVN had been running 4 rigs earlier this year but has dropped to 2 rigs in December, potentially signaling more focus on the Eagle Ford, Williston and Permian heading into 2023. Even with the recent decline, Anadarko drilling activity is up 12% YTD due to stronger activity from private operators in Oklahoma. East Daley expects Anadarko rig activity to continue to see marginal declines next year based on the backwardated WTI price curve. There could be additional downside risk if natural gas prices shift lower.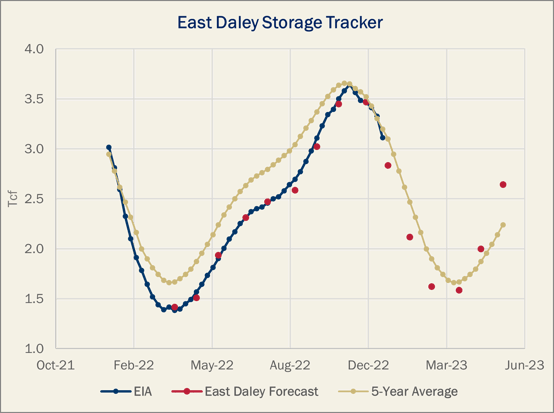 Storage - EIA reported a 213 Bcf storage withdrawal for the Dec. 23 week, leaving storage inventories at 3,112 Bcf. We forecast gas storage to end December at 2,833 Bcf. Storage is 85 Bcf below the 5-year average after the latest EIA report.
East Daley Analytics' Natural Gas Weekly provides an update to our monthly Supply and Demand forecast. The update covers rigs, flows, production, prices, and capacity constraints that materially change our view on supply and demand. This update highlights what investors and traders need to keep their eye on in the natural gas markets to ensure they are on the right side of the market. Subscribe to the Natural Gas Weekly.
Dirty Little Secrets
Dirty Little Secrets is East Daley's annual market report summarizing trends we expect to shape the U.S. midstream energy sector during the year ahead. The Dirty Little Secrets 2023 Report was released on December 13, 2022. Fill out the form on the Dirty Little Secrets page to receive this year's report, view last year's report and view the webinar.