The Daley Note: December 28, 2022
A new shale resource play rolled out by EOG Resources (EOG) could shake up the state of midstream in the Appalachian Basin, creating new opportunities to treat and transport natural gas, NGLs and crude.

In its 3Q22 earnings, EOG announced the surprise entry in Ohio targeting the "Utica Combo" on the western edge of the Marcellus and Utica shales. EOG said it has acquired leases for 395,000 net acres in eastern Ohio for ~$500 million, including about 135,000 mineral acres in the southern part of the play. The producer said it had drilled four wells confirming the Utica Combo resource and is guiding to a 20-well program for 2023.

2023 Dirty Little Secrets is Now Available! East Daley on December 12 released our Dirty Little Secrets report reviewing key market trends that will shape the US energy sector in the years ahead. Click here for a copy of the 2023 Dirty Little Secrets report.
During the earnings call, executives said EOG will target the liquids-rich "volatile oil window" of the Utica shale, estimating 60-70% of output will be oil and NGLs and the balance residue gas. The most prolific well drilled so far produced over 3,500 boe/d from a 12,000-foot lateral, management said.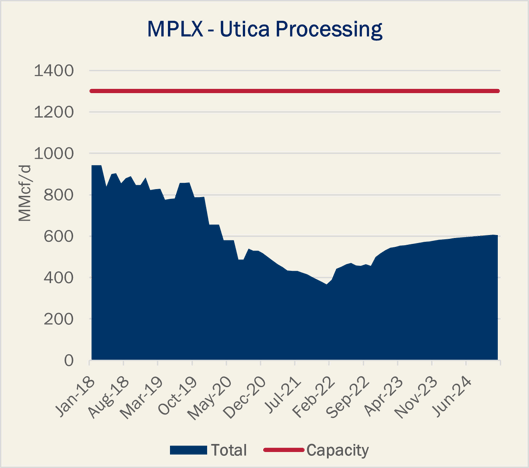 The three-stream development could open new opportunities for midstream investments. While East Daley expects modest output in 2023, we see long-term potential for MPLX (MPLX), EnLink Midstream (ENLC) and Williams (WMB) to provide services to EOG and potentially other producers if the Utica Combo takes off. For example, ENLC operates the Ohio River Valley (ORV) condensate line, which could take produced liquids. Prior to the EOG announcement, we estimated the ORV system would contribute ~$2.5 million in EBITDA to ENLC.
Additionally, there is ample spare gas processing capacity in eastern Ohio to accommodate supply growth and boost midstream returns. In the 3Q call, EOG executives said the producer will build its own gathering but plans to use third-party facilities to process rich gas. Plants in the area that could take EOG volumes include Kensington (WMB), Berne (Blue Racer), and MPLX's Cadiz and Seneca plants. The MPLX system has a combined 1.3 Bcf/d of gas processing capacity but recently has been operating below 40% utilization (see Figure).
Gas pipeline egress also isn't as pressing a concern on the western side of the Marcellus and Utica. Given its planned drilling in the region, we estimate EOG would produce ~30 MMcf/d of residue gas after a full year from a 20-well program. Our current estimates for egress capacity in our Northeast Supply and Demand Forecast show ample room for the small increase in residue production. – Alex Gafford Tickers: ENLC, EOG, MPLX, WMB.
Dirty Little Secrets 2023 is Now Available!
The 2023 Dirty Little Secrets report is now available! Is Midstream on the cusp of another infrastructure wave? Find out in our new annual report.
Sign up to receive 2023 Dirty Little Secrets
The Russia-Ukraine conflict has pushed commodity prices higher and spurred greater global demand for US energy products. Meanwhile, more disciplined growth from the upstream has infrastructure finally filling up across commodities. Will exports power the next infrastructure boom?
Dirty Little Secrets is East Daley's annual report on energy markets and the road ahead for Midstream. We share our macroeconomic outlooks for US oil, natural gas and NGLs, highlight key infrastructure opportunities, update on the state of the Energy Transition, and share our view on Midstream's future role in energy.
To receive the 2023 Dirty Little Secrets report, please click here.

3Q22 Earnings Previews and Earnings Reviews Now Available
East Daley has published a complete group of 3Q22 Earnings Previews and Blueprint Financial Models for midstream companies within our coverage. We also are publishing 3Q22 Earnings Reviews as companies report comparing our forecasts vs results. Quarterly Earnings Previews and Blueprints are now available for Antero Midstream (AM), Crestwood Equity (CEQP), Enbridge (ENB), EnLink Midstream (ENLC), Enterprise Products (EPD), Energy Transfer (ET), Equitrans Midstream (ETRN), Kinder Morgan (KMI), Kinetik Holdings (KNTK), Magellan Midstream (MMP), MPLX (MPLX), ONEOK (OKE), Plains All American (PAA), Summit Midstream (SMLP), Targa Resources (TRGP), TC Pipelines (TRP), Western Midstream (WES) and Williams (WMB).
Our Earnings Previews include quarterly earnings forecasts compared to Street consensus, a detailed list of the top assets that will impact the quarter, analysis of near- and long-term risks to future earnings, along with forecasts for Adj. EBITDA by segments. Please log in to access these reports.
The Daley Note
Subscribe to The Daley Note (TDN) for midstream insights delivered daily to your inbox. The Daley Note covers news, commodity prices, security prices and EDA research likely to affect markets in the short term.