The Daley Note: December 27, 2022
Earlier this month, Pembina Pipeline (PBA) provided 2023 Adjusted EBITDA guidance between $3.5 - $3.8 billion, representing a $25 million decrease from the midpoint of 2022 guidance ($3.625 - 3.725 billion). East Daley had forecasted $3.78 billion in Adj. EBITDA prior to the update for the Canadian midstream company.
Although PBA expects volumes across its assets to grow and inflationary pressures to provide uplift to its tariffs, lower NGL and crude prices as well as narrower spreads will negatively impact profitability for its Marketing & New Ventures businesses, the company said.
2023 Dirty Little Secrets is Now Available! East Daley on December 12 released our Dirty Little Secrets report reviewing key market trends that will shape the US energy sector in the years ahead. Click here for a copy of the 2023 Dirty Little Secrets report.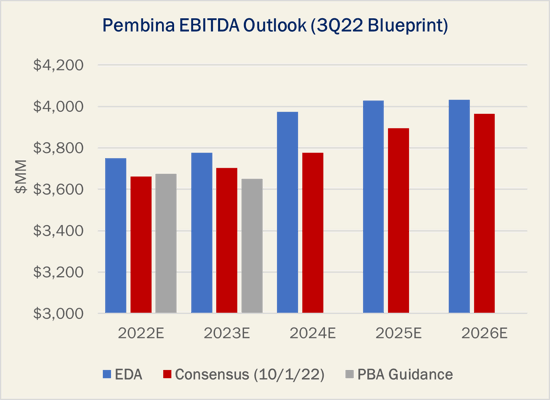 Based on data from East Daley's PBA Blueprint Financial Model, we estimate ~16% of the company's 2022 EBITDA is exposed to commodity prices. According to PBA's press release, it has hedged ~50% of 2023 fractionation exposure at C$45/bbl, limiting some of its exposure. But prices for NGL products have since continued to decline, resulting in further risk to unhedged volumes.
Per our NGL outlook from our 2023 Dirty Little Secrets report, East Daley expects NGL prices to see further downward pressure based on increasing inventories, potential recessionary pressures and lack of demand, as well as a tight fractionation capacity along the US Gulf Coast.
On a more positive note, PBA updated on new business developments, including the reactivation of the Nipisi Pipeline and a possible Redwater Frac 4, a 55 Mb/d propane+ fractionator that would be located in PBA's Redwater complex northeast of Edmonton, AB. However, neither announcement is likely to materially contribute to 2023 EBITDA.
Additionally, PBA announced the sale of its 50% interest in the KAPS pipeline system to Stonepeak for $662.5 million. Proceeds from the sale will be used to repay credit facilities associated with KAPS construction. – AJ O' Donnell Tickers: PBA.
Dirty Little Secrets 2023 is Now Available!
The 2023 Dirty Little Secrets report is now available! Is Midstream on the cusp of another infrastructure wave? Find out in our new annual report.
Sign up to receive 2023 Dirty Little Secrets
The Russia-Ukraine conflict has pushed commodity prices higher and spurred greater global demand for US energy products. Meanwhile, more disciplined growth from the upstream has infrastructure finally filling up across commodities. Will exports power the next infrastructure boom?
Dirty Little Secrets is East Daley's annual report on energy markets and the road ahead for Midstream. We share our macroeconomic outlooks for US oil, natural gas and NGLs, highlight key infrastructure opportunities, update on the state of the Energy Transition, and share our view on Midstream's future role in energy.
To receive the 2023 Dirty Little Secrets report, please click here.

3Q22 Earnings Previews and Earnings Reviews Now Available
East Daley has published a complete group of 3Q22 Earnings Previews and Blueprint Financial Models for midstream companies within our coverage. We also are publishing 3Q22 Earnings Reviews as companies report comparing our forecasts vs results. Quarterly Earnings Previews and Blueprints are now available for Antero Midstream (AM), Crestwood Equity (CEQP), Enbridge (ENB), EnLink Midstream (ENLC), Enterprise Products (EPD), Energy Transfer (ET), Equitrans Midstream (ETRN), Kinder Morgan (KMI), Kinetik Holdings (KNTK), Magellan Midstream (MMP), MPLX (MPLX), ONEOK (OKE), Plains All American (PAA), Summit Midstream (SMLP), Targa Resources (TRGP), TC Pipelines (TRP), Western Midstream (WES) and Williams (WMB).
Our Earnings Previews include quarterly earnings forecasts compared to Street consensus, a detailed list of the top assets that will impact the quarter, analysis of near- and long-term risks to future earnings, along with forecasts for Adj. EBITDA by segments. Please log in to access these reports.
The Daley Note
Subscribe to The Daley Note (TDN) for midstream insights delivered daily to your inbox. The Daley Note covers news, commodity prices, security prices and EDA research likely to affect markets in the short term.