The Daley Note: December 26, 2022
Freeport LNG is unlikely to restart from an extended outage until the back half of January 2023, dealing a blow to the near-term bull case for natural gas.
In a Dec. 23 status update, Freeport LNG pushed back by several weeks the timeline to return to service. The company has finished the repair work required to restart operations and just completed all questions in a data request from the Federal Energy Regulatory Commission (FERC). Given the time required for regulators to review the responses and seek any clarification, Freeport said it doesn't anticipate restarting until the second half of January 2023.
The latest delay is the fifth by Freeport LNG since an explosion on June 8 shut down the Texas liquefaction facility. The incident wiped out ~2 Bcf/d of gas demand for LNG exports and has helped push natural gas prices lower. To date, the Freeport outage has removed ~400 Bcf of gas demand in 2022 compared to normal operations.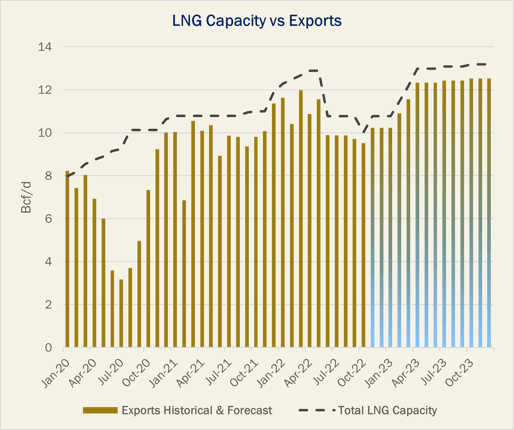 Freeport LNG originally planned to restart in early October but has repeatedly pushed back the timeline as the company seeks approval from regulators for a revamped operations plan. A root-cause audit blamed employee fatigue from understaffing as a contributing factor that led to the explosion. In a Nov. 18 update, Freeport said it planned to restart in mid-December. Following a visit from the Department of Transportation's Pipeline and Hazardous Materials Safety Administration (PHMSA) on Nov. 30, Freeport once again delayed the timeline to year-end 2022.
Then on Dec. 12, FERC filed a hefty engineering information request as a follow-up to the PHMSA inspection. The request by FERC includes documentation of safety training for all Freeport personnel, additional hiring to address employee fatigue, plans to conduct an emergency drill with local emergency responders, and numerous incomplete repairs noted during field observations.
As a result of the back-and-forth with regulators, East Daley has pushed back the expected restart of Freeport LNG until mid-February 2023 in our US Macro Supply and Demand Forecast. We do not expect full operations to resume until 2Q23. Based on this timeline, we forecast LNG exports to average 12.0 Bcf/d in 2023, or a Y-o-Y demand gain of ~1.6 Bcf/d. We've been directionally bearish on natural gas in 2023 due to rapid production growth, and the latest news on Freeport reinforces our market view. – Oren Pilant
Subscribe to Natural Gas Watch
East Daley Analytics' Natural Gas Watch provides an update to our monthly US Macro Supply and Demand Forecast. The update covers rigs, flows, production, prices, and capacity constraints that materially change our view on supply and demand. This update highlights what investors and traders need to keep their eye on in the natural gas markets to ensure they are on the right side of the market. Subscribe to Natural Gas Watch.
Dirty Little Secrets 2023 is Now Available!
The 2023 Dirty Little Secrets report is now available! Is Midstream on the cusp of another infrastructure wave? Find out in our new annual report.
Sign up to receive 2023 Dirty Little Secrets
The Russia-Ukraine conflict has pushed commodity prices higher and spurred greater global demand for US energy products. Meanwhile, more disciplined growth from the upstream has infrastructure finally filling up across commodities. Will exports power the next infrastructure boom?
Dirty Little Secrets is East Daley's annual report on energy markets and the road ahead for Midstream. We share our macroeconomic outlooks for US oil, natural gas and NGLs, highlight key infrastructure opportunities, update on the state of the Energy Transition, and share our view on Midstream's future role in energy.
To receive the 2023 Dirty Little Secrets report, please click here.

The Daley Note
Subscribe to The Daley Note (TDN), "midstream insights delivered daily," covers news, commodity prices, security prices, and EDA research likely to affect markets in the short term.