The Daley Note: January 2, 2023
Happy New Year! East Daley is revisiting the biggest energy and midstream stories of 2022. This post was originally published for clients in our weekly Data Insights on January 14, 2022.
Enterprise Products (EPD) will acquire Navitas Midstream in a $3.25 billion deal we expect to generate significant 2023 EBITDA upside for EPD, based on system-level analysis from our Blueprint Financial Models.

East Daley published a Midstream Navigator on Jan. 12 evaluating the deal's initial impact. We have dissected the EPD-Navitas deal further by leveraging our system-level production models, G&P data sets, and asset-level models to better understand the economics and expected synergies.

EPD provided initial guidance in a press release and investor deck of $0.18-$0.22 DCF/unit in 2023 from the Navitas acquisition. This guidance implies 2023 EBITDA in the range of $450 - 537 million (6.1x – 7.2x multiple), assuming maintenance and interest expenses are ~$25 million and ~$32 million, respectively (see table).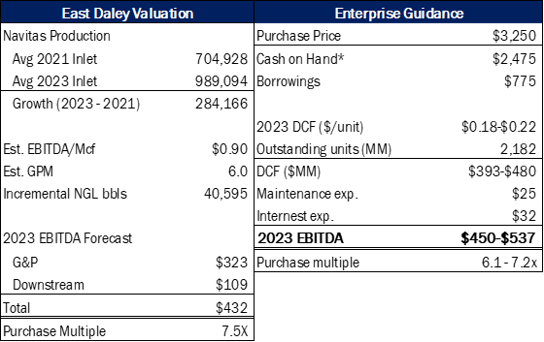 While many details surrounding the deal remain unknown (i.e., contract structure, growth projections), we created an independent valuation of the deal based on our current system-level Navitas production forecast, an analysis of gathering and processing (G&P) rates on competing Midland Basin systems, and expected synergies for EPD's downstream assets.
Looking at forward rates across six of the top Midland G&P systems on an EBITDA/Mcf basis, we found that rates on the DCP Midstream (DCP), EnLink Midstream (ENLC), Energy Transfer (ET) and Targa Resources (TRGP) systems range from $0.65-$0.99 EBITDA/Mcf.
Using the current forward pricing strip and an estimate of ~50% exposure to percent-of-proceed (PoP) contracts, we calculate 2023 Navitas G&P rates at the upper end of the range at $0.90 EBITDA/Mcf. Assuming rigs on the system fluctuate between 16 and 17 for the next two years, we forecast ~1 Bcf/d of supply into the gas plants in 2023, yielding $323 million in EBITDA.
Additional earnings are likely to come from EPD's downstream assets, which we estimate based on incremental NGL barrels extracted from the new Leiker (1Q22) and Trident II (mid-2023) plants on the Navitas system. EPD's Shin Oak pipeline, fractionators and storage assets in Mont Belvieu, and exports docks along the U.S. Gulf Coast are all poised to benefit. We estimate total earnings from downstream activities, including additional marketing barrels, at $109 million.
In total, East Daley projects 2023 EBITDA from the Navitas acquisition at $432 million for EPD, or a 7.5x multiple based on EPD's $3.25 billion purchase price. Stay tuned for Part II of our Enterprise/Navitas Navigator analysis, where we will discuss in more detail the expected synergies of the deal. – AJ O'Donnell Tickers: DCP, ENLC, EPD, ET, TRGP.

Subscribe to Natural Gas Weekly
East Daley Analytics' Natural Gas Weekly provides an update to our monthly US Macro Supply and Demand Forecast. The update covers rigs, flows, production, prices, and capacity constraints that materially change our view on supply and demand. This update highlights what investors and traders need to keep their eye on in the natural gas markets to ensure they are on the right side of the market. Subscribe to Natural Gas Weekly.
Dirty Little Secrets 2023 is Now Available!
The 2023 Dirty Little Secrets report is now available! Is Midstream on the cusp of another infrastructure wave? Find out in our new annual report.
Sign up to receive 2023 Dirty Little Secrets
The Russia-Ukraine conflict has pushed commodity prices higher and spurred greater global demand for US energy products. Meanwhile, more disciplined growth from the upstream has infrastructure finally filling up across commodities. Will exports power the next infrastructure boom?
Dirty Little Secrets is East Daley's annual report on energy markets and the road ahead for Midstream. We share our macroeconomic outlooks for US oil, natural gas and NGLs, highlight key infrastructure opportunities, update on the state of the Energy Transition, and share our view on Midstream's future role in energy.
To receive the 2023 Dirty Little Secrets report, please click here.

The Daley Note
Subscribe to The Daley Note (TDN), "midstream insights delivered daily," covers news, commodity prices, security prices, and EDA research likely to affect markets in the short term.