The Daley Note: January 3, 2023
East Daley is revisiting the biggest energy and midstream stories of 2022. This post was originally published for clients in our weekly Data Insights on May 20, 2022.
Matterhorn Express Pipeline has reached a final investment decision (FID) and will proceed soon, according to a May 19 announcement by its joint-venture partners. They plan to start the 42-inch pipeline just in time to meet new growth in Permian Basin gas supply, according to our latest basin model.
JV partners Whitewater Midstream, EnLink Midstream (ENLC), Devon Energy (DVN) and MPLX LP (MPLX) said that the Matterhorn project has secured sufficient shipping agreements to move forward with construction of the 490-mile pipeline. Matterhorn is planned to come online in 3Q24, providing up to 2.5 Bcf/d of gas service from Waha to the Katy hub near Houston.

2023 Dirty Little Secrets is Now Available! East Daley released our Dirty Little Secrets report reviewing key market trends that will shape the US energy sector in the years ahead. Click here for a copy of the 2023 Dirty Little Secrets report.
The 3Q24 timing could be perfect, according to East Daley's Permian Supply & Demand Forecast. Several compression expansions are planned on the Permian Highway Pipeline (PHP), Gulf Coast Express (GCX) and Whistler Pipeline, but we expect growing basin production to fill this new capacity by 3Q24. In our long-term Permian outlook, East Daley has assumed a new 'unnamed' 2 Bcf/d gas pipeline starts in early 2024. Matterhorn fits this bill.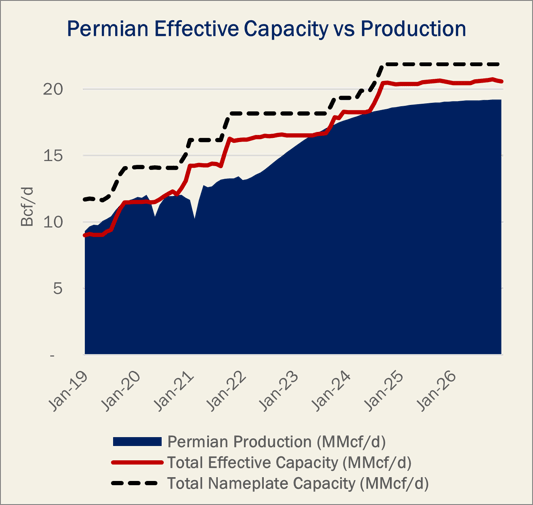 Matterhorn will be the first Permian residue gas pipeline DVN and ENLC own, complementing gas processing assets the companies operate in the basin. ENLC owns gas processing in the Midland and Delaware; DVN owns the Stateline processing plant in the Delaware.

WhiteWater Midstream's 3.2 Bcf/d Agua Blanca Pipeline sources supply from DVN, MPLX and ENLC's gas plants in the Delaware Basin, making it a key connection for the joint venture. Agua Blanca will likely be an important receipt meter for Matterhorn's supply.

Other midstreamers including Kinder Morgan (KMI) and Energy Transfer (ET) also recently proposed Permian pipeline solutions to the incoming egress problem. MPLX (MPLX) recently took FID on a project to add compression to Whistler Pipeline, which will increase takeaway by 0.5 Bcf/d.

ET proposed a new project during its 4Q21 earnings call. The full project would be capable of moving 1.5-2.0 Bcf/d of gas from the Permian through central Texas along the ET Fuel intrastate system, connecting to several Gulf Coast natural gas hubs. ET's proposal included a combination of newly constructed pipe looping and underutilized pipe along the company's ET Fuel intrastate system. ET would build ~260 miles from the Midland Basin to its existing 36-inch pipeline located southwest of Fort Worth. – Ryan Smith Tickers: DVN, ENLC, ET, KMI, MPLX.


Dirty Little Secrets 2023 is Now Available!

The 2023 Dirty Little Secrets report is now available! Is Midstream on the cusp of another infrastructure wave? Find out in our new annual report.
Sign up to receive 2023 Dirty Little Secrets
The Russia-Ukraine conflict has pushed commodity prices higher and spurred greater global demand for US energy products. Meanwhile, more disciplined growth from the upstream has infrastructure finally filling up across commodities. Will exports power the next infrastructure boom?
Dirty Little Secrets is East Daley's annual report on energy markets and the road ahead for Midstream. We share our macroeconomic outlooks for US oil, natural gas and NGLs, highlight key infrastructure opportunities, update on the state of the Energy Transition, and share our view on Midstream's future role in energy.
To receive the 2023 Dirty Little Secrets report, please click here.

3Q22 Earnings Previews and Earnings Reviews Now Available
East Daley has published a complete group of 3Q22 Earnings Previews and Blueprint Financial Models for midstream companies within our coverage. We also are publishing 3Q22 Earnings Reviews as companies report comparing our forecasts vs results. Quarterly Earnings Previews and Blueprints are now available for Antero Midstream (AM), Crestwood Equity (CEQP), Enbridge (ENB), EnLink Midstream (ENLC), Enterprise Products (EPD), Energy Transfer (ET), Equitrans Midstream (ETRN), Kinder Morgan (KMI), Kinetik Holdings (KNTK), Magellan Midstream (MMP), MPLX (MPLX), ONEOK (OKE), Plains All American (PAA), Summit Midstream (SMLP), Targa Resources (TRGP), TC Pipelines (TRP), Western Midstream (WES) and Williams (WMB).
Our Earnings Previews include quarterly earnings forecasts compared to Street consensus, a detailed list of the top assets that will impact the quarter, analysis of near- and long-term risks to future earnings, along with forecasts for Adj. EBITDA by segments. Please log in to access these reports.
The Daley Note
Subscribe to The Daley Note (TDN) for midstream insights delivered daily to your inbox. The Daley Note covers news, commodity prices, security prices and EDA research likely to affect markets in the short term.