The Daley Note: July 3, 2023
With 2Q23 earnings around the corner, East Daley Analytics recently updated our G&P system forecasts in the Permian Basin. While there is plenty of growth to go around, our rig allocations point to wide variance in system performance.
Permian natural gas production is rising fast, backed by steady rig activity and multiple midstream infrastructure expansions. The Permian Basin outlook in Energy Data Studio projects raw natural gas production to grow by 3.2 Bcf/d on average in 2023, reaching over 24 Bcf/d this year.
This growth will not be evenly distributed among midstream operators. At a high level, we estimate supply in 2023 is increasing nearly twice as fast in the Delaware (19% Y-o-Y growth) as the Midland sub-basin (10% Y-o-Y growth). And within the Delaware and Midland, location and competition create a wide range of winners and losers in the midstream space.
A sample from our coverage of 40+ Permian G&P systems is shown in the figure. Among the outperformers, we model EnLink Midstream's (ENLC) Delaware system to post 30% Y-o-Y volume growth in 2023. At the low end is the Alpine High system owned by Kinetik (KNTK), where we expect gas volumes to decline by 8% on average in 2023.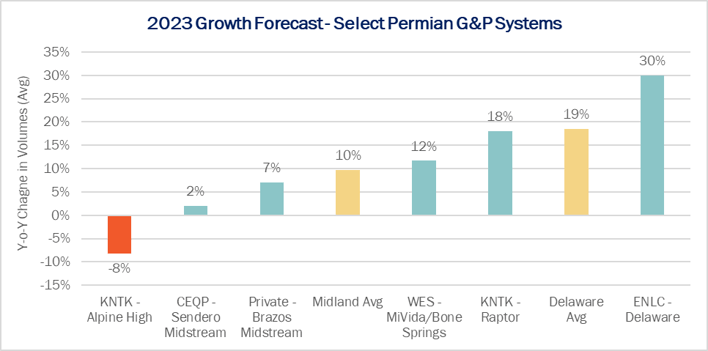 ENLC – Delaware is backed by leading operators ExxonMobil (XOM) and EOG Resources (EOG). The two producers have added 3 rigs combined this year, according to G&P system rig allocations in Energy Data Studio. We allocate 8 rigs to ENLC – Delaware in June, up from 2 rigs at the start of the year. In the ENLC Financial Blueprint, EDA estimates the Delaware system will generate ~$49MM more EBITDA in 2023 as a result of volume growth.
For KNTK - Alpine High, flows are in natural decline due to a lack of rig activity on the Delaware system. Alpine High is highly dependent on producer Apache (APA) for investment, and we haven't tracked a rig on the system High since October 2022. Fortunately for KNTK, its nearby Raptor system is seeing strong growth (+18% Y-o-Y) from a diverse group of public and private producers, including Callon Petroleum (CPE) and Permian Resources (PR), showing location is paramount.
The highs and lows in the figure illustrate the wider range in our Permian sample. KNTK – Raptor and ENLC – Delaware are part of a larger group of 20+ G&P systems in Energy Data Studio that EDA forecasts 10%+ volume growth. And, like KNTK – Alpine High, we model many assets will post declining volumes as overall gas supply grows in 2023.
Permian rig counts recently peaked at 361 at the end of April and have fallen to 343 rigs in late June. With the growth trend in the basin at risk of stalling, we will continue to monitor systems for changes in performance. – Zach Krause Tickers: CPE, ENLC, EOG, KNTK, PR, XOM.
Request Access to Energy Data Studio
East Daley Analytics has launched Energy Data Studio, a platform for our industry-leading midstream data and commodity production forecasts. All clients have access to the new client portal. If you have not yet logged in, please fill out the form to request a registration email be resent.
Energy Data Studio leverages our G&P data set for insights into midstream assets across every major oil and gas basin in North America. Users can navigate detailed visual dashboards by region, pipeline, or individual asset to understand crude oil, natural gas and NGL supply at the most granular level.
Energy Data Studio is available through data downloads from the visual interface, in Excel files, or as a direct feed delivered into subscribers' workflow via secure file transfer. To learn more about Energy Data Studio, please contact insight@eastdaley.com.
Review the Year Ahead in Dirty Little Secrets
The 2023 Dirty Little Secrets is Now Available! Is Midstream on the cusp of another infrastructure wave? Find out in our new annual report.
Dirty Little Secrets reviews the outlook for Midstream and commodity markets in 2023 and the years ahead. East Daley discusses the outlook for crude oil, natural gas and NGLs and the impacts to midstream assets in our 2023 Dirty Little Secrets annual market report. Click here for a copy of the 2023 Dirty Little Secrets report.
The Daley Note
Subscribe to The Daley Note (TDN) for midstream insights delivered daily to your inbox. The Daley Note covers news, commodity prices, security prices and EDA research likely to affect markets in the short term.