The Daley Note: June 30, 2023
No stranger to controversy, Enbridge's (ENB) Line 5 pipeline is facing new legal issues. A federal judge has ruled in favor of a complaint by a Chippewa tribe and ordered the pipeline to relocate off tribal land in Wisconsin.
On June 16, a US district judge ordered ENB to move a 12-mile segment of Line 5 near Ashland, WI that crosses into lands of the Bad River Band of the Lake Superior Chippewa (see map). The tribe alleges Line 5 is at immediate risk of exposure and rupturing after erosion from heavy spring rains.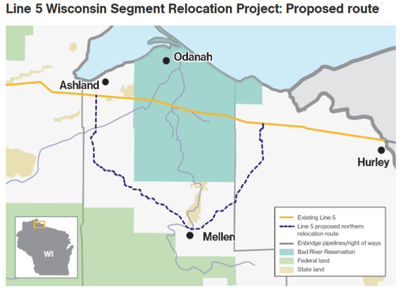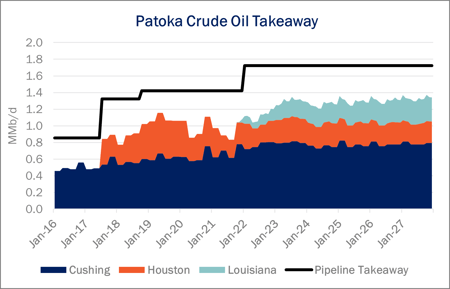 In his ruling, the judge gave ENB three years to relocate the pipeline. He also ordered the company to pay $5MM to the tribe for trespassing, as its easement was never renewed on tribal lands. Earlier this week, the judge clarified Line 5 can remain in operation until the three-year window terminates on July 16, 2016.
Enbridge has experienced its share of legal battles on Line 5. In November 2020, Michigan Governor Whitmer revoked the pipeline's easement through the Straits of Mackinac. ENB has defied the order, stating it would only shutter Line 5 when ordered by federal regulators or a judge. Michigan's attorney general has since filed a lawsuit to return the matter to a state court; ENB has filed a countersuit.
In the latest case, ENB has a plan to reroute the pipeline 41 miles around the Bad River Band reservation. However, ENB has expressed concerns that permits for the project won't arrive in a timely fashion. Once permits are in hand, ENB said it would take about one year to build the alternate Line 5 route.
Line 5 transports up to 540 Mb/d of light crude oil, synthetic crude and propane from Superior, WI to Sarnia, ON. The pipeline supplies 55% of Michigan's propane demand and 45% of refinery supply in Michigan, Ohio and Ontario.
East Daley Analytics' Crude Hub Model tracks all pipelines carrying crude oil into the Patoka, IL refinery and storage hub (see figure). Using the Crude Hub Model, we can envision a market scenario without Line 5. Without the pipeline, we would expect a larger demand pull from the Patoka/Midwest region and fewer crude oil barrels to make it to the Gulf Coast via Marathon Oil's (MRO) Capline Pipeline, and to Houston via the Energy Transfer Crude Oil Pipeline (ETCOP).
Shutdown of Line 5 would significantly raise transportation costs for refiners and propane suppliers in Michigan's Upper Peninsula. Most likely, operators would need to rail or truck replacement crude oil to the refinery, adding transportation costs. The Mid-Valley pipeline could possibly deliver more crude northbound, according to the Crude Hub Model, but additional trucking cost would be required to most destinations. - Kristine Oleszek
Request Access to Energy Data Studio
East Daley Analytics has launched Energy Data Studio, a platform for our industry-leading midstream data and commodity production forecasts. All clients have access to the new client portal. If you have not yet logged in, please fill out the form to request a registration email be resent.
Energy Data Studio leverages our G&P data set for insights into midstream assets across every major oil and gas basin in North America. Users can navigate detailed visual dashboards by region, pipeline, or individual asset to understand crude oil, natural gas and NGL supply at the most granular level.
Energy Data Studio is available through data downloads from the visual interface, in Excel files, or as a direct feed delivered into subscribers' workflow via secure file transfer. To learn more about Energy Data Studio, please contact insight@eastdaley.com.
Review the Year Ahead in Dirty Little Secrets
The 2023 Dirty Little Secrets is Now Available! Is Midstream on the cusp of another infrastructure wave? Find out in our new annual report.
Dirty Little Secrets reviews the outlook for Midstream and commodity markets in 2023 and the years ahead. East Daley discusses the outlook for crude oil, natural gas and NGLs and the impacts to midstream assets in our 2023 Dirty Little Secrets annual market report. Click here for a copy of the 2023 Dirty Little Secrets report.
The Daley Note
Subscribe to The Daley Note (TDN) for midstream insights delivered daily to your inbox. The Daley Note covers news, commodity prices, security prices and EDA research likely to affect markets in the short term.