Natural Gas Weekly: June 29, 2023
Flows: East Daley's ArkLaTex (Haynesville) sample is down over 1.0 Bcf/d M-o-M, from an average of 13.7 Bcf/d in May 2023 to 12.6 Bcf/d in June.
We saw a steep drop of ~1.5 Bcf/d on June 16, of which 785 MMcf/d was due to lower volumes flowing on ETC Tiger Pipeline. On June 27, Energy Transfer (ET) posted a critical notice informing customers of underperformance at the Exco Holly meter, which may have limited upstream flows on the pipe. Gulf South Pipeline also reported maintenance at the Texas Gas interconnect; both pipes saw temporary declines in this period totaling 428 MMcf/d. This leaves ~300 MMcf/d of decline that we cannot easily explain. However, volumes rebounded to just under 13 Bcf/d by June 23.
Interstate pipeline samples in northern Louisiana and East Texas capture around 65-70% of Haynesville natural gas production. We documented other maintenance events earlier in June that also may have impacted flows.
Infrastructure: Algonquin Citygate prices have surged recently, pushing the premium to Henry Hub to ~$4/MMBtu and creating a $5 spread to the Appalachian production area. The price spike is a result of reduced capacity as the Algonquin pipeline undergoes maintenance. Algonquin anticipates maintenance will continue through late September; however, the reduced capacity is only expected to persist through July 11.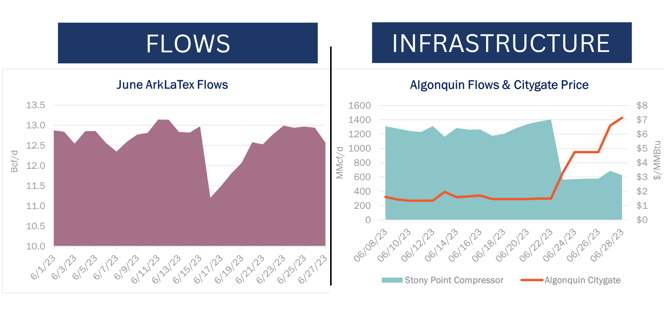 Flows: Recent EIA data indicates midstream companies are benefiting from higher overseas demand and prices for ethane, which could be shrinking volumes flowing as residue gas. Inland Texas and New Mexico ethane production has been growing while PADD 3 ethane exports have been on the rise this year. New processing plant expansions also enable more ethane recovery in the Permian.
Permian gas prices have been relatively strong in June, trading at times at under a $0.10/MMBtu discount to the Henry Hub. Price action does not suggest a tight egress situation. Our review focuses on higher ethane recovery as a likely cause. By shipping more Btus as ethane, operators can free up space on gas egress pipelines. East Daley already factors in relatively high ethane recovery, creating ~130 MMcf/d more space on gas egress pipelines. If we assume full ethane recovery in the Permian, operators could lower residue gas supply by another ~350 MMcf/d.
Storage: Traders expect EIA to report an 83 Bcf storage injection for the June 23 week. EIA reported a 95 Bcf storage injection for the week ended June 16, beating market expectations for a 91 Bcf injection. Working gas inventory currently totals 2,729 Bcf, 362 Bcf above the 5-year average. In our updated Macro Supply and Demand Forecast, we estimate working gas ends June at 2,939 Bcf.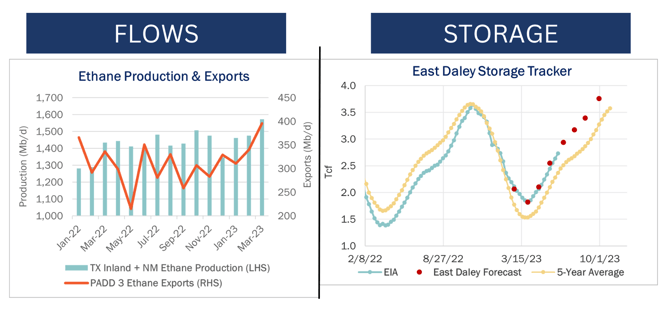 Natural Gas Weekly
East Daley Analytics' Natural Gas Weekly provides a weekly update to our monthly Macro Supply and Demand Forecast. The update covers rigs, flows, production, prices and capacity constraints that materially change our view on supply and demand. This update highlights what investors and traders need to monitor in natural gas to ensure they are on the right side of the market. Subscribe to the Natural Gas Weekly.