Natural Gas Weekly: June 15, 2023
Flows: The Haynesville and East Texas (combined, ArkLaTex) sample is down by 900 MMcf/d from May through the first two weeks of June. G&P systems including Clearfork Midstream (Holly System), DTM Blue Union, ET- Enable have seen volumes drop by a combined 370 MMcf/d. East Daley believes there are three drivers of this decline:
The Bistineau Field owned by Gulf South states it has ongoing maintenance from February through October 2023. While we have not seen maintenance notices, that supply point has reduced volumes on ETC Tiger, Gulf Run, and Enable Transmission pipelines by a combined 300 MMcf/d.

Volumes from Clearfork and ET - Enable system flow onto Acadian Pipeline, which recently saw a 400 MMcf/d expansion, and is likely pulling volumes out of the sample.

We believe some portion of the remaining ~350 MMcf/d decline could be attributed to real production declines from producers CHK, SWN, Comstock, and Rockcliff on DTM's Blue Union and other systems. Those four producers have dropped rig counts by 7 since early May, based on rig data from Welldatabase.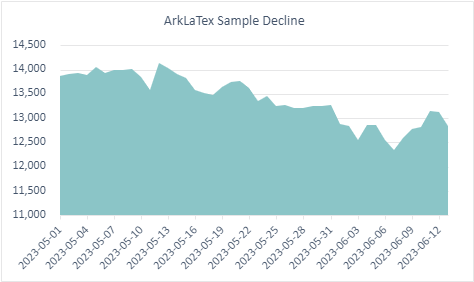 Rigs: Total US rig counts have been on a continuous downward trend with no months ending with rig adds since November following the downward trend for prices. Rigs have dropped ~50 since last June. The Anadarko (-13) and Eagle Ford (-17) have seen the greatest losses with each losing over 20% of their rig counts since this time last year. The rapid response from these basins suggests they are the nimblest and may also be the first to add rigs in 2025+ to help meet the next wave of LNG demand. The ArkLaTex and Rockies have seen some declines of ~7 rigs each. Appalachia has held flat, and the Permian is the only basin to have a positive balance of only 2 rigs since last June. East Daley forecasts continued rig declines bottoming out at 660 in late 2024.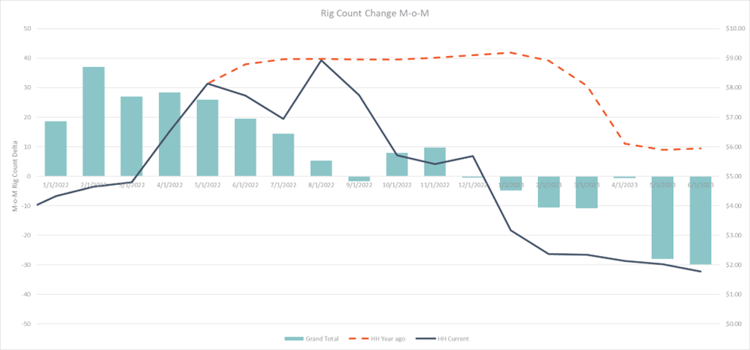 Infrastructure: This week, Permian Highway Pipeline (PHP) had a small one-day maintenance event that took 200 MMcf/d offline on Tuesday, June 13. In contrast to previous maintenance events, this did not seem to impact Waha price, implying that the constrained Permian egress system has more than 200 MMcf/d of capacity to spare. However, we have seen recent larger maintenance events send Waha prices sharply downward when closer to 1 Bcf/d of capacity has been taken offline.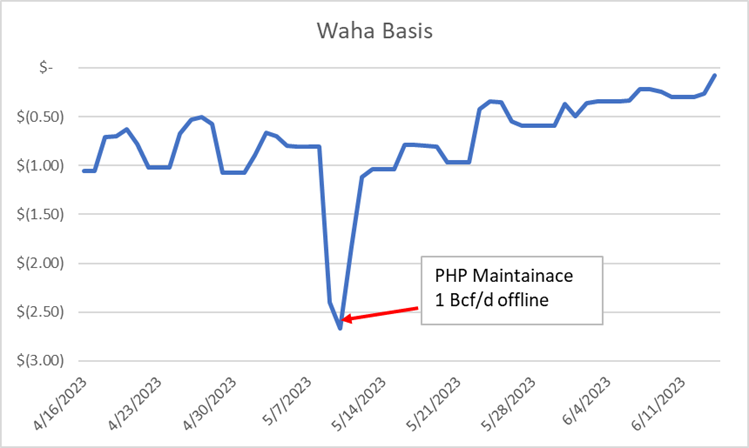 Storage: Traders expect EIA to report a 96 Bcf storage injection for the June 9 week. EIA reported an implied weekly storage injection of 118 Bcf for the prior June 2 week. Last week's report included a 14 Bcf reclassification of working gas to base gas for non-salt storage fields in the South-Central producing region, resulting in a net 104 Bcf change to storage.
Working gas inventory is currently 2,550 Bcf, 353 Bcf above the 5-year average. In our updated Macro Supply and Demand Forecast, we estimate working gas ends June at 2,939 Bcf.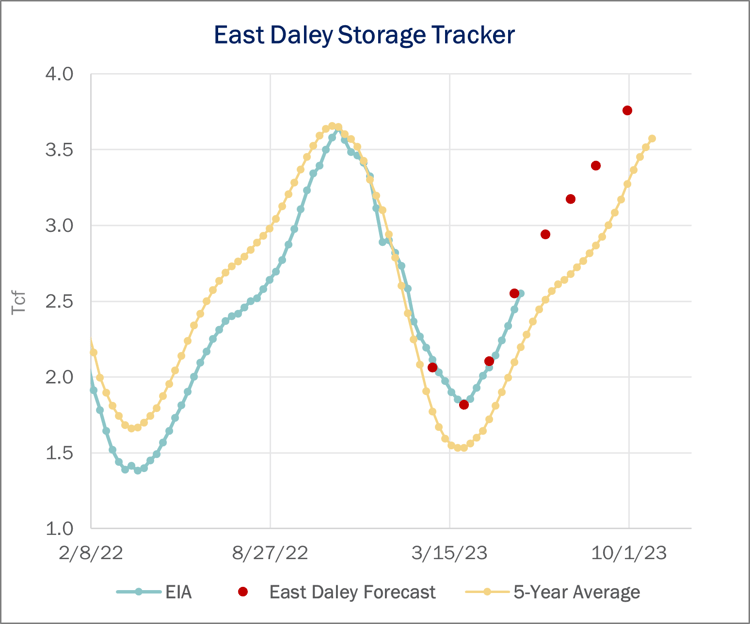 Natural Gas Weekly
East Daley Analytics' Natural Gas Weekly provides a weekly update to our monthly Macro Supply and Demand Forecast. The update covers rigs, flows, production, prices and capacity constraints that materially change our view on supply and demand. This update highlights what investors and traders need to monitor in natural gas to ensure they are on the right side of the market. Subscribe to the Natural Gas Weekly.