The Daley Note: June 15, 2023
US crude oil exports are at a record high, thanks in large part to infrastructure connecting producers in the Permian Basin to the Port of Corpus Christi (POCC). Rapid growth is starting to tap infrastructure, according to East Daley Analytics' Crude Hub Model, and new investments will be needed on the horizon to keep Corpus Christi the top dog.
Crude oil exports hit a record high of 4.81 MMb/d in March 2023, according to Energy Information Administration (EIA) data. The POCC has been the destination of choice for shippers, accounting for 53% of Gulf Coast crude oil exports in 1Q23 (see figure). East Daley recently reviewed the factors favoring South Texas as the leading export hub. We also highlighted that supply growth has pushed utilization to 90% on oil pipelines from the Permian Basin, according to the Crude Hub Model. We expect oil flows will begin to shift to Houston as pipeline capacity grows scarce, returning Houston as the leading Gulf Coast export port (see figure). To keep Corpus Christi on top, investors need to consider new pipeline expansions.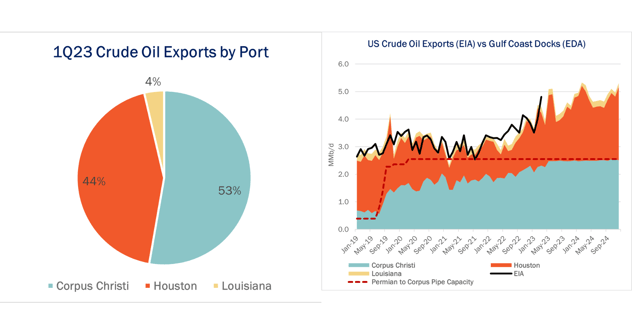 The outlook for new pipe capacity to South Texas is complex, as some pipelines could be expanded while others are already operating at maximum design. East Daley's research identifies several candidates for future brownfield expansions. These projects could add pipeline capacity with less capital and upfront commitments vs a new greenfield pipeline.
At maximum capacity:
Cactus I Pipeline, operated by Plains All American (PAA), is a 20-inch line terminating in the Eagle Ford at Gardendale, TX where it accesses PAA and Enterprise's (EPD) Eagle Ford joint-venture pipeline. Cactus I currently operates at maximum capacity of 390 Mb/d but previously flowed as high as 424 Mb/d (August 2019), before the Cactus II expansion came online.
Cactus II Pipeline, operated by PAA, is a 26-inch line with an original design capacity of 585 Mb/d. After receiving increased interest during an open season, PAA was able to push the nameplate capacity to 670 Mb/d, likely by using drag reducing agents (DRAs) or increased horsepower at the pump stations. It is unlikely the pipe would be able to push capacity further.
Possible Expansions:
EPIC Crude is a 30-inch pipeline with an original design capacity of 900 Mb/d, according to its FERC declaratory order. However, prior to entering service, EPIC's capacity was lowered to 590 Mb/d, likely due to lower commitments and increased competition from Cactus II and Gray Oak. East Daley believes EPIC would be able to achieve the incremental 310 Mb/d of capacity via more powerful pump stations, but the project likely needs contractual support before EPIC would greenlight it.


Gray Oak, now operated by Enbridge (ENB), is a 30-inch pipeline currently operating at its original design capacity of 900 Mb/d. ENB announced earlier this year that it is exploring a 200 Mb/d expansion opportunity that would include brownfield capacity to Corpus Christi, as well as a lateral line extension into the Houston market.
For an updated outlook on all crude oil egress pipelines and docks across North America, access East Daley's latest Crude Hub Model dashboard on Energy Data Studio. – AJ O'Donnell Tickers: ENB, EPD, PAA.
Get a Complete View of NGLs with The NGL Roundup
East Daley Analytics' The NGL Roundup is a FREE review of monthly NGL data from EIA and East Daley's own basin-level supply forecasts of Y-grade and NGL purity products. The NGL Roundup gives a snapshot of data from our larger NGL Network Model. Follow key NGL data trends:
NGL production by basin

NGL purity product supply forecasts

Ethane recovery by basin

Historical and future NGL prices

Conway and Mont Belvieu frac spreads

NGL storage trends

Regional NGL exports
East Daley uses a bottoms-up approach to supply to go deeper than the PADD or sub-PADD level to truly understand what is happening in NGL markets. Learn more and request access to our NGL data here.
Request Access to Energy Data Studio
East Daley Analytics has launched Energy Data Studio, a platform for our industry-leading midstream data and commodity production forecasts. All clients have access to the new client portal. If you have not yet logged in, please fill out the form to request a registration email be resent.
Energy Data Studio leverages our G&P data set for insights into midstream assets across every major oil and gas basin in North America. Users can navigate detailed visual dashboards by region, pipeline, or individual asset to understand crude oil, natural gas and NGL supply at the most granular level.
Energy Data Studio is available through data downloads from the visual interface, in Excel files, or as a direct feed delivered into subscribers' workflow via secure file transfer. To learn more about Energy Data Studio, please contact insight@eastdaley.com.
Review the Year Ahead in Dirty Little Secrets
The 2023 Dirty Little Secrets is Now Available! Is Midstream on the cusp of another infrastructure wave? Find out in our new annual report.
Dirty Little Secrets reviews the outlook for Midstream and commodity markets in 2023 and the years ahead. East Daley discusses the outlook for crude oil, natural gas and NGLs and the impacts to midstream assets in our 2023 Dirty Little Secrets annual market report. Click here for a copy of the 2023 Dirty Little Secrets report.
The Daley Note
Subscribe to The Daley Note (TDN) for midstream insights delivered daily to your inbox. The Daley Note covers news, commodity prices, security prices and EDA research likely to affect markets in the short term.