The Daley Note: June 14, 2023
Kinder Morgan (KMI) and Energy Transfer (ET) both outperformed Street expectations in 1Q23, and their joint ownership of the Midcontinent Express Pipeline (MEP) was a big reason why. The pipeline posted a strong quarter due to dislocation in regional natural gas prices linked to Haynesville supply growth.
In 1Q23, MEP posted quarterly EBITDA of $66MM on revenue of $76MM, according to financial data filed with the Federal Energy Regulatory Commission (FERC). This came on the heels of average quarterly EBITDA and revenue of $12MM and $22MM from 1Q22-3Q22.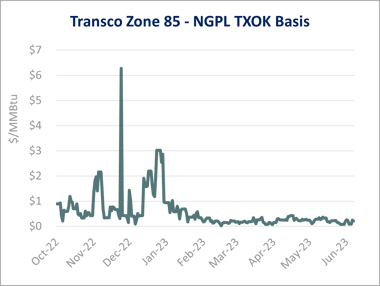 Marketers such as Citadel, Total, and Freepoint drove the pop in performance. These shippers reserved firm transportation capacity on MEP in November 2022 to profit off wide regional price differences. MEP can deliver Anadarko and Haynesville supply eastbound to the Southeast, and spreads blew out between the producing region (represented by NGPL - TXOK in the chart) and the downstream Transco St. 85 point (see figure).
Several factors contributed to wider price spreads. Haynesville production has been growing rapidly and filling pipelines in Louisiana and East Texas, causing gas to back up at times at Carthage. The Freeport LNG facility also was still idle from a fire dating to June 2022, cutting ~2.0 Bcf/d of local demand on the Texas Gulf Coast.
Of the 1.1 Bcf/d of capacity contracted on Midcon Express in November 2022, shippers signed 820 MMcf/d (75%) under shorter terms that expire in 1Q23 or 4Q23. Spreads compressed significantly in 1Q23 as Freeport LNG restarted and Energy Transfer's (ET) Gulf Run pipeline started service, evacuating backed-up supply. Spreads from NGPL-TX to Transco St. 85 have remained relatively compressed this year, suggesting the spike in revenue and EBITDA is likely to be a short-lived boost for MEP. The recent market dislocation proves the value of owning an integrated gas network, which paid off for KMI and ET. – Rob Wilson Tickers: ET, KMI.
Request Access to Energy Data Studio
East Daley Analytics has launched Energy Data Studio, a platform for our industry-leading midstream data and commodity production forecasts. All clients have access to the new client portal. If you have not yet logged in, please fill out the form to request a registration email be resent.
Energy Data Studio leverages our G&P data set for insights into midstream assets across every major oil and gas basin in North America. Users can navigate detailed visual dashboards by region, pipeline, or individual asset to understand crude oil, natural gas and NGL supply at the most granular level.
Energy Data Studio is available through data downloads from the visual interface, in Excel files, or as a direct feed delivered into subscribers' workflow via secure file transfer. To learn more about Energy Data Studio, please contact insight@eastdaley.com.
Review the Year Ahead in Dirty Little Secrets
The 2023 Dirty Little Secrets is Now Available! Is Midstream on the cusp of another infrastructure wave? Find out in our new annual report.
Dirty Little Secrets reviews the outlook for Midstream and commodity markets in 2023 and the years ahead. East Daley discusses the outlook for crude oil, natural gas and NGLs and the impacts to midstream assets in our 2023 Dirty Little Secrets annual market report. Click here for a copy of the 2023 Dirty Little Secrets report.
The Daley Note
Subscribe to The Daley Note (TDN) for midstream insights delivered daily to your inbox. The Daley Note covers news, commodity prices, security prices and EDA research likely to affect markets in the short term.