The Daley Note: June 29, 2023
With 2Q23 almost in the books and earnings season on the horizon, East Daley Analytics is reviewing themes likely to impact business. One trend has been an uptick in ethane recovery in the Permian, and we see Targa Resources (TRGP) as one of the beneficiaries.
EDA is tracking growing ethane flows out of the Permian in our NGL Network Model and company Financial Blueprints. Targa is positioned to take advantage of the trend thanks to new investments. TRGP's Legacy II gas processing plant went into service at the end of 1Q23, and the company plans to start its Midway plant this quarter.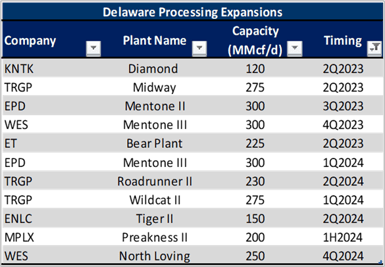 The table shows Permian processing expansions planned in 1H23. Targa's new cryogenic plants have a combined capacity of 550 MMcf/d; the company is also decommissioning its 165 MMcf/d Sand Hills plant, resulting in a net 385 MMcf/d increase in gas processing capacity.
The older Sand Hills unit is a low-pressure, high-compression system that is costly to run and less effective at extracting NGLs. According to asset data in the TRGP Financial Blueprint, the Sand Hills plant produced about 4 gallons of NGL per Mcf of gas (GPM) in 1Q23 vs a ~5.75 GPM average for all of TRGP's Delaware systems. The new cryogenic plants are more efficient and can achieve a deeper ethane cut.
Midstream operators appear to be extracting more ethane from the gas stream in the Permian to meet growing export demand. More ethane extraction equates to less residue gas, which is helpful when gas takeaway is as tight as it is now. The knock-on impact is more NGL production (ethane is generally about 35% of the NGL barrel), a boon to midstream companies that transport NGLs like TRGP's Grand Prix pipeline.
A net 385 MMcf/d increase in plant capacity can produce about 50 Mb/d more NGLs. At a rate of ~$3.55/bbl, the upside to Grand Prix revenue is about $65MM, or ~$55MM in Adj. EBITDA, according to the TRGP Financial Blueprint.
East Daley will monitor plant data to risk the timing and degree of incremental volumes as the data becomes available over the next several weeks. - Rob Wilson, CFA Tickers: TRGP.
Request Access to Energy Data Studio
East Daley Analytics has launched Energy Data Studio, a platform for our industry-leading midstream data and commodity production forecasts. All clients have access to the new client portal. If you have not yet logged in, please fill out the form to request a registration email be resent.
Energy Data Studio leverages our G&P data set for insights into midstream assets across every major oil and gas basin in North America. Users can navigate detailed visual dashboards by region, pipeline, or individual asset to understand crude oil, natural gas and NGL supply at the most granular level.
Energy Data Studio is available through data downloads from the visual interface, in Excel files, or as a direct feed delivered into subscribers' workflow via secure file transfer. To learn more about Energy Data Studio, please contact insight@eastdaley.com.
Review the Year Ahead in Dirty Little Secrets
The 2023 Dirty Little Secrets is Now Available! Is Midstream on the cusp of another infrastructure wave? Find out in our new annual report.
Dirty Little Secrets reviews the outlook for Midstream and commodity markets in 2023 and the years ahead. East Daley discusses the outlook for crude oil, natural gas and NGLs and the impacts to midstream assets in our 2023 Dirty Little Secrets annual market report. Click here for a copy of the 2023 Dirty Little Secrets report.
The Daley Note
Subscribe to The Daley Note (TDN) for midstream insights delivered daily to your inbox. The Daley Note covers news, commodity prices, security prices and EDA research likely to affect markets in the short term.