The Daley Note: June 27, 2023
Civitas Resources (CIVI) will acquire oil and gas operations in the Permian Basin for $4.7B, diversifying the producer's focus away from the Denver-Julesburg. The latest upstream consolidation will result in rig cuts on several G&P systems, based on new company guidance.
Civitas announced the deals last Tuesday (June 20) for all of Hibernia Energy III's operations and certain assets of Tap Rock Resources in West Texas and New Mexico. Both companies are backed by private equity from NGP Energy Capital. The acquisitions total 68k net acres in the Midland and Delaware sub-basins of the Permian, transforming CIVI into a three-basin organization. The companies expect to close the deals in 3Q23.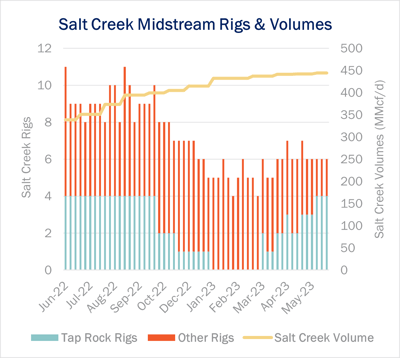 In a presentation to investors, CIVI CEO Chris Doyle outlined plans to cut spending once the acquisitions close. In the Delaware, Tap Rock currently has 4 active rigs in Eddy and Lea counties, NM, and CIVI plans to cut activity to 2 rigs. In the Midland, CIVI guided to 2 rigs, down from 3 rigs run by Hibernia in Reagan County, TX.
East Daley tracks Tap Rock and Hibernia Energy rigs in the G&P Allocation model available in Energy Data Studio. The guidance by CIVI creates risk to rigs and volumes for several Permian G&P systems. According to East Daley's G&P Allocation model in Energy Data Studio, Salt Creek Midstream gathers ~78% of Tap Rock's volumes in the Delaware Basin. Tap Rock is also the primary driller on Salt Creek, recently accounting for 4 of 6 system rigs (see figure). Targa Resources' (TRGP) West Texas system gathers ~76% (59 MMcf/d) of Hibernia's volumes in the Midland, according to our system allocations.
CIVI plans to maintain activity and production levels on its core DJ Basin assets, which comes as welcome news for midstream companies in northeastern Colorado and Wyoming. DJ rig counts have fallen from 30 in 2019 to around 14 rigs today. East Daly allocates 56% of CIVI's volumes to Williams' (WMB) Discovery and Western Midstream's (WES) DJ systems in Energy Data Studio.
However, the move by CIVI hastens a consolidation trend that raises questions for the DJ industry. Pure-play producers are becoming relics of the past in the DJ as Noble, PDC Energy, Synergy, Extraction, Bonanza Creek, and Crestone Peak have merged or been acquired. There are few independents left in the DJ; 9 of 14 rigs are currently operated by Occidental (OXY), Chevron (CVX) and CIVI. The latest move by Civitas hastens this trend, and will create more competition for capital and resources. - James Taylor & Rob Wilson Tickers: CIVI, CVX, OXY, TRGP, WES, WMB.
Request Access to Energy Data Studio
East Daley Analytics has launched Energy Data Studio, a platform for our industry-leading midstream data and commodity production forecasts. All clients have access to the new client portal. If you have not yet logged in, please fill out the form to request a registration email be resent.
Energy Data Studio leverages our G&P data set for insights into midstream assets across every major oil and gas basin in North America. Users can navigate detailed visual dashboards by region, pipeline, or individual asset to understand crude oil, natural gas and NGL supply at the most granular level.
Energy Data Studio is available through data downloads from the visual interface, in Excel files, or as a direct feed delivered into subscribers' workflow via secure file transfer. To learn more about Energy Data Studio, please contact insight@eastdaley.com.
Review the Year Ahead in Dirty Little Secrets
The 2023 Dirty Little Secrets is Now Available! Is Midstream on the cusp of another infrastructure wave? Find out in our new annual report.
Dirty Little Secrets reviews the outlook for Midstream and commodity markets in 2023 and the years ahead. East Daley discusses the outlook for crude oil, natural gas and NGLs and the impacts to midstream assets in our 2023 Dirty Little Secrets annual market report. Click here for a copy of the 2023 Dirty Little Secrets report.
The Daley Note
Subscribe to The Daley Note (TDN) for midstream insights delivered daily to your inbox. The Daley Note covers news, commodity prices, security prices and EDA research likely to affect markets in the short term.