The Daley Note: December 15, 2022
With some of the nation's strictest environmental and permitting laws, Colorado is the tip of the spear in the new world of Environment, Social and Governance (ESG) investing. The transition has been a cause for concern in East Daley's outlook for the Denver-Julesburg (DJ) Basin, but recent moves by state regulators go a long way to allay our fears.

Want environmental rules, social friction and more government? Colorado has it all. Colorado enacted the first state-level methane regulations in 2014, then further expanded the requirements in 2021. Colorado's methane rules were used as a blueprint for national regulations recently proposed by the Environmental Protection Agency (EPA) under the Biden administration.
2023 Dirty Little Secrets is Now Available! East Daley on December 12 released our Dirty Little Secrets report reviewing key market trends that will shape the US energy sector in the years ahead. Click here for a copy of the 2023 Dirty Little Secrets report.

Colorado also has a fresh set of regulators and a new rulebook for permitting oil and gas wells. After replacing nearly all sitting members in 2020, the Colorado Oil and Gas Conservation Commission (COGCC) adopted a sweeping reform package for new drilling permits. Since the end of 2020, the COGCC has required all drilling activity take place at least 2,000 feet away from any homes or commercial structures. The 2,000' setback rule has been a key source of uncertainty for development and long-term supply in the DJ Basin, which spans the rapidly growing Colorado Front Range.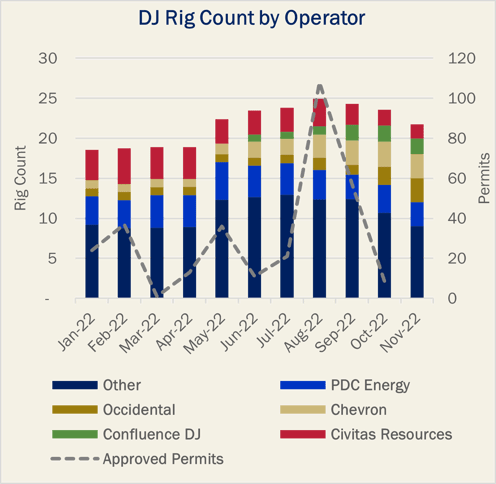 The pace of permitting had been a trickle following adoption of the 2,000' setback rule, with state regulators approving around 20 permits per month. This changed in August 2022, when 108 permits were awarded in the DJ Basin. The main operators obtaining new permits include PDC Energy (PDCE), Enerplus Resources (ERF) and Mallard Exploration.
Since the August permit dump, the COGCC has continued to approve plans for large upstream programs. In November, the agency approved an application by Crestone Peak Resources to drill 151 wells near Aurora, CO. Last week, the COGCC approved PDCE's comprehensive development plan for its Guanella project in Weld County, which could total up to 450 wells.
In total, there are 938 approved permits to drill wells in the DJ, providing about 11 months of permit inventory. Private companies have on average 16 months of permit inventories, while public companies have around 8 months.

There are 16 rigs active in the DJ Basin currently, which we model on the DCP Midstream (DCP), Western Midstream (WES), Summit Midstream (SMLP) and private Cureton systems in our Rockies Supply and Demand Forecast. The basin rig count is 21% higher than the 13 rigs active a year ago. The gains mainly reflect new drilling by private operators, a trend also seen in other Rocky Mountain basins.
The outlook is encouraging in the DJ Basin. We project 19 active rigs in 2023, with oil production to average 527 Mb/d and gas production to average 2,973 MMcf/d. But long-term growth will be directly tied to the number of new permits awarded in the future. - Maria Paz Urdaneta & James Taylor Tickers: DCP, ERF, PDCE, WES, SMLP.

Dirty Little Secrets 2023 is Now Available!
The 2023 Dirty Little Secrets report is now available! Is Midstream on the cusp of another infrastructure wave? Find out in our new annual report.
Sign up to receive 2023 Dirty Little Secrets
The Russia-Ukraine conflict has pushed commodity prices higher and spurred greater global demand for US energy products. Meanwhile, more disciplined growth from the upstream has infrastructure finally filling up across commodities. Will exports power the next infrastructure boom?
Dirty Little Secrets is East Daley's annual report on energy markets and the road ahead for Midstream. We share our macroeconomic outlooks for US oil, natural gas and NGLs, highlight key infrastructure opportunities, update on the state of the Energy Transition, and share our view on Midstream's future role in energy.
To receive the 2023 Dirty Little Secrets report, please click here.

3Q22 Earnings Previews and Earnings Reviews Now Available
East Daley has published a complete group of 3Q22 Earnings Previews and Blueprint Financial Models for midstream companies within our coverage. We also are publishing 3Q22 Earnings Reviews as companies report comparing our forecasts vs results. Quarterly Earnings Previews and Blueprints are now available for Antero Midstream (AM), Crestwood Equity (CEQP), Enbridge (ENB), EnLink Midstream (ENLC), Enterprise Products (EPD), Energy Transfer (ET), Equitrans Midstream (ETRN), Kinder Morgan (KMI), Kinetik Holdings (KNTK), Magellan Midstream (MMP), MPLX (MPLX), ONEOK (OKE), Plains All American (PAA), Summit Midstream (SMLP), Targa Resources (TRGP), TC Pipelines (TRP), Western Midstream (WES) and Williams (WMB).
Our Earnings Previews include quarterly earnings forecasts compared to Street consensus, a detailed list of the top assets that will impact the quarter, analysis of near- and long-term risks to future earnings, along with forecasts for Adj. EBITDA by segments. Please log in to access these reports.
The Daley Note
Subscribe to The Daley Note (TDN) for midstream insights delivered daily to your inbox. The Daley Note covers news, commodity prices, security prices and EDA research likely to affect markets in the short term.