The Daley Note: December 15, 2022
Enterprise Products Partners (EPD) has won conditional approval for its Sea Port Offshore Terminal (SPOT), a key project supporting demand for barrels from the Permian Basin.
The US Maritime Administration (MARAD) on Nov. 21 issued a Record of Decision in support of SPOT. The approval marks a pivotal point in the permitting process that began in early 3Q19 after EPD greenlit the project.
Once officially permitted, SPOT would be capable of loading Very Large Crude Carriers (VLCCs) at a rate of 2 MMb/d. The project would be located in the Gulf of Mexico 30 miles offshore Houston, where it likely faces much less congestion than competing export docks positioned along the Houston Ship Channel.
2023 Dirty Little Secrets is Now Available! East Daley on December 12 released our Dirty Little Secrets report reviewing key market trends that will shape the US energy sector in the years ahead. Click here for a copy of the 2023 Dirty Little Secrets report.

MARAD's decision comes as growing production from the Permian Basin is pulled into international crude markets. Currently in our Crude Network Model, East Daley expects Permian crude production to grow by more than 1.5 MMb/d from 2022-2025, and total US Gulf Coast crude exports to grow by ~2 MMb/d from Corpus Christi, Houston and Louisiana.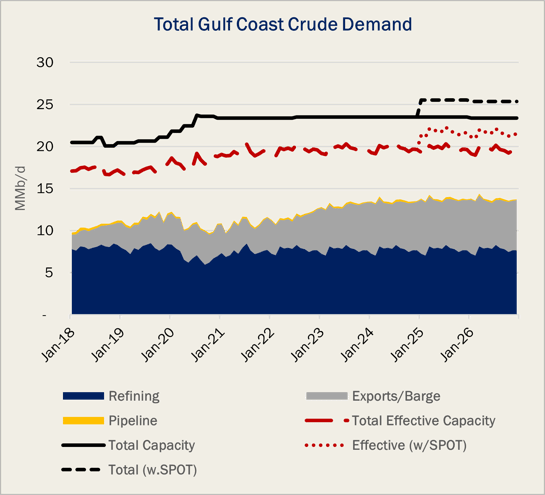 According to data from the Crude Network Model, much of the crude export infrastructure along the Gulf Coast is vastly overbuilt, with most facilities operating consistently below 50% utilization. SPOT's 2 MMb/d of additional export capacity would further intensify competition for the marginal barrel, likely posing the biggest threat to Houston Ship Channel competitors including Energy Transfer (ET), Magellan Midstream (MMP) and Phillips 66 (PSX).
Crude oil volumes leaving Corpus Christi could also be at risk if SPOT moves ahead. Corpus Christi is the largest departure point for US crude exports at ~2.15 MMb/d, based on October data. But SPOT's advantages for VLCC loadings could draw terminaling business away from the South Texas port.
East Daley's unique Crude Network Model analyzes the commercial operations of the crude network. We balance and forecast flows pipeline by pipeline, in and out of the major crude hubs and export docks across North America to dissect the crude oil energy value chain. Contact AJ O' Donnell for more information on the Crude Network Model.
East Daley anticipates EPD and 50% partner Enbridge (ENB) are likely to proceed with the SPOT project. We have yet to incorporate the proposed facility in our Crude Network Model demand stack until we have further clarification from the companies, which should come during 4Q22 earnings calls. – AJ O' Donnell Tickers: ENB, EPD, ET, MMP, PSX.

Dirty Little Secrets 2023 is Now Available!
The 2023 Dirty Little Secrets report is now available! Is Midstream on the cusp of another infrastructure wave? Find out in our new annual report.
Sign up to receive 2023 Dirty Little Secrets
The Russia-Ukraine conflict has pushed commodity prices higher and spurred greater global demand for US energy products. Meanwhile, more disciplined growth from the upstream has infrastructure finally filling up across commodities. Will exports power the next infrastructure boom?
Dirty Little Secrets is East Daley's annual report on energy markets and the road ahead for Midstream. We share our macroeconomic outlooks for US oil, natural gas and NGLs, highlight key infrastructure opportunities, update on the state of the Energy Transition, and share our view on Midstream's future role in energy.
To receive the 2023 Dirty Little Secrets report, please click here.

3Q22 Earnings Previews and Earnings Reviews Now Available
East Daley has published a complete group of 3Q22 Earnings Previews and Blueprint Financial Models for midstream companies within our coverage. We also are publishing 3Q22 Earnings Reviews as companies report comparing our forecasts vs results. Quarterly Earnings Previews and Blueprints are now available for Antero Midstream (AM), Crestwood Equity (CEQP), Enbridge (ENB), EnLink Midstream (ENLC), Enterprise Products (EPD), Energy Transfer (ET), Equitrans Midstream (ETRN), Kinder Morgan (KMI), Kinetik Holdings (KNTK), Magellan Midstream (MMP), MPLX (MPLX), ONEOK (OKE), Plains All American (PAA), Summit Midstream (SMLP), Targa Resources (TRGP), TC Pipelines (TRP), Western Midstream (WES) and Williams (WMB).
Our Earnings Previews include quarterly earnings forecasts compared to Street consensus, a detailed list of the top assets that will impact the quarter, analysis of near- and long-term risks to future earnings, along with forecasts for Adj. EBITDA by segments. Please log in to access these reports.
The Daley Note
Subscribe to The Daley Note (TDN) for midstream insights delivered daily to your inbox. The Daley Note covers news, commodity prices, security prices and EDA research likely to affect markets in the short term.